The Walking Dead season 2 is only two episodes in after tonight's "Bloodletting," but fans of the hit series have barely seen anything yet, according to The Walking Dead producer Gale Anne Hurd. Through all the madness of New York Comic-Con and beyond, we recently had a chance to speak to Hurd about the creative process, casting rumors and what's in store for The Walking Dead season 2!
Will Stephen King write an episode in the future? What episodes are can't miss? Read on to find out, and don't forget to watch The Walking Dead season 2!
TVOvermind: What's the process of picking and choosing characters from the book vs. creating your own for the show? Especially regard to Hershel's family, how does the storytelling produce a need that you either look to the books to fill with a character, or you decide 'well, we're going to create our own.'
Gale Anne Hurd: It depends, because when you map out the season, you need to draw from a well of stories and the stories come from character first, so there are…and at the same time in a TV series, you have too many characters so you can't service all the stories, which is why we tend to have fewer characters in the show than perhaps there are in the comic books. We knew that we wanted to go to Hershel's farm, and we also knew that we wanted to make sure Hershel and Maggie were characters this season, and we essentially went from there.
TVOvermind: By the time Frank Darabont departed, nine episodes of the season had already been written. Does new showrunner Glenn Mazzara have any different approach when it comes to pulling from the comics?
Gale Anne Hurd: No. You've got to remember that Robert Kirkman is in the writer's room every day. The function of a writers'room is a very democratic experience, obviously one person has to make the final decision, but there's a lot of debate that goes on. Robert's voice of course is very significant in the process.
TVOvermind: What would you say to people who are joining for the first time in the second season?
Gale Anne Hurd: Obviously it helps if you've seen the first six episodes. I don't know if it's absolutely essential since much of that information comes up naturally during the course of this season. It'll become very apparent that lets say Shane and Lori had an affair when they both thought Rick was dead, and there's tension that derives from that, that Andrea had chosen to die when the CDC blew up and Dale saved her, and she's not quite over her anger at him. But the drama is human drama, you can't just say 'oh, this is a zombie series and it's all about entertaining ways to kill zombies.'Of course we have that too, and we love it, but it's really about the drama and the conflict, and the twists and turns of the human survivors.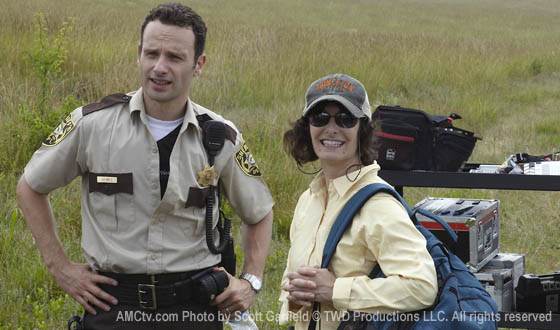 TVOvermind: Speaking of entertaining ways to kill zombies, Norman Reedus mentioned that somewhere around episode 7 there was a really big, fat, disgusting zombie. What can you tell us about that, or some of the gorier, more intense effects this season?
Gale Anne Hurd: That one was one of our favorites! Well, if you've seen the premiere, you have an idea that we really go for broke.
TVOvermind: The stomach, yeah!
Gale Anne Hurd: That gives you a sense of where the series can go. At the same time, we don't make a steady diet of it, because you can't just hang a show on 'entertaining ways to kill zombies.'But there's certainly interesting ways in which to encounter zombies, and sometimes the zombies win.
TVOvermind: Looking back over the first season, 'Vatos'was a huge turning point for the series with the camp attack, that was one of more game-changing episodes. Without going into too many details, what would you say are some of the more stand-out episodes of The Walking Dead season 2?
Gale Anne Hurd: Every one of them has something that I think will haunt people, give them nightmares maybe even in a few of their waking hours. Our seventh episode, which is the one that ends our mid-season before we pick up again in February, I think will knock people's socks off. It's directed by Michelle MacLaren. She's the directing executive producer on Breaking Bad, she directed 'Guts,'our second episode last season, and people will remember this episode for a long time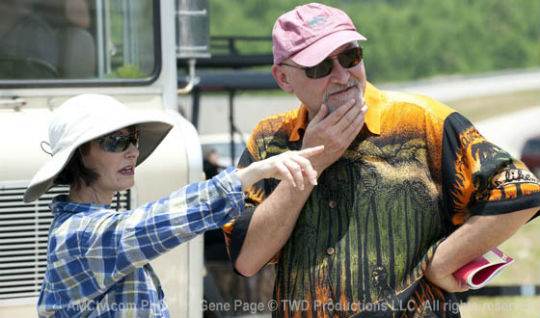 TVOvermind: Months ago, there were a lot of rumors going around about Stephen King potentially writing an episode, and then there were even wilder rumors that Stan Lee or Charlie Sheen might look to cameo as zombies. What can you tell me about where some of those rumors might have come from? How far did the talks with Stephen King get? Is that a possibility for The Walking Dead season 3 perhaps?
Gale Anne Hurd: You know, he's a very busy guy, as of course is Joe Hill. I for one was disappointed that Locke and Key didn't get picked up, that would've been a great show. They've got a pretty full dance card, and in order to write an episode of The Walking Dead you need to be heavily involved in the writers'room, and that's a commitment beyond just penning one episode. So it's difficult, for people who don't have a lot of free time.
And we're not going for celebrity zombie cameos, because that would take away from the show. We don't want viewers trying to identify the zombies as some celebrity hidden under makeup. Then you're not paying attention to the drama, you're not paying attention to the story. You're looking at the show through entirely different eyes. If Stan's gonna be on the show, because obviously he's a friend of mine, I did The Hulk and Punisher movies, it would be…he doesn't need to be a zombie.
———————————
What would you like to see from The Walking Dead season 2? Sound off in the comments section below!