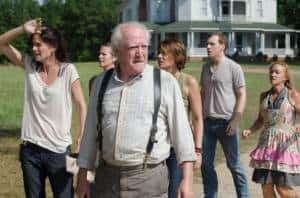 The Walking Dead season 2 shambles on with its fifth episode "Chupacabra," but how does it hold up to the comic book continuity? The search for Sophia continues as Daryl embarks on a solo mission that takes a deadly turn, while Rick continues struggling to keep the survivors in line with Hershel's rules and Lori debates what to do about her pregnancy. So what's next for The Walking Dead?
As AMC's incarnation weaves in and out of storylines from the books and adds its own original characters and its own developments, we've compiled an in-depth guide for fans of the comic as well as AMC's The Walking Dead to enjoy. Check it out, and let us know your opinions of The Walking Dead's "Chupacabra" in the comments below!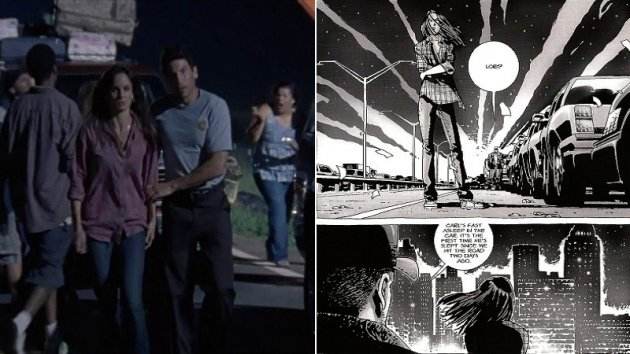 SHANE AND LORI BY THE ROADSIDE
AMC: Flashing back to before the campsite, Shane attempts to learn what he can from a car radio while Lori, Carol, Sophia, Carl and Carol's husband Ed talk up ahead in a massive highway jam. When choppers fly overhead, Shane and Lori investigate in the woods nearby, and share a tender moment against the backdrop of the military napalming the streets of Atlanta.
THE COMICS: Volume 2 'Miles Behind Us'opens on a similar flashback of what led to Lori and Shane's roadside tryst, while Carl sleeps in the car nearby, but we're never given any indication of other nearby survivors, especially Carol or Sophia. Unless Shane and Lori were okay with a few peeping toms at their roadside romp, it's safe to assume the other cars weren't populated.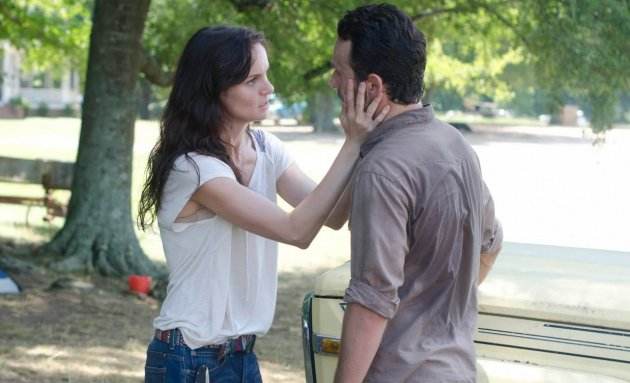 FIRST LADY LORI
AMC: Carol requests that Lori be the one to present Hershel with their offer of making dinner, as being Rick's wife makes her the 'unofficial First Lady'of their group.
THE COMICS: This mostly holds to the comics, where Lori was also seen as something of an authority figure by virtue of being Rick's wife, though later she'd later make the decision to leave authority to the men of the group. With a baby on the way, protection was more important than questions of sexism.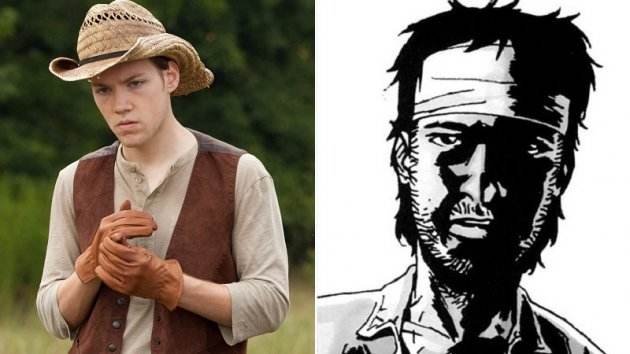 THIS JIMMY FELLOW
AMC: Jimmy, Hershel's daughter Beth's boyfriend, offers up his services to the group in their efforts to search for Sophia, even lying to Rick that Hershel had condoned his involvement.
THE COMICS: Jimmy shares no Walking Dead comic counterpart, but physically and narratively his role resembles that of Hershel's youngest son Billy Greene, who would also occasionally join the survivors'more dangerous missions without his father's permission.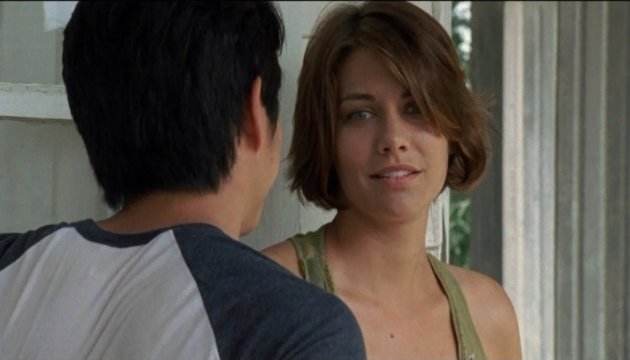 MAGGIE AND GLENN, THE MORNING AFTER
AMC: While she'd come around by night's end, Maggie again coldly rebuffs Glenn's amorous advances in spite of their earlier tryst, joking about his performance and her uncertainty over even liking him.
THE COMICS: Not so! Clearly in the honeymoon phase of their relationship, Maggie never once wavered in the early days of their relationship, sneaking off with him at every opportunity and even tossing the L-word around fairly quickly.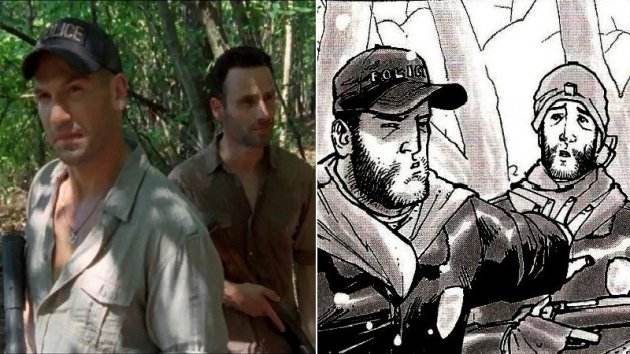 SHANE AND RICK'S HARD DECISIONS
AMC: Out searching their grid for Sophia, Shane lays some hard truths on Rick, namely that his pathological need to save the young girl continually weakened and endangered the group, and that they all needed to move on in their search for Fort Benning.
THE COMICS: Their woodland conversation is almost an exact mirror of early chapters of the comics, in which Rick insisted the group needed to move on, while Shane remained adamant about staying put in the case of eventual military rescue. In both cases though, Shane seems to place his faith in the strength of the government.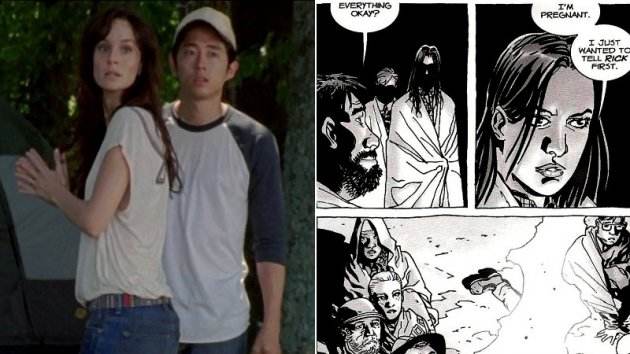 LORI'S GOOD NEWS TRAVELS FAST
AMC: As of 'Chupacabra,'Lori and Glenn are still the only ones to know of her pregnancy, as Glenn expresses shock that she'd yet to tell Rick.
THE COMICS: Out on the road, Lori made sure Rick was the first to know of her pregnancy, before informing the entire group moments later. Their reaction was predictably that of concern, but Rick assured them they'd cross the more difficult bridges when they came, and for now the news was happy.
HERSHEL'S RULES
AMC: Irritated by Daryl borrowing one of his horses without permission and Jimmy joining in the search for Sophia, Hershel once again reminds Rick that the survivors need to follow the rules on his property during their stay.
THE COMICS: The Hershel of the comics was far less concerned with people following specific rules, but at least we got an answer to where the house's power comes from! That's been bugging us since 'Save the Last One.'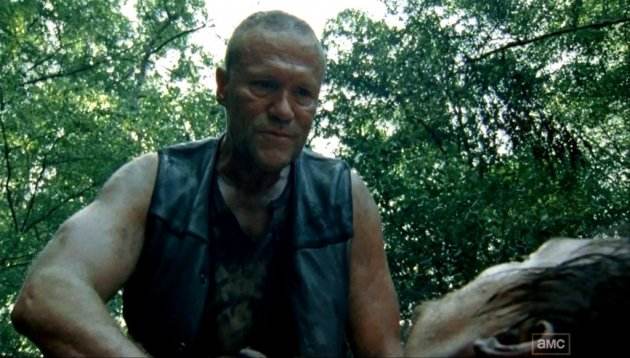 HEY, MERLE'S BACK!
AMC: Welcome back, Michael Rooker! Though only a hallucination of Daryl's out in the woods, AMC's most notorious original creation Merle Dixon returns in all his two-handed glory to challenge his younger brother into surviving his injuries, and remembering where his loyalties truly lie.
THE COMICS: While Merle has no comic counterpart by a longshot, it's Interesting that Daryl would hallucinate his missing brother in a time of need. Rick, Michonne, and likely others have all hallucinated conversations with loved ones past when faced with intense periods of duress.
But speaking of hands…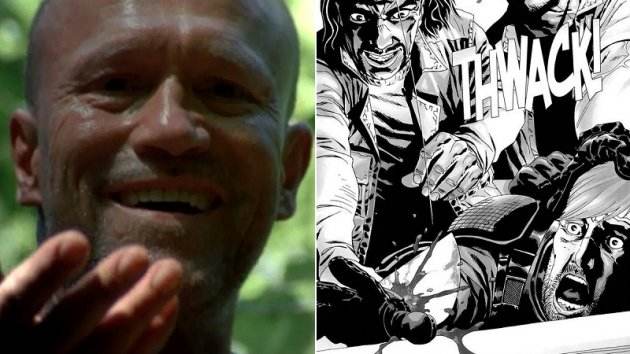 MERLE REQUESTS A HAND
During Daryl's climb out of the pit taunted by his imaginary brother, Merle issues a very telling statement for fans of the comic, asking Daryl to 'grab your friend Rick's hand.'Merle obviously blames the loss of his hand more on Rick for handcuffing him to that Atlanta roof than T-Dog for failing to free him, but could this be a sign of things to come?
Now, Robert Kirkman and several others have all gone on record indicating that Merle would NOT turn out to be the AMC Walking Dead's incarnation of the Governor, who famously chopped off Rick's hand for disobedience during his time at Woodbury. It remains to be seen if AMC would ever go through with chopping off the hand of its lead character, but who's to say if not the Governor, there might be another survivor present looking to even the score if AMC Rick ever makes it to Woodbury?
HERSHEL ON MAGGIE AND GLENN
AMC: Hershel manages to figure on his own that his daughter Maggie shares some kind of relationship with 'the Asian boy'Glenn, and only lightly presses his daughter not to give him more cause for concern than he has with Jimmy and his other daughter Beth. Maggie dismisses Glenn as a friend, but reminds her father she's old enough to make her own decisions.
THE COMICS: Hershel found out about Glenn and his daughter Maggie the hard way, stumbling in on the two in bed together in her room, and nearly assaulting Glenn in anger. Maggie stands up for her beau by insisting they're in love, and that at 19 she's old enough to make her own decisions before Hershel storms out.
It's also worth noting that in 'Chupacabra'Glenn specifically identifies Maggie as 22, three years older than her comic counterpart.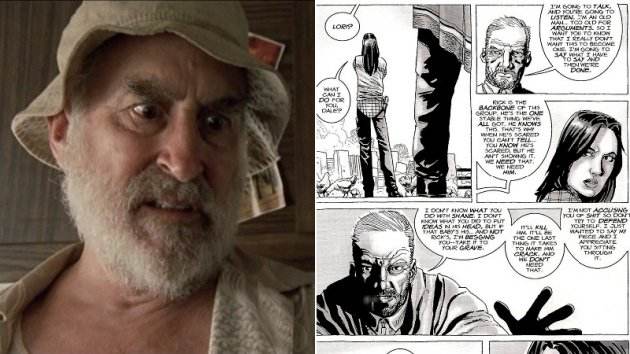 DALE IN EVERYBODY'S BUSINESS
AMC: Perhaps preoccupied by Andrea's cold demeanor toward him, Dale presses Glenn not to get involved in other people's affairs, particularly Maggie and the edgy women of the group, and apparently hasn't noticed anything unusual about Lori's behavior of late.
THE COMICS: On paper Dale made a rather frequent habit of nosing his way into other people's affairs, particularly Rick and Lori. Dale suggested to Rick that something seemed off about the way Shane behaved with Lori as far back as the camp, and after learning of her pregnancy urged Lori to take it to her grave if indeed the baby belonged to Shane.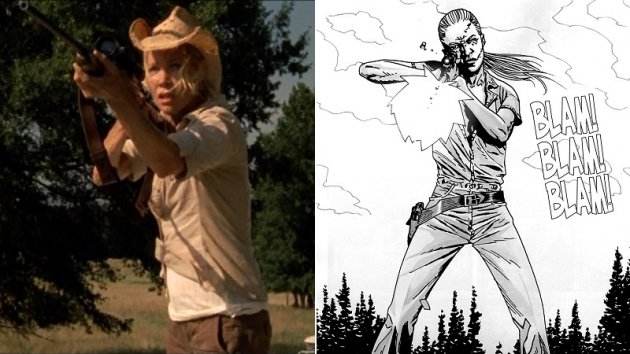 ANDREA GETS HER GUNS
AMC: Perhaps jumping the gun a bit (no pun intended), Andrea resolves that she'd rather defend the camp than do laundry and stations herself atop the RV with a sniper rifle and a cowboy hat! She doesn't quite have the magnificent aim of her comic counterpart just yet, narrowly missing serious injury to Daryl with a graze rather than a complete headshot.
THE COMICS: Andrea's uncanny marksmanship had been observed ever since she started training at the campsite, but it wouldn't be until the group reached the prison that she took to utilizing a sniper rifle to defend the other survivors.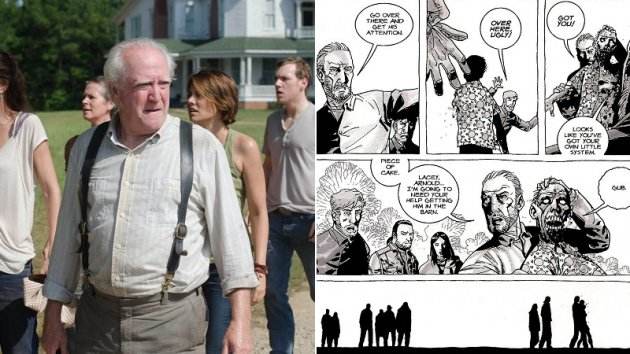 HERSHEL WANTS TO DEAL WITH WALKERS
AMC: When Daryl's return is mistaken for a walker shambling his way onto Hershel's property, Rick asserts to the other mounting survivors that Hershel wants to be the one to deal with walkers, advice Shane and the others ignore. Andrea believes on the other hand, 'I think I can nail it from here.'
THE COMICS: A walker (in this case Daryl) appearing on Hershel's property bears resemblance to an incident in the comics where a zombie shambled his way onto the group's makeshift firing range, and rather than letting Rick 'get it from here,'Hershel subdues it on his own to throw it in the barn with his other 'dead ones.'As the AMC survivors don't yet know of Hershel's philosophy on the undead, the live-action farmer doesn't hear of the threat until Andrea's shot rings out.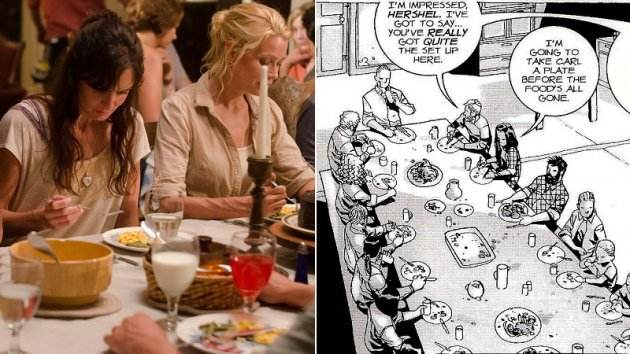 THE GROUP DINNER
AMC: Having followed on Carol's idea to cook dinner for everyone as a thank you to Hershel, the survivors all partake in a group meal, somewhat fraught with tension considering Rick's argument with Shane, Hershel's unease with the rest of the group, and Otis'death still hanging in the air. In spite of the atmosphere, Maggie propositions Glenn for another rendezvous at a location of his choosing.
THE COMICS: The dinner occurs without much thought or tension, the survivors admiring Hershel's bountiful set up on the farm. The only conflict comes from Glenn, who dejectedly observes Carol cozying up to Tyresse and leaves to sulk outside. Once there, Maggie makes her first pass at Glenn by questioning why he looked so sad and offering herself up.
DARYL AND CAROL…CARYL?
AMC: Much as the comic Lori left dinner to take a plate to Carl, Caryl leaves to take a plate of food to the injured Daryl, kissing his forehead for his efforts in finding Sophia and contradicting Merle's words by insisting he's every bit as brave and valuable as Rick or Shane.
THE COMICS: Comic Carol indeed cozied up to someone as the group ate dinner on Hershel's farm, but her beau Tyreese has yet to appear in the AMC's The Walking Dead. While she's also older than her comic counterpart, might the AMC Carol develop an interest in Daryl, who did more for her daughter than her former husband Ed ever did?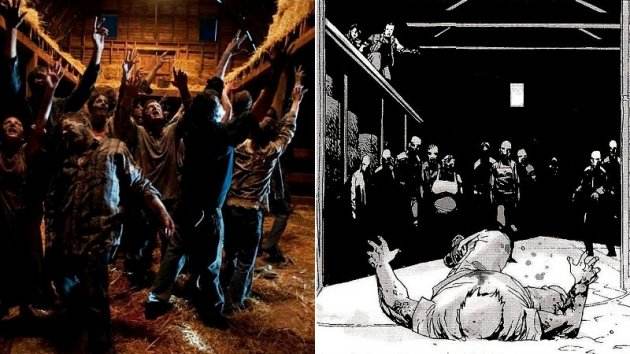 INSIDE HERSHEL'S BARN
AMC: Before Maggie has a chance to read his intentions, Glenn makes his way over to Hershel's barn after dinner, only to discover that the farmer keeps a barn full of walkers, which he and the other survivors weren't supposed to know about!
THE COMICS: Precisely as you saw on screen, the comics Hershel kept a barn full of his 'dead ones,'including family, neighbors and any strays that wandered onto the property. However, he didn't mind telling Rick or the other survivors what he'd been doing, answering Rick's questions about the barn the moment he asked if the group could sleep there.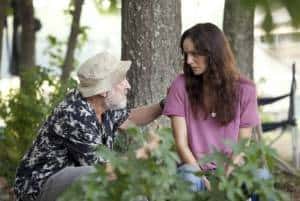 What did you think of The Walking Dead season 2 episode five, "Chupacabra?" Did we miss anything else from the comics you might have caught?
Let us know in the comments, and be sure to check back next week for our in-depth comic-to-TV comparison of episode six, "Secrets"!
Want even more Walking Dead? Be sure to check out our in-depth-comparisons of the first four episodes right here!
The Walking Dead 2.01 – "What Lies Ahead" Comic-to-TV Comparison
The Walking Dead 2.02 – "Bloodletting" Comic-to-TV Comparison
The Walking Dead 2.03 – "Save the Last One" Comic-to-TV Comparison
The Walking Dead 2.04 – "Cherokee Rose" Comic-to-TV Comparison