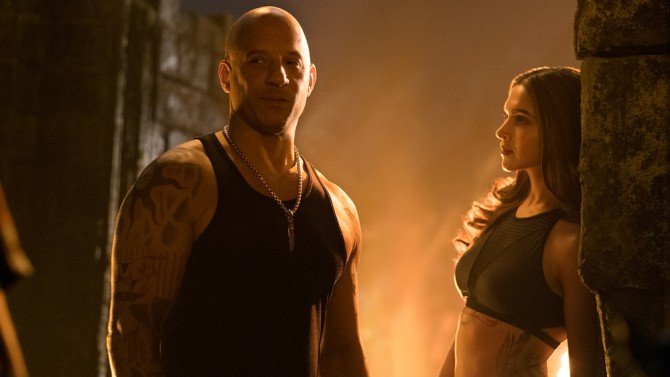 In 2002, a new kind of action movie hit theaters and blew audiences away. Triple-x was the story of Xander Cage, an extreme sports enthusiast who is recruited by the government to infiltrate a Russian crime ring. The movie was full of thrilling action sequences and stunts that had never been seen before. The movie received lukewarm reception during its release in 2002. Time Out wrote about the movie: "Like the old action franchise, it has gadgets and explosions and one-liners and sex with women who don't talk. But don't bust a gut because you'll miss the jaw-dropping action set pieces, where Diesel's head is superimposed on to things that look a bit like snow and sky in a series of death-defying, um, stunts."
Big Picture Big Sound wrote a harsher critique: "As an action director, Mr. Cohen is competent, but this film – which is pretty much as non-stop as an action movie can get – needed a director with a little more finesse. Too often things explode from multiple angles, changing perspective to such a degree that it's impossible to know where the characters are. Of course, that may be the point. So many of the stunts are so physically impossible that Mr. Cohen needs to use sleight-of-hand in order to retain the thread of credibility that holds the film so tenuously together. The film's most fantastic action scene (and that's really saying something), which involves Xander out-snowboarding an avalanche, is an exercise in suspension of disbelief.
But with each scene, the film raises the adrenaline level higher and higher until a climactic boat chase during which Xander appears to be doing nothing more than purposely waiting until the last possible second solely to build as much tension as possible." Despite the bad reviews during its time, triple-x has since formed a cult following, which allowed for two highly successful sequels to emerge. This year marks the 20th anniversary of the release of triple-x, and we think it's time for a rewatch. Here are a few reasons why triple-x should be rewatched on its 20th anniversary:
Triple-x is one of the most influential action movies of the past 20 years
It popularized the use of extreme sports and stunts in action movies and inspired many imitators. If you're a fan of modern action movies, then you owe a debt of gratitude to triple-x. What's particularly interesting about the use of stunts in triple-x is that many of them were done without the use of CGI.
It made Vin Diesel a Hollywood star
Before triple-x, Vin Diesel was mostly known for his work in independent films. But after the success of triple-x, he became a bonafide movie star. He went on to star in some of Hollywood's biggest action franchises, including The Fast and the Furious and Riddick. Diesel owes a lot to triple-x, and he knows it. The movie paved way for his successful career in Hollywood. In an interview with the BBC, Diesel explained whether his career trajectory, supported by his appearance in triple-x, was deliberate on his part, to which he replied: "No – if it were up to me, I would have just landed roles as a teenager. I got to my mid to late 20s frustrated, and had to become an auteur in order to be a successful actor and that's where the independent filmmaking came from. And then just trying to make the smartest decisions and trying to do the best that I can with every film that I have."
It has a solid cast
Not only did triple-x make Vin Diesel a star, but it also featured some other great actors in supporting roles. Samuel L. Jackson and Asia Argento both turn in great performances, and provide some much-needed comic relief. The cast also includes Xander Berkeley, Marton Csokas, and Rich Wilkes. Their ensemble performance made triple-x a great action movie.
It's directed by Rob Cohen
Rob Cohen is one of Hollywood's most underrated directors. He's directed some great action movies, including The Fast and the Furious, Stealth, and The Mummy: Tomb of the Dragon Emperor. Cohen knows how to stage an action sequence, and that's on full display in triple-x. One particularly impressive aspect of Cohen's directing of triple-x is the way he uses music to ramp up the tension in the action sequences. In an interview with Screen Rant, Cohen discussed his interest in the triple-x franchise, saying: "Yes, Vin [Diesel] and I and Joe are again talking about it. Joe has a plan and Vinny and I are back on track. The death of Paul [Walker], which happened during the making of, boy, it has shaken me even now, I have not [gotten over it]. Today I saw a piece on me that had behind-the-scenes moments with Paul and I just started to cry again. He was like a son to me, I just can't get over the loss of him. He was a golden being. I can think of so many other people who deserve to be in a car…" The movie has had two sequels: triple-x: State of the Union, which was released in 2005, and triple-x: Return of Xander Cage, released in 2017.
It's a great time capsule of the early 2000s
When you watch triple-x, you're transported back to the early 2000s. The movie is full of references to popular culture at the time, including fashion, music, and technology. It's a great way to see how much has changed in the past 20 years.
It's still a highly enjoyable movie
If you're not specifically looking for intellectual storylines and sophisticated plot, then triple-x is still a highly enjoyable movie. It's an adrenaline-fueled thrill ride from start to finish, and it's sure to get your heart racing. What makes the movie a thrill ride is the expertly choreographed action sequences and the great stunts, which are all the more impressive when you remember that they were done without a lot of help from special effects.
The movie has aged surprisingly well
When you watch triple-x today, you might be surprised by how well it holds up. Yes, the fashion and technology are a bit dated, but the action sequences are still as thrilling as ever. The movie's stunt work has aged particularly well, and is still some of the best you'll see in any action movie.
Tell us what's wrong with this post? How could we improve it? :)
Let us improve this post!