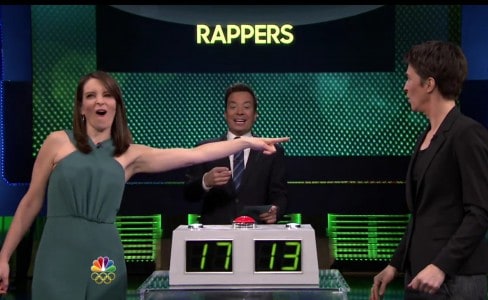 It's always exciting when The Tonight Show debuts a new game, but even better when Tina Fey is a participant in said game. Know It All is a game of "knowledge and deception" where the contestants choose a category and go back and forth for 20 seconds until someone either gets stumped or chooses to challenge their opponent's answer. When a challenge is posed, the panel of judges (aka the Roots and Higgins) confirm or deny the point for the answer in question. The trick here is that answers can be made up on the spot so it's also a matter of choosing when or if you call the other's bluff. Jimmy got super into the character of game show host with a little twinge in his voice which made it all the more fun.
Dog breeds, rappers, and cheeses are the subjects chosen tonight by Rachel Maddow, Tina, and Jimmy respectively. On Tina's choice of rappers, Rachel called her bluff on Snow, which actually is indeed the name of a real rapper. Like Tina says, the rules don't say they have to be good necessarily!
All in all this game was pretty fun and probably could have gone on a little bit longer. I would have loved to see the "Famous Bobs" category played out.
Watch the clip for yourself here: