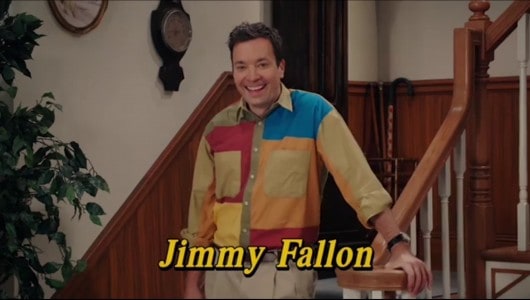 Ever since Jimmy Fallon mentioned earlier in the week that The Tonight Show would be getting a TGIF theme song and credits, I could not wait to see the final product! Face it, 90s nostalgia is never going away. You could say the dream of the 90s isn't only alive in Portland anymore.
Jesse Frederick is the writer and performer behind such TGIF classic sitcom theme songs as Full House, Step By Step, Family Matters and Perfect Strangers. He was tapped to write a custom song for The Tonight Show and naturally an opening credit sequence was also filmed to go along with it. Set in a stereotypical 90s sitcom house, Jimmy, Higgins, and the Roots all posed with their cheesiest smiles.
"Let the light shine through, Jimmy Fallon, The Tonight Show and you!"
Check it out here. I dare you not to get it stuck in your head!
After coming back from the commercial break, Jimmy and Higgins got to talking about their favorite theme songs. Of course this means Jimmy sang the Three's Company and Family Ties songs, while just generally discussing how it's a shame shows don't use them anymore. Even Pharrell Williams got into the subject of 70s and 80s theme songs, dropping knowledge that Alan Thicke wrote the Diff'rent Strokes theme.
Honestly after watching Jimmy and the Roots riff on so many different songs tonight, I wouldn't hate the idea of them recording a whole bunch of covers and releasing an album. How awesome would that be?!
What are some of your favorite television theme songs?