The Walking Dead season 2 shambles out its latest entry with its ninth episode "Triggerfinger," but how does it hold up to the comic book continuity? The tensions rise as Rick, Hershel and Glenn encounter other survivors vengeful of what happened to their friends, Shane sets out to rescue Lori and Carol attempts to bring Daryl back into the group. So what's next for The Walking Dead?
As AMC's incarnation weaves in and out of storylines from the books and adds its own original characters . and its own developments, we've compiled an in-depth guide for fans of the comic as well as AMC's The Walking Dead to enjoy. Check it out, and let us know your opinions of The Walking Dead's "Triggerfinger" in the comments below!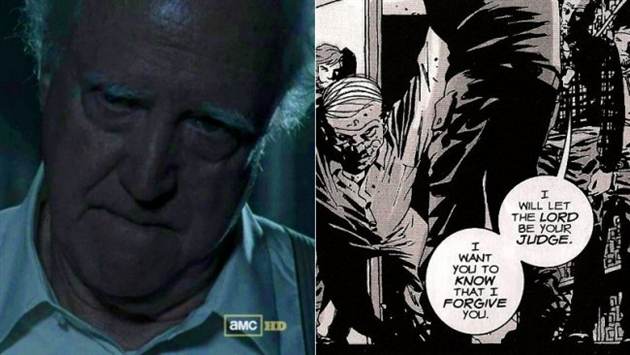 NO JUDGEMENT FROM HERSHEL
AMC: Though he certainly clenches his jaw in a tense moment, Hershel's expression begrudgingly accepts Rick's brutal murder of both Dave and Tony, knowing that they gave them no choice, and however brutally Rick just saved all their lives.
THE COMICS: Though he too was a man of non-violence and a few tensions with Rick, comic Hershel wasn't above overlooking violence either, particularly when the guilty parties meant harm to him or his family. In one case, Hershel even sadistically watched!
PINNED DOWN BY FRIENDS OF THE DEPARTED

AMC: Minutes after taking down Dave and Tony, Rick Hershel and Glenn find themselves trapped within the bar as the other group of survivors outside open fire for the loss of their friends. Glenn manages to get outside, while Hershel clears a path and only one of the unfriendly folk make it out of town alive.
THE COMICS: Suffice to say, our heroes + other groups of survivors almost always = frownie face. That being said, the events of "Triggerfinger" bear a distinct resemblance to an incident in the comics where Glenn, Tyreese, Andrea, Michonne, Maggie and Axel found themselves pinned inside a Walmart, while Woodbury survivors lurked outside. Glenn attempted to diffuse the situation, but wound up causing a firefight that saw all the Woodbury survivors dead.
Though not distinctly from Woodbury, up this "other" camp of survivors seems to be AMC's way of creating a similar rivalry-type role, with our group having to defend their haven.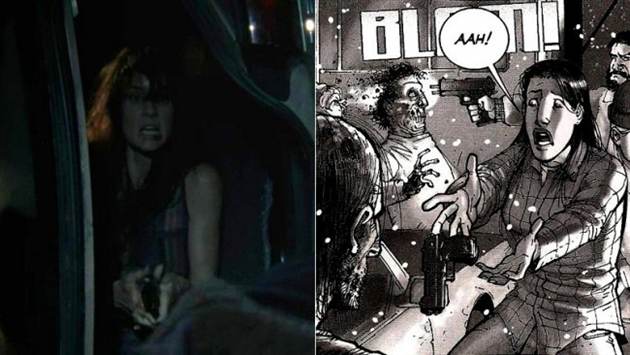 LORI FAILS AT EVERYTHING
AMC: Her driving skills not-withstanding, Lori manages to impale one walker from within her overturned vehicle with the gear shifter. Once she gets out, surprise! A second walker appears from behind, whom she manages to stall long enough to reach back inside the car, and fumble with her gun before squeezing off a round into its brain.
THE COMICS: We've never seen comic Lori as a driver, so we won't belabor that point, but it's important to note that in the books Lori was also notoriously inept with guns, to the point where she wouldn't have survived the first camp attack if not for young Carl's intervention.
ROAMERS, YAY!!!
AMC: Finally! While eavesdropping on the other survivors outside the bar, we hear Michael Zegen's Randall and another refer to the undead as "Roamers," marking the first AMC usage of that term. Previously, we'd heard them referenced as "geeks," "walkers" or Dave and Tony's contribution "lame-brains."
THE COMICS: We'd hear the "z-word" once or twice throughout the books, but typically Rick and the other survivors referred to the undead as "roamers," differentiating between those and "lurkers," who typically remained hidden and inanimate until fresh meat got close enough.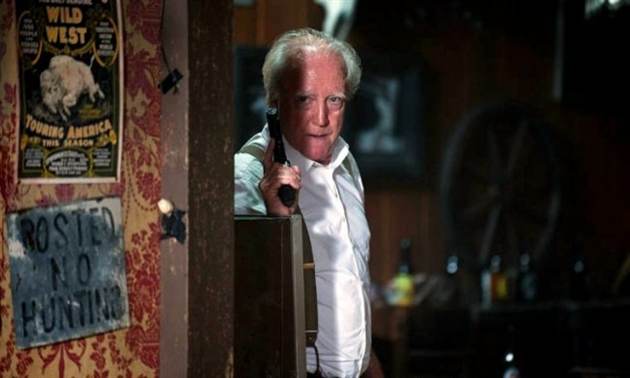 BADASS HERSHEL
AMC: Not only can Hershel hold his own with a gun, he even manages to take down one of the survivors aiming for Glenn with a single shot! Too bad he didn't have time to put the guy out of his misery before the roamers arrived.
THE COMICS: Comic Hershel never cared much for violence either, but was more than handy with a gun as he proved during several battles at the prison. That's just how farmers roll, yo.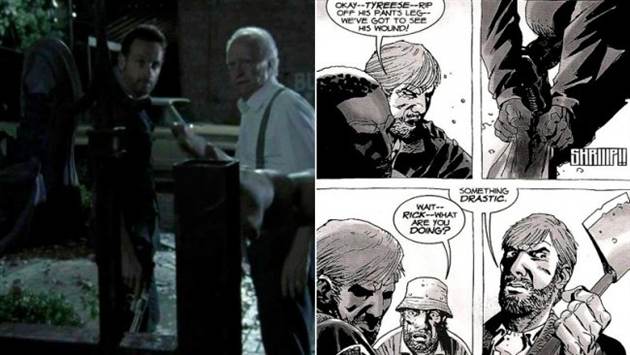 RICK'S OBSESSION WITH HACKING LIMBS OFF
AMC: While his compatriots leave him behind to flee the incoming roamers, Michael Zegen's Randall attempts to land on the street from his rooftop perch, ending up atop a dumpster with an iron fence impaling his leg. Rather than leave him behind, Rick, Hershel and Glenn frantically search for ways to free his leg, settling on amputating his leg above the wound. Though they ultimately don't go through with it, Rick asks Glenn to fetch a hatchet from the truck, holds Randall down, and ends up giving Hershel a pocket knife to finish the job.
THE COMICS: Oh, that Rick and his limbs. First Rick and his trademark hatchet made a desperate gambit to save Alan's life by chopping off his leg above a bite wound, though Alan ultimately died from blood loss. Rick's own hand not-withstanding, Dale later lost his own leg under the same circumstances as Alan, though he managed to pull through the amputation.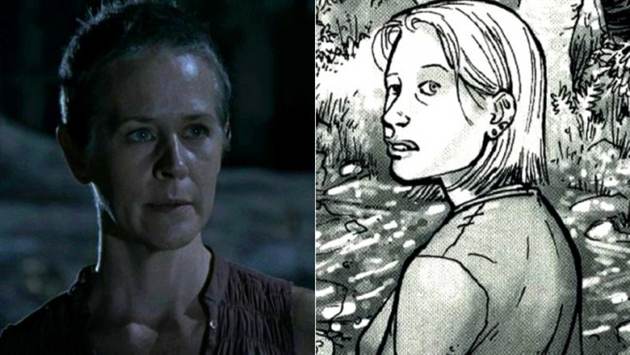 AMBASSADOR CAROL
AMC: Noting how much he's been pulling away from the group after Sophia's death, Carol takes it on herself to visit with Daryl and even suffer his anger as a means to bring the loner back toward the inner circle, which ultimately succeeds.
THE COMICS: In the books Carol herself was the one becoming increasingly isolated, as things took a turn for the wrist-slashing worse after she and Tyreese called it quits. Even after surviving and leveling out, Carol made several bizarre advances on both Rick and Lori, and wound up something of an outsider before ultimately deciding to "make friends" with a captive roamer.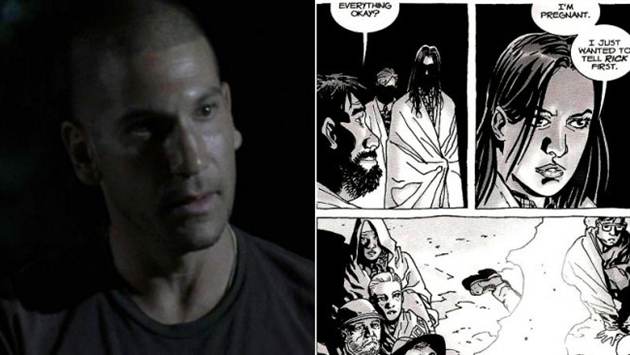 SHANE SPILLS THE BEANS ON LORI
AMC: Having returned Lori to the farm under the pretense that Rick, Hershel and Glenn were already safe and sound, Shane explains (in front of everyone) that he only lied to get Lori safe and protect her (and potentially his) baby, effectively outing her condition to anyone who didn't know.
THE COMICS: Not withstanding that comic Shane never lived to learn that Lori was pregnant, in the books it was Lori herself who told the group of her pregnancy before arriving on the farm, making sure to pull Rick aside and tell her husband first.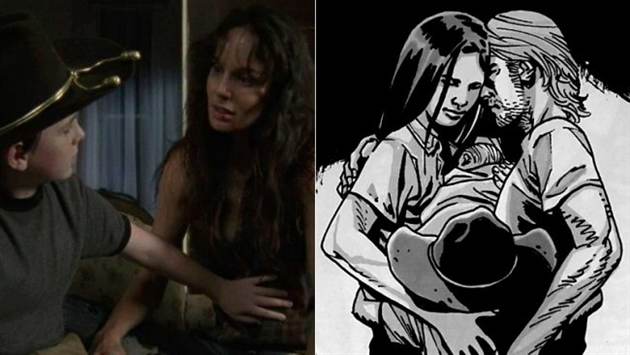 WHATEVER HAPPENED TO BABY JUDITH?
AMC: Of course, nothing is set in stone, but after learning of Lori's pregnancy (though he doesn't quite understand the birds and the bees), Carl petitions his mother to name the baby "Sophia" after his lost friend, should the baby come out to be a girl.
THE COMICS: Well, that makes a degree of sense for the AMC version. In the comics however (seeing as Sophia was alive and well), Lori chose the name "Judith" for her baby, after she was already born. Why she chose this particular name, is anyone's guess.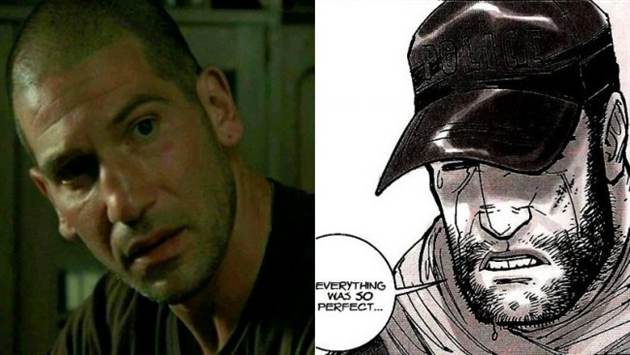 SHANE'S BREAKING DOWN
AMC: Pulling her aside for an apology and one-on-one discussion, Shane insists that he and Lori shared something real and uniquely special in Rick's absence, though she strongly denies having had any real feelings for him.
THE COMICS: Though not taking place in exactly the same manner, the sentiments AMC Shane expresses strongly echo the feelings and words of his comic counterpart, who admittedly spent only one night with his Lori. In either case, Shane believed their affair to be more than it was, and started cracking toward the purpose of "making" things right by taking Rick out of the equation.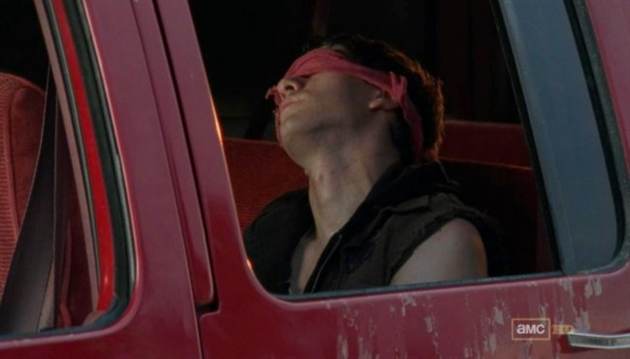 OH BTW GUYS, THIS IS RANDALL

AMC: Everyone loves new characters! This week we meet Michael Zegen (Rescue Me, Boardwalk Empire)'s Randall, whom after freeing his leg from the iron gate in town Rick and the others blindfold and take to Hershel's farm for further care, intending to blindfold him once more and release him in town after his leg heals.
THE COMICS: Randall is an original creation of AMC's The Walking Dead, and thus has no comic counterpart, not even anyone who shares the name! However, it is worth considering that the comic book survivors have brought in members of rival camps before, only to have to worry about them leaving and alerting their camp of a more desirable location. Most notably, Woodbury guard Caesar Martinez pretended to defect and escape with Rick & co. to the prison, only to turn around and attempt to return to Woodbury with the facility's location. Rick managed to stop him, but will AMC's survivors be so lucky if Randall escapes with the whereabouts of the farm?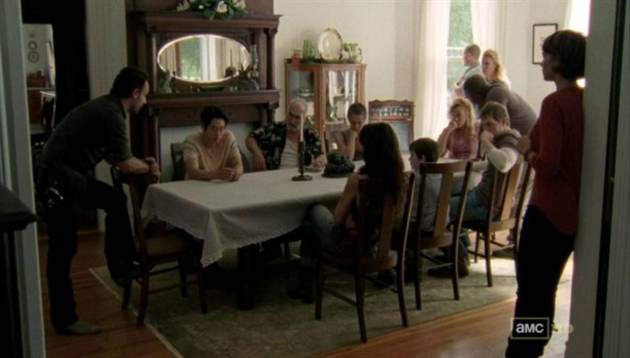 THE OTHERS
AMC: Rick and Hershel explain to the other survivors what they plan to do about Randall, though the group worries that keeping another camp's man on the farm means they might come looking for him, or worse, attempt to take the farm for themselves in an all-out war.
THE COMICS: The comic survivors too worried about other groups attempting to take their home by force and the war it would create, though they mostly referred to the security of the prison and the threat of The Governor at Woodbury. Hershel's farm was too insecure for anyone to desire overtaking it anyway.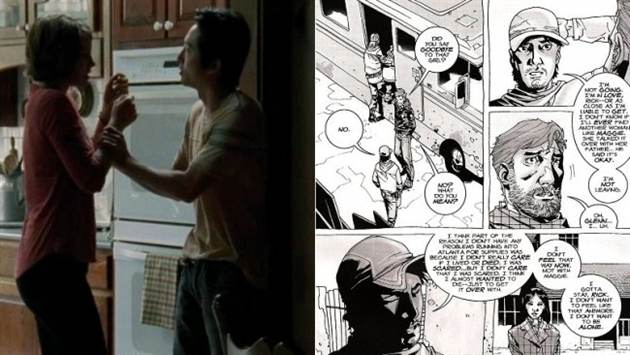 GLAGGIE NO MORE?
AMC: After their group conversation on the other survivors, Glenn and Maggie have a moment aside where he explains that he nearly got Rick and Hershel killed by thinking solely of Maggie during the shootout at the bar, has become too close to her, and thus rejects her further advances.
THE COMICS: Those crazy kids in the comics didn't have any issues working things out, at least this early, as Glenn and Maggie were comfortable with the L-word and even opted to stay behind on Hershel's farm after the other survivors cleared out. The two would worry quite a bit of their relationship putting the safety of themselves and others in jeopardy, though not until much later.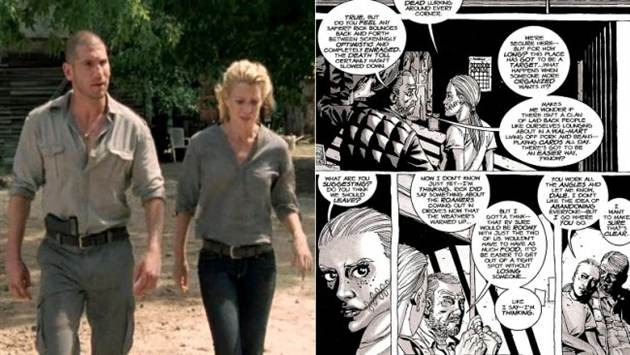 SHANDREA CONSPIRING
AMC: After Hershel publically reprimands Shane for his attitude and rash actions with others, Shane storms off and Andrea follows to corroborate his ideas, but suggest a lighter touch in his presentation. They both worry that Rick and the others' lenient attitude will bring Randall's group down on the farm in a war, and agree to ensure that never happens. Obviously detained by what might be his baby, Shane even expresses how he wished he and Andrea had left together when they had the chance.
THE COMICS: Comic Andrea too wanted to be prepared in case any outside factions attempted to take the survivors' home by force, but it was her lover Dale instead who posited that the two abandon the other survivors to strike out on their own in the RV, especially given Rick's instability as a leader.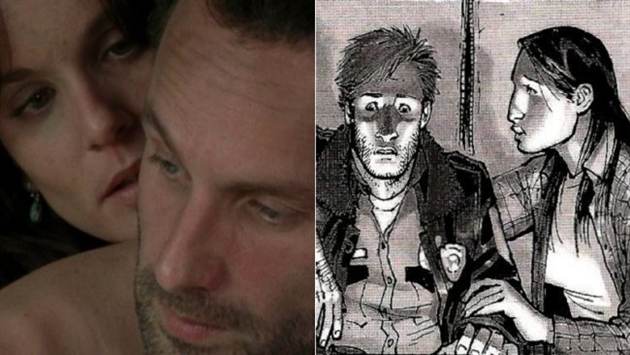 WE NEED TO TALK ABOUT SHANE
AMC: After a long, hard day of zombie-killing and survivor massacre, Rick and Lori unwind in their tent, where Lori lays on the line everything Shane told her earlier, and her own beliefs that he may have killed Otis out of his "love" for her. While Rick attempts to defend his friend's actions, Lori insists that he's dangerous and subtly impresses on her husband that Shane must be "dealt with."
THE COMICS: Yeesh! Rick and Lori shared a few conversations about Shane in private, albeit post mortem. While she certainly knew Shane to be a bit unhinged toward the end of their time at the camp, Shane's outburst at Rick was what led to his ultimate fate, not anything Lori pressed him to do about it.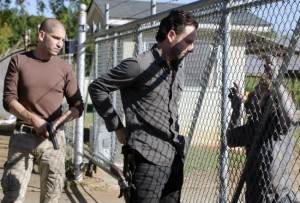 What did you think of The Walking Dead season 2 episode 9, "Triggerfinger?" Did we miss anything else from the comics you might have caught?
Let us know in the comments, and be sure to check back next week for our in-depth comic-to-TV comparison of episode 10, "18 Miles Out," the second half of The Walking Dead season 2, and other coverage of this and your other favorite shows!
Want even more Walking Dead? Be sure to check out our in-depth-comparisons of the first eight episodes right here!
The Walking Dead 2.01 – "What Lies Ahead" Comic-to-TV Comparison
The Walking Dead 2.02 – "Bloodletting" Comic-to-TV Comparison
The Walking Dead 2.03 – "Save the Last One" Comic-to-TV Comparison
The Walking Dead 2.04 – "Cherokee Rose" Comic-to-TV Comparison
The Walking Dead 2.05 – "Chupacabra" Comic-to-TV Comparison
The Walking Dead 2.06 – "Secrets" Comic-to-TV Comparison
The Walking Dead 2.07 – "Pretty Much Dead Already" Comic-to-TV Comparison