There's no denying that Mexican-born director Guillermo del Toro — the visionary mind behind the likes of Hellboy (2004) and Pacific Rim (2013) — is one of the most fascinating filmmakers working the industry today. No other director, perhaps ever, captures the same kind of monstrous beauty that del Toro's films are flush with: sumptuous colors, impossible creatures and richly textured settings that seem ripped out of the pages of one of the Grimm Brothers' fairy tales.
The man has had one of the most storied careers in Hollywood. From his gangbusters arrival with his fellow two amigos (Alfonso Cuarón and Alejandro González Iñárritu), to his exile back to Mexico, to his grand return some short years later, leading up to his ascension to Oscar recognition, he has worked both within and without the governing studios' support, and even made non-English language movies take root among the normally picky general audiences. And now, in honor of his 54th birthday, let's look back on the four best movies produced by one of the most quintessential auteurs of the century.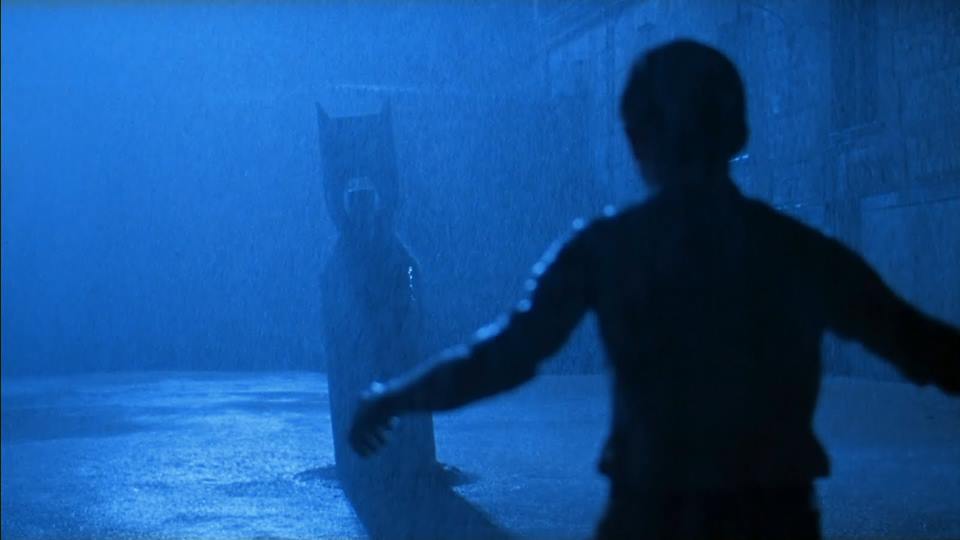 The Devil's Backbone (2001)
Del Toro first hit the scene with Cronos (1993), an off-kilter, Spanish-language vampire movie whose actual monster was the decidedly human Ron Perlman (soon to become one of the director's regulars). That led to his big studio break, Mimic (1997), which was so reviled at the time (due entirely to studio meddling behind the scenes) that the young Mexican emigre was promptly ousted from Hollywood. Not one to be so easily deterred, del Toro used his time in exile to work on the kinds of movies he wanted to. The result of his labors was The Devil's Backbone — if not the most popular del Toro feature, than certainly the best.
The Devil's Backbone is in many ways the quintessential del Toro movie. Starring not just one, but a full school full of orphans from the Spanish Civil War, it tells the story of a ghastly spirit that haunting the children's ramshackle orphanage, set against the very real, very human dangers lurking in the country around them. Although even a cursory glance could tell you that it's essentially a kind of proto-Pan's Labyrinth, it's so much more than just a rough draft for that movie. Its haunted narrative is at once more tragic than the nightmarish bedtime story its successor would become and deals far more directly with the material world of the wartime conflicts that make up its setting (as opposed to Pan's Labyrinth, which more evenly splits its focus between the two). And while both films certainly have their strengths and merits, it's the more modest player between the two that I find myself endlessly drawn back to.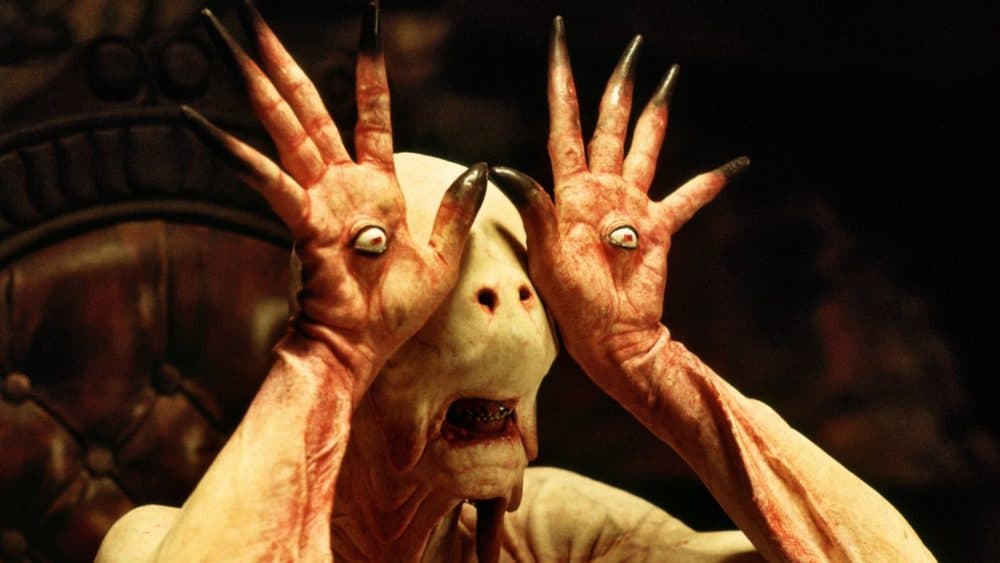 Pan's Labyrinth (2006)
Looking across the breadth of his career, it's easy to get it in your head that del Toro really only tells one story time and time again: merely refining the specific details into a more impressive display every time. It's a fantastical nightmare: like the old-school versions of fairytales without all the gruesome bits taken out. You could plot a straight line from Cronos to The Devil's Backbone to Pan's Labyrinth to Crimson Peak to The Shape of Water and see each successive film as a revision on the last. Or, for that matter, you could do the same with Blade 2 (2002), Hellboy (2004), Hellboy II: The Golden Army (2007) and Pacific Rim (2013). His focus is on perfection rather than innovation.
So while Pan's Labyrinth isn't the end of the line for this particular del Toro obsession, it never-the-less stands as one of his most nuanced, mature and all-around pristinely crafted works. It displays the kind of craftsmanship that isn't always apparent on the first go-around, often requiring subsequent viewings in order to fully appreciate the angle from which he's chosen to attack his pet-subject this time. And if the last decade has been any indication, its value in the larger culture will only continue to appreciate with time.
Crimson Peak (2015)
After dabbling with larger than life superheroes and Kaiju, del Toro returned to more familiar subjects: that is, ghosts and the monstrous human. And while I might prefer the likes of The Devil's Backbone — which lays everything to bear like a gaping red wound — there is no denying that Crimson Peak is bears all the hallmarks of an older, wiser and more confident director. It bears the unmistakable polish that del Toro learned to apply from his time in Hollywood studios and the hallmarks of a more practiced hand than he had been a decade and one half prior.
Although far from his most obscure work, Crimson Peak is never-the-less his most underrated work. It is slickly made and tightly plotted. Its characters, although decidedly old-fashioned, are remarkably well fleshed-out for as little as del Toro chooses to linger on them. He lays out exactly what kind of movie he's making in the first scene and plays straight with that premise until its closing credits, delivering some of the most sensational imagery of his storied career.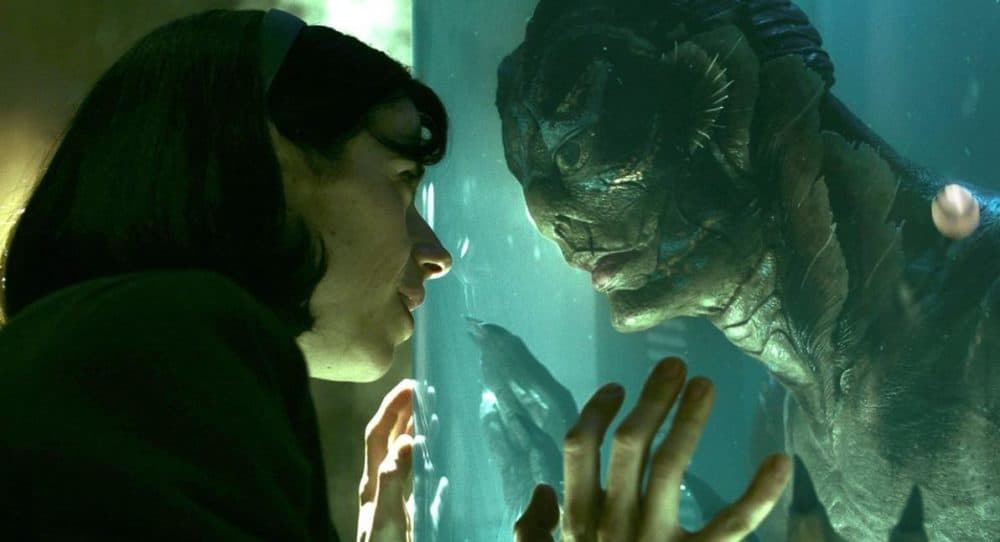 The Shape of Water (2017)
This is it: the movie that finally won del Toro his long overdue Oscar. While it might be tempting to deride the Academy for taking its sweet time to come around to his sumptuous brand of filmmaking, it's something of a miracle — even with the voting body's new influx of members — that he managed to win it at all. Much of del Toro's work is in Spanish. Much was made outside of Hollywood. And even then, he's a genre director: not the sort of filmmaker that the Academy is predisposed to reward.
The world, in short, was not ready for Best Picture Winner Pan's Labyrinth in 2006. And, in truth, it might not even be ready for it now. But The Shape of Water is a much more Academy friendly beast altogether: more focused on the failings of the older generation (older, even, than many of the oldest Academy members themselves). While it doesn't shy away from the fantastical flair that is by now del Toro's signature, it leans much harder into the romance between its principle leads, grounding it in something much more familiar. And, of course, of del Toro's English-language work, The Shape of Water is easily his best, most lyrical and most enchanting feature to date, making it an easy pick for the year's top prize, even when its competition included the likes of Get Out (2017), Dunkirk (2017) and Phantom Thread (2017).