When Netflix released the first trailer of The Diplomat, everyone expected it to be good. Not just because of the intoxicating British accents, Victorian buildings, wittering banter, or the perfect Saturday-afternoon-binge vibe. But it also had Keri Russell. Following the release, everyone was right, and the show went viral, with most people singing its praise. Turns out, it wasn't just Netflix junkies and Russell heads who enjoyed the show. So did real-life diplomats.
Geopolitics is boring, but being an ambassador is fun. Government power and throwing parties for influential figures in glitzy locations is certainly captivating. You also get to park anywhere you want. Russell and Rufus Sewell, who played Hal, were able to tap into that lifestyle to create a potent mix of spy thriller and soap opera that caught the attention of ambassadors around the world. And they did so by doing a few things right.
Netflix's The Diplomat Impressed Real Life Diplomats With Its Accuracy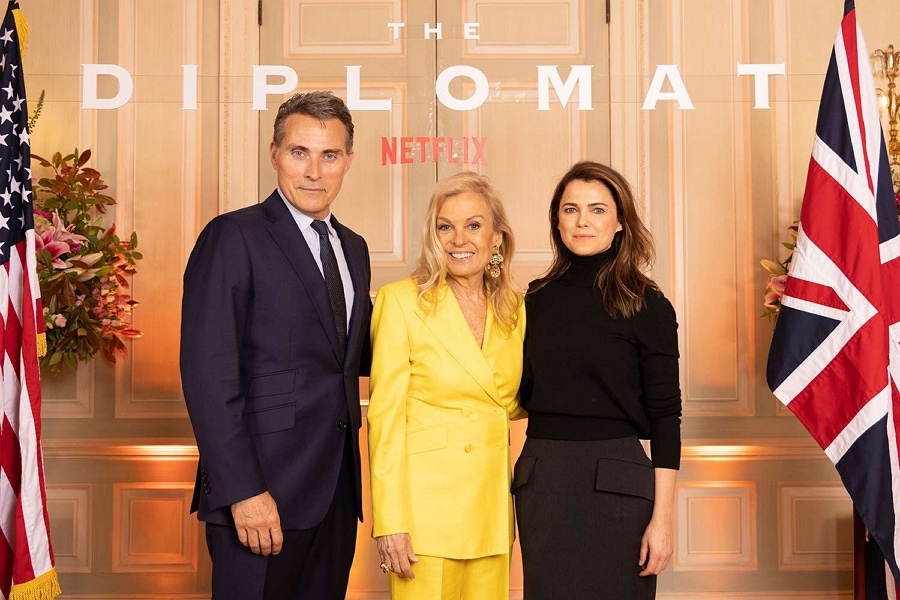 Much of the praise and attention the show has been getting from State Departments around the world is because of some of its hyper-specific accuracy. The details in set design and professional relationships, mixed with Hollywood's dramatic flair, caught the attention of high-profile government figures who watched it. Antony J. Blinken, Secretary of State, and Jake Sullivan, national security adviser, reportedly asked Jane D. Hartley, the real-life U.S. ambassador to the U.K., about some of the subtle details in the show.
The show's direction has also drawn positive attention from ambassadors across Mexico, Australia, Japan, and China. In the U.K., which the show portrayed as a U.S. frenemy, parliamentarians, political officials, and journalists celebrated when Netflix renewed the show for a second season. Everyone, including ambassadors and high-level government officials, enjoys watching people like them on TV.
This Is What The Diplomat Gets Right With Its Representation
The relationship between Kate and Stuart (Ato Essandoh), the deputy chief of mission – including the use of D.C.M, the tension between the large staff that controls Kate's life, down to the packed suitcase, and her desire to seize control is also real—are all defly explored in its story. Also, Kate and Hal's relationship is not improbable. U.S. diplomats sometimes marry one another, and the foreign service world even has a name for them: tandem couples. Of course, there's a hard limit to the realism. Posh ambassadorial postings like Kate's almost always go to a wealthy campaign donor instead of a career diplomat. And every posting requires a Senate confirmation.
Still, much of The Diplomat's accurate representations result from extensive work by the show's creator, Debora Cahn, and its staff. They visited the U.S. Embassy in London and met the officials to get a real sense of what they do and what goes on there. In total, the show's staff interviewed 60 current and former career diplomats over two years of pre-production. During production, they also had six on-staff consultants from national security and foreign affairs. She will need them again to recreate the magic for the second season.