Over the past few years, the BBC's annual list of 'best movies' has become one of the most highly-anticipated events of the moviegoing world. Filling the void left by the apparent absence of AFI 'best American movies' list updates, they started out with a list of the best Hollywood-produced movies of all time (crowning perennial favorite Citizen Kane once more as the best ever made). They followed this up a year later with a list of 100 movies from the 21st century, then against with a list of the 100 best comedies a year further out. And for their latest list, they've taken on no less than the entire rest of the world.
The 2018 BBC covers the 100 best foreign-language (ie, non-English language) movies. The list stretches as far back as 1925's Battleship Potempkin all the way to 2012's Best Picture nominee Amour. It includes entrants from Italy (Bicycle Thieves, 1948), France (The Rules of the Game, 1939), Sweden (Persona, 1966), Hong Kong (In the Mood for Love, 2000), India (Pather Pachali, 1955) and Japan (Tokyo Story, 1954). Mainstream Hollywood directors like the ineffable Guillermo del Toro (Pan's Labyrinth, 2006) show up alongside golden oldies like Fritz Lang (Metropolis, 1927) and obscurities like Mikio Naruse (Floating Clouds, 1955). They even included African masterpiece Touki Bouki (1973), a Senegalese riff on Jean-Luc Goddard's classic Breathless (1960), which is a film, filmmaker and type of regional cinema that is criminally overlooked by the film-obsessed culture at large.
Of course, no list is going to be perfect. Like virtually every other list of this sort, the BBC's voters overlooked Ozu's true masterpiece, An Autumn Afternoon (1962), which was also his last film. Despite the occasional inclusion of such horror-adjacent titles as Pan's Labyrinth (2006), the lack of any outright horror is also distressing, as so much of the genre's best output comes from abroad, such as 2008's Let the Right One In (2008), High Tension (2003), Martyrs (2008) and Kwaidan (1964). Also, due to the quirk of looking on the language rather than the country of origin, English-dubbed features made in Italy, like the seminal The Good, the Bad and the Ugly (1966) and the spine-tingling Deep Red (1975) were necessarily concluded.
But, on the whole, the list is a remarkable achievement in film criticism. It acknowledges far-flung and frequently overlooked features, deftly balances between the competing styles of disparate nations and expresses a broad range of films from throughout the medium's storied history. They remarkably acknowledged a full four Kurosawa features (although I would have made room for even more) and even have my absolute favorite movie in the number one slot: the action-packed epic Seven Samurai (1954). No matter the misgivings some may hold toward this newly sacrosanct canon of world film, it is a good a place as any (and a far better pace than most) to start for budding cinephiles looking for their next cinematic fix.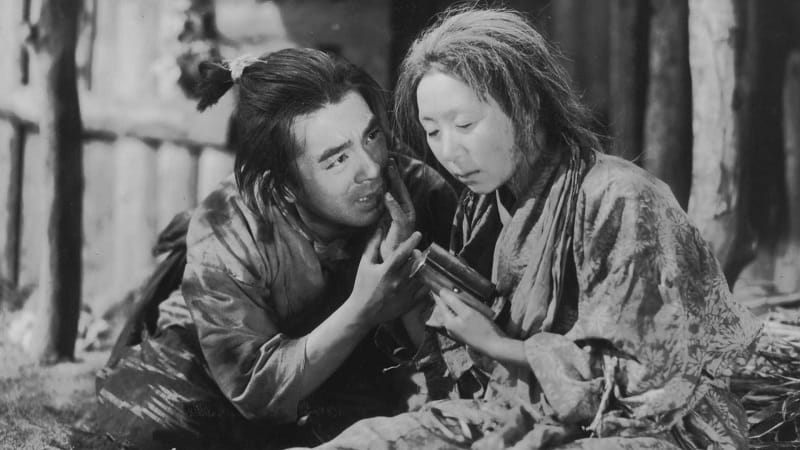 100. Landscape in the Mist (Theo Angelopoulos, 1988)
99. Ashes and Diamonds (Andrzej Wajda, 1958)
98. In the Heat of the Sun (Jiang Wen, 1994)
97. Taste of Cherry (Abbas Kiarostami, 1997)
96. Shoah (Claude Lanzmann, 1985)
95. Floating Clouds (Mikio Naruse, 1955)
94. Where Is the Friend's Home? (Abbas Kiarostami, 1987)
93. Raise the Red Lantern (Zhang Yimou, 1991)
92. Scenes from a Marriage (Ingmar Bergman, 1973)
91. Rififi (Jules Dassin, 1955)
90. Hiroshima Mon Amour (Alain Resnais, 1959)
89. Wild Strawberries (Ingmar Bergman, 1957)
88. The Story of the Last Chrysanthemum (Kenji Mizoguchi, 1939)
87. The Nights of Cabiria (Federico Fellini, 1957)
86. La Jetée (Chris Marker, 1962)
85. Umberto D (Vittorio de Sica, 1952)
84. The Discreet Charm of the Bourgeoisie (Luis Buñuel, 1972)
83. La Strada (Federico Fellini, 1954)
82. Amélie (Jean-Pierre Jeunet, 2001)
81. Celine and Julie go Boating (Jacques Rivette, 1974)
80. The Young and the Damned (Luis Buñuel, 1950)
79. Ran (Akira Kurosawa, 1985)
78. Crouching Tiger, Hidden Dragon (Ang Lee, 2000)
77. The Conformist (Bernardo Bertolucci, 1970)
76. Y Tu Mamá También (Alfonso Cuarón, 2001)
75. Belle de Jour (Luis Buñuel, 1967)
74. Pierrot Le Fou (Jean-Luc Godard, 1965)
73. Man with a Movie Camera (Dziga Vertov, 1929)
72. Ikiru (Akira Kurosawa, 1952)
71. Happy Together (Wong Kar-wai, 1997)
70. L'Eclisse (Michelangelo Antonioni, 1962)
69. Amour (Michael Haneke, 2012)
68. Ugetsu (Kenji Mizoguchi, 1953)
67. The Exterminating Angel (Luis Buñuel, 1962)
66. Ali: Fear Eats the Soul (Rainer Werner Fassbinder, 1973)
65. Ordet (Carl Theodor Dreyer, 1955)
64. Three Colours: Blue (Krzysztof Kieślowski, 1993)
63. Spring in a Small Town (Fei Mu, 1948)
62. Touki Bouki (Djibril Diop Mambéty, 1973)
61. Sansho the Bailiff (Kenji Mizoguchi, 1954)
60. Contempt (Jean-Luc Godard, 1963)
59. Come and See (Elem Klimov, 1985)
58. The Earrings of Madame de… (Max Ophüls, 1953)
57. Solaris (Andrei Tarkovsky, 1972)
56. Chungking Express (Wong Kar-wai, 1994)
55. Jules and Jim (François Truffaut, 1962)
54. Eat Drink Man Woman (Ang Lee, 1994)
53. Late Spring (Yasujirô Ozu, 1949)
52. Au Hasard Balthazar (Robert Bresson, 1966)
51. The Umbrellas of Cherbourg (Jacques Demy, 1964)
50. L'Atalante (Jean Vigo, 1934)
49. Stalker (Andrei Tarkovsky, 1979)
48. Viridiana (Luis Buñuel, 1961)
47. 4 Months, 3 Weeks and 2 Days (Cristian Mungiu, 2007)
46. Children of Paradise (Marcel Carné, 1945)
45. L'Avventura (Michelangelo Antonioni, 1960)
44. Cleo from 5 to 7 (Agnès Varda, 1962)
43. Beau Travail (Claire Denis, 1999)
42. City of God (Fernando Meirelles, Kátia Lund, 2002)
41. To Live (Zhang Yimou, 1994)
40. Andrei Rublev (Andrei Tarkovsky, 1966)
39. Close-Up (Abbas Kiarostami, 1990)
38. A Brighter Summer Day (Edward Yang, 1991)
37. Spirited Away (Hayao Miyazaki, 2001)
36. La Grande Illusion (Jean Renoir, 1937)
35. The Leopard (Luchino Visconti, 1963)
34. Wings of Desire (Wim Wenders, 1987)
33. Playtime (Jacques Tati, 1967)
32. All About My Mother (Pedro Almodóvar, 1999)
31. The Lives of Others (Florian Henckel von Donnersmarck, 2006)
30. The Seventh Seal (Ingmar Bergman, 1957)
29. Oldboy (Park Chan-wook, 2003)
28. Fanny and Alexander (Ingmar Bergman, 1982)
27. The Spirit of the Beehive (Victor Erice, 1973)
26. Cinema Paradiso (Giuseppe Tornatore, 1988)
25. Yi Yi (Edward Yang, 2000)
24. Battleship Potemkin (Sergei M Eisenstein, 1925)
23. The Passion of Joan of Arc (Carl Theodor Dreyer, 1928)
22. Pan's Labyrinth (Guillermo del Toro, 2006)
21. A Separation (Asghar Farhadi, 2011)
20. The Mirror (Andrei Tarkovsky, 1974)
19. The Battle of Algiers (Gillo Pontecorvo, 1966)
18. A City of Sadness (Hou Hsiao-hsien, 1989)
17. Aguirre, the Wrath of God (Werner Herzog, 1972)
16. Metropolis (Fritz Lang, 1927)
15. Pather Panchali (Satyajit Ray, 1955)
14. Jeanne Dielman, 23 Commerce Quay, 1080 Brussels (Chantal Akerman, 1975)
13. M (Fritz Lang, 1931)
12. Farewell My Concubine (Chen Kaige, 1993)
11. Breathless (Jean-Luc Godard, 1960)
10. La Dolce Vita (Federico Fellini, 1960)
9. In the Mood for Love (Wong Kar-wai, 2000)
8. The 400 Blows (François Truffaut, 1959)
7. 8 1/2 (Federico Fellini, 1963)
6. Persona (Ingmar Bergman, 1966)
5. The Rules of the Game (Jean Renoir, 1939)
4. Rashomon (Akira Kurosawa, 1950)
3. Tokyo Story (Yasujirô Ozu, 1953)
2. Bicycle Thieves (Vittorio de Sica, 1948)
1. Seven Samurai (Akira Kurosawa, 1954)
Tell us what's wrong with this post? How could we improve it? :)
Let us improve this post!