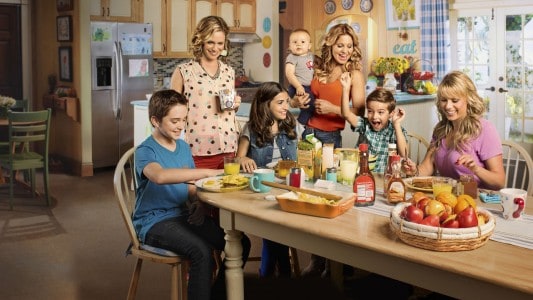 Let me preface this by saying Fuller House is not bad! It's charming and oh so cheesy in all its own unapologetic glory. If that's what you're into, by all means enjoy every second of it! On the off chance it's not settling like you hoped it would, I'm here to talk about that.
I'm using Girl Meets World as an example of the potential for Fuller House but that might not even be a fair comparison on every level. Full House and Boy Meets World overlapped briefly on ABC's TGIF lineup in the 90s but any viewer would know the difference in terms of quality, depending on your age at the time when you first watched compared to rewatching those shows and their reboots now. Apples and oranges, yes, but they're all still fruits in the end. The hearts of both shows remain in tact, it's just the execution style differs. Both World series are more grounded in reality.
Fuller House fails the nostalgia test by being way too over the top right from the start in the pilot. Literally opening the show with a clip of the original series' credits felt unnecessary. The new theme song is great, the accompanying throwback pictures of the OG cast even better. Less is more. Instead of throwing in every possible catchphrase from Full House into the Fuller pilot, let the audience breathe a little. We get it! It's a reboot and we all remember how cute Stephanie was when she coined "How rude!" and Joey's classic "Cut it out!" It's all fine and good to bring those back but finding a more natural way to fit those in might have been better in this scenario.
Fans of Girl Meets World love every nod to Boy Meets World but that's because they're all spaced out and come about organically. Old friends and family members only stop by occasionally (and only when called for) while most of the time the new generation of Matthews kids carry the torch on their own just fine. We don't have Eric popping in every episode to do his Feeny call because that would be ridiculous.
Imagine if Girl Meets World started with Cory and Topanga inheriting the Matthews' home in Philadelphia instead of their own apartment in New York. We can say Alan and Amy are retiring to a rancher style home in the suburbs because that's a location close enough to still pop in frequently enough that's frankly not normal. Maybe Eric moved in with a now elderly Feeny next door, so he's quite literally filling his shoes to be the new generation's Feeny. Hitting the viewers over the head with these comparisons is trying too hard. We're smarter than you think, especially considering Netflix is generally an all ages platform as opposed to Disney Channel who targets a younger audience, leading many adults who might actually enjoy Girl Meets World a lot to write it off as just another kids show. Be more subtle about the callbacks to the original. Believe me, it's okay.
I could be wrong because from the first few episodes of Fuller House I've watched, I still enjoy it. I will watch it all and hope it even gets renewed for another season. It's a different and slightly worse approach to a reboot than I was expecting because Girl Meets World set the bar high in terms of these very specific TGIF reboots. To the Hollywood and TV gods out there, just please don't mess with Sabrina The Teenage Witch next!
All that said, what do you think of Fuller House so far?