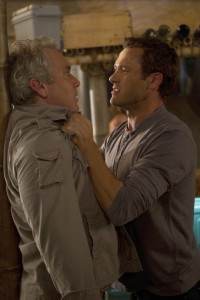 Terra Nova continues past the half-way point of its first season eight-episode order with tonight's 'Proof,'and with it mystery is afoot as Maddie suspects that her idol Dr. Kenneth Horton (Robert Coleby) isn't who he says he is. Meanwhile, Mira calls on Josh for his favor as Commander Taylor investigates a mysterious trail out in the jungle.
Didn't get a chance to watch? Well, read on for everything you need to know about Terra Nova's 'Proof'!
Jim and Commander Taylor engage in an impromptu fishing trip, one of which nearly pulls Jim into the ocean (in what had to be some of the worst effects the show has offered to date) as Taylor reminisces about fishing in the early days of Terra Nova, having brought his son there in the past. Unfortunately , talking about his son isn't Taylor's favorite topic.
Back at Terra Nova, Elizabeth surprises Maddie with the news that one of her favorite geologists Dr. Kenneth Horton will be returning to the colony later that day, and she can provide her daughter with access to gain his autograph. As the good doctor arrives, he quickly annoys Dr. Malcom Wallace (Rod Hallett) by forgetting his name and dismissing him, travelling with Elizabeth and Maddie to get himself checked out. As Josh works his jar at the bar, our favorite Kiwi Boylan informs him that Mira has decided to call in his favor, sneaking a rare chemical out of his mother's lab to cure a sickness prevalent among the Sixers! As Josh broods about the difficult choice, Skye (Allison Miller) renounces his involvement with him and the increased danger of his efforts to retrieve his girlfriend from the future.
As Dr. Horton checks out, he agrees to provide the wide-eyed Maddie with a tour of his lab, and even take her on as a personal assistant. As he shows the girl some of the new plant species and rock types from his journeys, he signs her copy of his book but fails to remember a joke from its early chapters or that hed once answered on of her letters. He asks her to see her copy, so he can put it in his archives. Later, Maddie complains about the suspiciously bad memory to her mother, who answers that a stroke he suffered years ago could have changed his personality, even his signature.
Speaking of bad personalities, Boylan shakes down one of his regulars before Josh comes in demanding proof Mira can bring his girlfriend to Terra Nova! They take a quick (hooded) trip out into the jungle where Mira initially balks, but eventually provides some kind of holographic communication with Kara to confirm. His concerns satisfied, Josh agrees to go through with the robbery.
Back out in the jungle, Jim and Taylor come across a recently vacated campsite, which they reason belongs to Curren, the soldier recently exiled for murder after the events of 'Bylaw.'Taylor opts to stay behind and investigate while Jim travels back to camp. There, Dr. Horton shows Maddie how he plans to fix a crop of diseased apples with a rare beetle, and fumbles over further details from his supposed past. As Maddie continues pondering the discrepancies, Josh swipes his mother's keycard to be replicated, though the device fails to work after he breaks into the lab. Desperate, he utilizes a sonic pistol at full setting to open the container, injuring himself and nearly destroying the lab in the process.
As Taylor finds Curren wounded in the jungle, Jim arrives back at Terra Nova where Wash promptly alerts him to the break-in. Meanwhile, Maddie pressed Horton for her letter back, which he suspiciously seems to have misplaced! Taylor feeds Curren a concoction to aid with his legs infection, informing the 'ancestral komodo'that attacked him continues to stalk them through the jungle, but won't answer any questions about why he's helping a man he banished.
Continuing her investigation, Maddie stakes out Horton until he leaves the lab, finding her letter burned in the trash once he leaves! He of course returns though, ditching his cane in the process and taking out the trash, but not before Maddie swipes a piece of the burned letter. Horton's not the only one with suspicious behavior, as Josh flips out at his parents mention of the stolen medicine's suspicious circumstances, and the citizens of Terra Nova who need it for actual treatments. Maddie reasons that Horton might have had plastic surgery to change his identity, and swipes a coffee mug for a DNA sample to compare with the letter's envelope. Malcolm catches her illegally using the system, but jumps at the chance to prove Horton might be a fraud! It turns out to be the genuine article, but what's the good doctor suspiciously listening in for?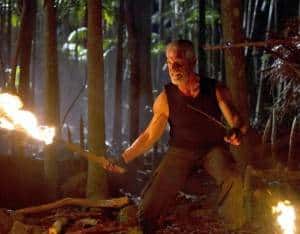 Josh steals back a vial of the medicine for his guilt, while Boylan gets the idea to frame his customer from earlier to settle the debt. The story seems to fit, but Jim as always suspects something wrong with the picture. Meanwhile out in the jungle Taylor saves Curren from the beast hunting him, but at a price. He instructs the former soldier to find the Sixer camp and ingratiate himself to finger the Terra Nova mole, as doing so will earn Curren redemption and a place back inside the walls!
Maddie investigates Horton further, reasoning that even though the DNA matches, 'Horton'might be the real doctor's former assistant, using information from the encyclopedias to paint a reasonable portrait of the crime that the assistant murdered the real doctor. Horton confronts her menacingly as she researches, but the timely interruption of a random patron affords her the opportunity to escape. She makes it to the school to pick up her younger sister, only to find out that Dr. Horton himself already did!
Maddie finds the pair in the apple orchard, and sends Zoe off to tell her father about 'asparagus,'while confronting the man. 'Horton'informs her that her deductions were correct, tying her to a tree and setting loose a poisonous spider as he explains that the real Horton lied about his research, and didn't deserve his spot in Terra Nova. Before he can go any further, Jim arrives to save the day, having been delivered the safe word 'asparagus!'
Later, her parents congratulate her intuition, as Josh comes in with a vial of the missing medicine, confessing the whole story and his involvement with the Sixers to his parents. Jim promptly confronts Boylan, who reveals that Mira indeed has a way of communicating with 2149 without the portal being open. As Jim relays the news to Taylor, the Commander realizes that his long-lost son's genius must be responsible for the breakthrough technology, before quickly changing the subject
Later, as Maddie reflects on the traumatizing events behind her, she picks one of the doctor's apples and smiles.
Did you get your fill of dino-action? What did you think about the episode? Join us next week for an all-new episode recap of Terra Nova on FOX!
Tell us what's wrong with this post? How could we improve it? :)
Let us improve this post!