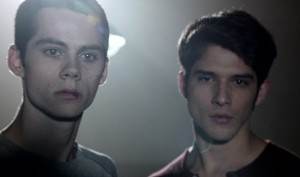 Wow, has it really been eleven weeks of Teen Wolf? Time most definitely flies when you're running from werewolves, kanimas, murderous teens and psychotic geriatrics. However, all that is about to come to an end for one unfortunate Beacon Hills resident as someone is about to bite the long-rumored bullet (or axe, sword, knife, whatever) in Monday's second season finale of Teen Wolf where everyone's life is at stake. At least those that matter.
Last week, we left off with Stiles being kidnapped, Allison turning into a female, mini-version of Gerard, and Jackson injuring himself under Gerard's command. The latter proved to Scott that Gerard just simply doesn't give a damn about anyone's lives when it comes to his goal of avenging the death of his daughter. Although, Scott might have gotten that memo when Gerard took his mother hostage with the Kanima in their very own house. Also, Peter "Original Big Bad" Hale surprisingly gave advice to his nephew turned nemesis Derek about how to be a better Alpha to defeat the increasingly powerful Gerard. The stage has been set for an epic battle that will have friends fighting foes and Scott's "pack" possibly reuniting to save each other from Gerard's vengeful insanity.
MTV has released a trailer and one suspenseful clip from the finale, that was exclusive to Teen Wolf's Facebook page. In the clip, which is quite spoilery, we see Scott, Isaac, and Ms. McCall standing over someone in a body bag and strange things start to occur shortly after wards. Take a look and let your Teen Wolf theories fly:
Weird, much? What could that particular situation mean for the person involved?
Next up is the goosebumps inducing trailer, which is narrated by all the main cast members as they discuss "When Their Moment Comes." Here's the trailer followed by the quote from the trailer:
"Everyone wants to be a hero. Everyone thinks that when their moment comes, they'll know exactly what to do. But… not every one does. And you'll never know until you're tested. Because when a friend's in trouble… you don't 'think.' You trust the instinct." And thank you, cast of Teen Wolf, for those chills traveling down my spine every time I see this trailer.
Now that you've taken a gander at these two clips from the Teen Wolf finale, what are your observations, theories, and other summations about what will possibly go down this Monday night? Are you even ready for what Jeff Davis and crew will bring?
Photo: MTV