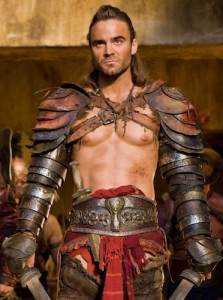 Spartacus: Vengeance continues its bloody fight in the aftermath of Spartacus: Blood and Sand, burning through its fifth episode "Libertus," as Spartacus mounts a rescue mission to retrieve Crixus and Oenomaus from their fate in the arena at the hands of Gannicus (Dustin Clare), while Glaber learns startling news about Ilithyia. An increasingly epic and action-packed episode, "Libertus" continues the hot streak of Spartacus' second season without losing its focus on interpersonal conflicts.
Lately, I've been doing my best to be introspective about the process of reviewing and recapping television. After a while, nervousness arises that you've run out of poignant things to say, or the eloquence to verbalize how different episodes make you feel, and even the manner in which you watch the episode can affect your viewing of it. More often than not, reviewers have but one chance (ideally before airing) to watch an episode, but rather than simply let the events wash over them, they scrutinize, take notes, and struggle to lay down dots for later connection. That hurried viewing challenges your interpretation, and might even prevent you from seeing a larger picture in favor of individual beats and moments.
In particular, Spartacus: Vengeance has been affording me rather unique cause for introspection, given the raves I've bestowed upon the first four episodes of the season, and the promise of only greater episodes to come. I'm not used to heaping such uniform praise on any TV series that wasn't cancelled by the FOX network in 2003, so I've tried to keep a level head and honest heart going forward. That's why I was glad that Starz has been so generous with their screener packages, As I had a chance to enjoy 'Libertus'weeks ago before sitting down again today to approach with more critical eyes. It's a great relief to be able to clear any lingering confusions from the first viewing, and identify a few weak points that thankfully never mire another stunning, and memorable episode.
In general terms, 'Libertus'pushes the boundaries of Spartacus farther than ever before, bringing the entire arena down in a fiery conclusion that sees Oenomaus (Peter Mensa) and Crixus rescued from Roman hands, while Gannicus reluctantly tags along with Spartacus and his men in the escape. Only five episodes deep I'd never have expected an ending so cataclysmic and exciting, echoing Gods of the Arena's own finale 'The Bitter End,'with visceral battles raging on all fronts amidst a sea of fire. It's a real testament to Spartacus: Vengeance that it can sustain this kind of epic storytelling on a week to week basis, with miles still to go toward its conclusion.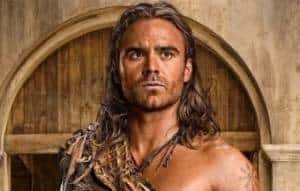 Obviously, one of the biggest items of discussion for 'Libertus'is the return of Dustin Clare's Gannicus, not seen since winning his freedom at the climax of Spartacus prequel series Gods of the Arena. Given my lack of historical knowledge at the time of Gods of the Arena, I was greatly excited to see that Gannicus would survive with a door left open to return to Spartacus'proper narrative in time, especially since Andy Whitfield, Liam McIntyre and Dustin Clare have managed to create such charismatic, yet opposing portrayals of these storied gladiators. It's also interesting to consider how Spartacus might have handled the character of Gannicus if not for Andy Whitfield's illness delaying the start of season two, considering the license the show takes with the already difficult to come-by history.
Gannicus himself brings a number of important new ideas into the fold, as in the years since his freedom he seems to have wandered the earth absent of purpose, tied only to the 'rudis'which signifies his liberty. In that sense he and Oenomaus share a certain aimlessness in the wake of Spartacus'slave rebellion, and unleashing the history between the two men in the sands of the arena creates a fascinating dynamic viewed in the light of the fire Spartacus'cause creates. Not to mention, even in the briefest of exchanges Spartacus and Gannicus crackle with tension over the bounds of loyalty and honor, which will undoubtedly make Gannicus'inevitable recruitment that much more of an exciting journey to watch.
In earnest, I was actually a bit worried about Spartacus and his men engaging on yet another rescue mission, the fallout of Naevia (Cynthia Addai Robinson)'s recovering once again preventing Spartacus'army from accomplishing anything substantial outside of Capua. With all the talk of Pompeii and sacking ports for slaves to add to the ranks of their army, I'll understand if viewers find themselves feeling a bit like Milhouse bemoaning the long-heralded trip to the fireworks factory. Still, Spartacus and his men manage to send an important, and terrifying message to the citizens of Rome in destroying the arena, and with such incredible action and striking visuals a little delay for the rebellion isn't going to hurt anybody. I'll even forgive yet another of TV's seemingly unending use of the 'ONE DAY EARLIER'trope, which has the effect of deflating tension within the gladiator battles prior to the main event, which the fiery end soon corrects.
The destruction of the arena also moves forward the various plights of the Roman elite, which admittedly crosscuts squabbles with such rapid-fire pace it can feel like an episode of Downton Abbey within a tiny arena booth. On the one hand Ilithyia moves further toward having her marriage dissolved in favor of Varinius (Brett Tucker), until Lucretia reveals a bit of her own motivations by forestalling the abortion of the baby, which Ashur (Nick E. Tarabay) uses to his advantage by revealing to Glaber, who in turn confronts Ilithyia, who reveals the truth and all seems ready to come crashing down around them before the arena itself does literally just that. And while fortune turns rather conveniently in giving Glaber the opportunity to murder Ilithyia's father beneath the fiery rubble, at the very least his death should uncomplicate Roman matters for the time being and turn attention back toward the threat of Spartacus. It's not that the various interconnected threads aren't interesting when tugged, but seems like both the rebels and the empire could be better faced with less obstacles going forward from 'Libertus.'
It feels very much like the already-strong momentum of Spartacus: Vengeance is picking up, and the addition of Gannicus and devastation for Capua has the potential to make Vengeance one of the best sequel seasons in recent memory.
And Another Thing…
Seppius and Seppia still haven't been given much to do, but now we have another new rebel character in the disillusioned Roman Lucius, who provides shelter for Spartacus'rebellion and setting for at least the next few episodes.
Speaking of Lucius, it's getting a little convenient how quickly news of Spartacus travels from region to region, but I suppose gossip will always be gossip.
Boy, the cinematographers sure do love shots of a wounded Manu Bennett looking out from behind bars.
Lucretia's angle becomes a bit clearer this week in her desire to see a child born to the House of Batiatus, and I particularly liked the detail of her two-faced bracelet cradling Ilithyia's hand.
Great work done by Cynthia Addai-Robinson as Naevia (in spite of comments on her performance last week), who seems especially wounded to have lost Crixus again for someone as 'soiled and ruined'as herself.
It's great the way Agron simply kisses Nasir, and the narrative doesn't waste any time in explaining how these two men got to that point.
I imagine Gannicus'rudis will come into play again, as it makes for such a strong symbol that Starz even included a small replica in the initial Vengeance press kits.
Good lord, a fire in ancient construction like that would be truly terrifying to escape. And I'll have to assume Spartacus narrowly missing Glaber with a spear to be a 300 reference.
Enough of my blabbering. What did YOU think?