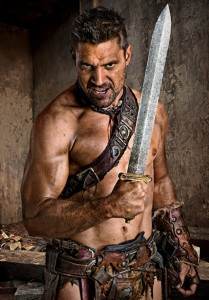 Spartacus: Vengeance continues fighting in the aftermath of Spartacus: Blood and Sand, raging through its third episode "The Greater Good," as Spartacus and Crixus face dissent within the ranks upon learning news of Naevia's fate, while Lucretia reveals a secret that aids Ashur in breaking down the captive Oenomaus. Continuing it's hot streak, "The Greater Good" brings together some impressive set pieces and drama for another bloody good show.
I've really been loving this new season of Spartacus: Vengeance, in spite of how Blood and Sand or Gods of the Arena never quite clicked for me. Perhaps the increased scale*, consistent sense of danger and plot progression, and some fantastic performances within the show's elegant philosophical discourse on the nature of love and freedom have been given much more consideration in the time it took for Spartacus: Vengeance to arrive. Or, perhaps I simply missed the show more than I remember, but either way it continues firing on all cylinders with only three episodes aired. As I mentioned in last week's 'A Place In this World," I have copies of episodes five and six, but have only watched through next week's 'Empty Hands,'which was my favorite of the bunch.
(*) While he still hasn't appeared other than in flashback, Dustin Clare (Gannicus) pointed out in early interviews that a few particular shots of the mine perfectly encompassed how the scale of season two had grown, which is absolutely evident in several of the location's establishing shots, breathtaking to behold.
While certainly still a visceral thrill-ride, 'The Greater Good" has the largely thankless job of moving through some of the initial humps in the season in order to get from A to B, and the next level of obstacles. Sooner or later Naevia (Cynthia Addai Robinson debuting in the role, replacing Leslie-Ann Brandt) would have to be dealt with in order for Spartacus and Crixus to make any headway in their rebellion, just as Lucretia and Glaber would need a few more allies to their cause in order to make any significant gains in the search for Spartacus. And with Varinius (Brett Tucker) and Illithyia's father in town, her husband's attention turning toward his work, I imagine Ilithyia will have a few moves over own to play in the coming weeks as well.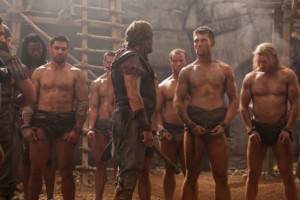 Mostly 'The Greater Good'gives over to Naevia and Crixus, as news of her fate sends the brutish Gaul into a downward spiral, which gives Manu Bennett some fantastic material to play before he learns of her survival, ultimately sending Spartacus'men deep into the mines in rescue. In particular I liked how even in his grief Crixus sees the wisdom in Spartacus'words, and the resulting speech of brotherhood and inferno ignited by fires not yet extinguished by death. Of course Naevia ends up alive, and of course the one to pay the price for her rescue would be Crixus himself, even if there's no way he'll wind up dead by the next episode.
It very much speaks to the strength and intelligence of the characters that no one is necessarily wrong in their actions regarding Naevia. As outnumbered slaves still on the run, Agron very much serves the greater good of the men in keeping Naevia's survival from Crixus, even if he would have been equally selfish for his own brother, as Spartacus reminds him. If the men are to have a fighting chance they'll need to continue on with their plan to camp at Mt. Vesuvius* and recruit more men to their cause rather than risk more for Crixus'woman, but so too is Spartacus justified in asserting that if one life holds no value, than none do. It's that kind of exploratory debate that keeps moralities clashing as often as swords, and makes for some very strong character moments in the less action-packed hours.
(*) Most people are likely to note that the very Pompeii Spartacus seeks to attack from the shadow of Mt. Vesuvious would be destroyed in its eruption, though history records the Third Servile War took place some 150 years before the famous explosion. Still, it's not hard to imagine that Spartacus: Vengeance could play with some of the mountain's lesser eruptions in a climactic battle.
There's a good deal of fragile threads that bond characters to one another, begging questions of how and why people risk their lives. Oenomaus (Peter Mensah) for instance never consciously attempts to portray his brotherhood, even as he dissociates himself from their rebellion, and only cracks to reveal their location accidentally as Ashur reveals details of his wife's affair with Gannicus. So too does it seem foolish of Crixus to brave heaven and hell for a woman likely dead, given others who need him, but these kinds of raw, unfocused emotions run rampant throughout Spartacus: Vengeance with some very powerful drama. Since 'The Greater Good'presents more than a few flashbacks of Crixus'affair with Naevia, or Gannicus'time with Melitta, it might help to refresh a bit on the past seasons before heading into this, and upcoming episodes.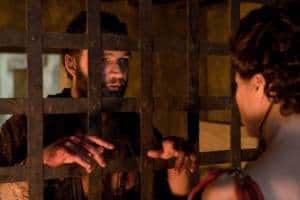 Elsewhere there's still plenty to mine (pun intended) from some of the lesser-developed villains, as we're clearly seeing cracks between Ilithyia and Glaber form after the arrival of Varinius, even if Glaber briefly manages to win the day. It would also benefit to learn a bit more about Ashur's motivations beyond rejection from the brotherhood, powerful a bond though that may be. As has been mentioned in fan theorizing, repeated references to Nasir's Syrian heritage and memories of his brother could be pointing toward Ashur, which which help flesh out a few of his emotions beyond pure vengeance. At the very least, it was important to see that he was the one to save Lucretia from death and set her on her current path, though once again get very little credit for his work.
'The Greater Good'is more about moving pieces into place rather than utilizing them, but still another solid hour for Spartacus and his merry men.
And Another Thing…
I think it's safe to say that anytime an extra peers around a corner, or positions themselves to look closely at something, someone's going to shove a sword through them.
And speaking of gory, life-threatening injuries, Ashur cuts off his frigging forearm skin! One doesn't recover from that by wrapping it.
Be careful if you're ever researching the history behind the show. Surely they pick and choose aspects to change, but you might be surprised how much is in keeping with real life, and accidentally spoil a few seasons for yourself!
I didn't get to mention it, but I think it's sweet the way Nasir and Agron seem to have developed an interest in one another, a comment on the fluid sexuality of the culture.
Still nothing to do for Hannah Mangan Lawrence's Seppia. Maybe next week?
Ah, the magic of the movies. Where people in stadiums can perfectly hear, and recognize people from 100 feet away.
What did YOU think?