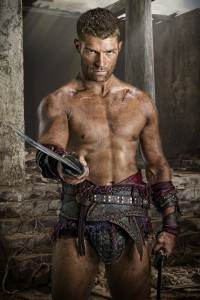 Spartacus: Vengeance rises out of the ashes of Spartacus: Blood and Sand with the long-awaited premiere of "Fugitivus," as newcomer Liam McIntyre takes over the title role of the newly-freed Thracian gladiator leading a slave rebellion against the hordes of Rome. With all the attention surrounding the show's second (or technically third) season, fans will be thrilled that Spartacus returns bloodier, and more thrilling than ever.
I made a deliberate decision not to rewatch Spartacus: Blood and Sand or even Spartacus: Gods of the Arena before delving into Spartacus: Vengeance, for several reasons.
For one, the amount of time that has elapsed between Vengeance and Blood and Sand because of Andy Whitfield's tragic illness makes the two series almost incomparable, even without the changes in cast and structure. All the basic story elements are well in place, with Batiatus dead, the ludus overthrown and Spartacus'rebellion out on the run, and we need only little refreshment going into Spartacus: Vengeance to follow the new tale.
Additionally, I didn't want the memory of Andy Whitfield looming over the series any more than the cast and crew did, that despite the tragedy of his loss the show must go on, and Andy had given his blessing for Starz to continue without him. However much time has elapsed since one's last partaking of Spartacus: Blood and Sand, comparisons between Liam McIntyre and Andy Whitfield will inevitably be drawn, and it seemed to me that the cleanest slate possible would do well in appreciating the long-awaited return of the series.
It's interesting to chart the course of Spartacus'reception even before its delayed and truncated sequel series, which debuted against heavy 300 comparisons and seemed almost overshadowed by its extreme sex and violence. In spite of all its heightened reality and over-the-top adult content, I actually found plenty to love within the series itself, from its extraordinarily rich relationships to its near-Shakespearean dialogue, an impressive melding of vulgarity and cultural idiom. I've never partaken of Rome or any other quasi-historical series, but I find a great deal of brave authenticity in the willingness to highlight cultural values and sentiments of a forgotten time. In fact, I recall a moment early on in 'Fugitivus'wherein Agron (Daniel Feuerriegel) expressed objection to the notion of Spartacus leaving one of his slain Romans face-up, a seemingly innocuous superstition that helps re-establish this bizarre world of honor and respect in maddening times.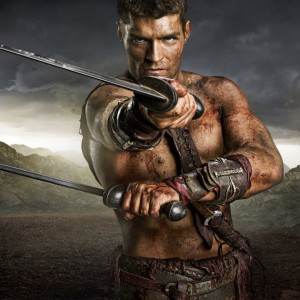 Unfortunate as it may be, everyone tuning in to Spartacus: Vengeance will inevitably first look to Liam McIntyre in the role, and I'd be remiss if I didn't make a few observations about the transition from Andy Whitfield. Though McIntyre certainly makes the role his own, from a physical standpoint one reacts to Spartacus differently in his new incarnation. His hair less cropped, of smaller stature and less filled out musculature, McIntyre's Spartacus feels inherently younger than Whitfield's, which in turn serves the role as Spartacus finds himself so woefully unprepared to lead a fledgling rebellion against the hordes of Rome. McIntyre also carries a warmth and range glimpsed less in Whitfield, whose Thracian gladiator carried more grief and cold determination than McIntyre's newly-established leader. Indeed, the transition between actors feels almost entirely organic of the series, given both McIntyre and the character himself enter Spartacus: Vengeance with such incredibly daunting burdens to bear.
'Fugitivus'doesn't waste much time in establishing the new order for Spartacus: Vengeance either, almost immediately highlighting the slave revolt's dangerously uncertain predicament, and the widening cracks of leadership within. So too do we return both Ilithyia (Viva Bianca) and Gaius Cladius Glaber (Craig Parker) to Capua to begrudgingly augment the failed efforts of crushing Spartacus'rebellion, from the very Ludus where Batiatus and Lucretia once ruled. Lucretia herself too makes a frightening re-appearance, seemingly driven mad by the slaughter of her household, but quickly settling into her new role as a public symbol of the rebellion's fallibility. Lucretia's new role certainly makes for a fascinating wildcard in the new order as well, given her inherently duplicitous nature and the tense relationship she holds with Ilithyia after the events of last season, something Lucy Lawless plays with delicious ambiguity.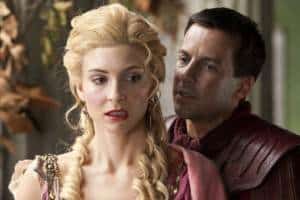 The premiere also gives us plenty new to chew on with the arrival of several unfamiliar characters, most notably Hanna Mangan Lawrence and Tom Hobbs' aristocratic brother-and-sister pair Seppia and Seppius, though it remains too early to tell how they'll play into the season. The same goes for Verinius, who while in Rome clearly sows seeds of discontent between Glaber and Ilithyia. Not to mention, we still have the promise of beloved characters yet to surface, including Ashur (Nick E. Tarabay), Gannicus (Dustin Clare), and the ongoing search for Naevia (Cynthia Addai-Robinson), as well as returning Oenemaus (Peter Mensah) carving his own path in a post-ludus landscape.
Spartacus fans will find all their old favorites present as well, from epic, obscenely bloody fight scenes to gratuitous sex, one particular standout of 'Fugitivus'being Spartacus'men slashing their way through an absurdly decadent brothel in search of clues to Naevia's whereabouts. Even I found myself wincing at some of the more graphic kills, including an upward sword slash directly into a man's privates, or Crixus worming his hand through a wounded man's abdominal cavity as torture. The fights are all as wonderfully staged as we remember, and the kills equally as visceral.
In truth, I loved 'Fugitivus'for its delicate balance of raw emotion with such well-executed action. Any dismissal of Spartacus as pulp entertainment should fall by the wayside with its new season, which to its advantage has had such time in preparation as to lovingly craft its incredible scope. New actors and long hiatus will all be forgotten by the rich and vibrant bonds between characters, from Spartacus'tense brotherhood with Crixus (Manu Bennett) to the snake-like manipulation of Lucretia and Ilithyia, or the downright tragedy of Varro's wife Aurelia.
Even then all of the above is made even richer when we remember to view Spartacus in the context of a historical tragedy. With a delicate mix of fiction and actual history, we must remember that we aren't seeing the triumph of freedom over tyranny, but rather the heart-wrenching struggle and inevitable downfall of a man ushered into greatness, but ultimately consumed by his own vengeance, along with all he loves. It's been long and tragic in its coming, but the arrival of Spartacus: Vengeance is well-worth the wait.
And Another Thing…
As most people already know, Starz put 'Fugitivus'online for viewing near of a week ago, but trust me when I say that the next few episodes only get better.
A nice, if bittersweet nod to the absence of John Hannah with Glaber observing the statue of Batiatus.
I can still scarcely imagine what it must be to work on the Spartacus set, with nude extras running around everywhere, especially in the brothel scene.
Technically, Andy Whitfield did make it into the episode, albeit in masked flashback of Ilythia's romp with 'Apollo.'
Much as I love the new series, I'm not sure if I'll review, or simply recap on a weekly basis.
What did YOU think?