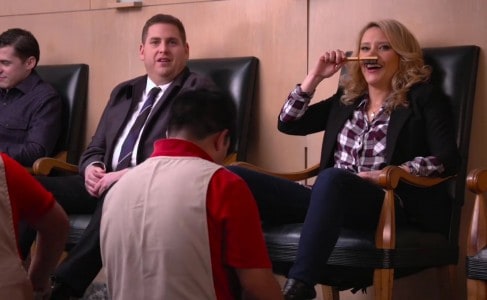 Jonah Hill returns to Saturday Night Live this weekend with musical guest, Future. In these promos released today, Jonah is joined by cast member (and soon-to-be Ghostbuster) Kate McKinnon at a shoe shine stand.
Jonah mentions this is his fourth time hosting, which Kate finds unbelievable because she can't remember ever working him before. Some of the jokes fall flat, like Jonah showing off his "everyday" shoes covered in glitter that he claims he used his own blood as the adhesive for every rhinestone. Not exactly a lovely picture there! Others have things you'd miss if you blink, like Kate asking if Jonah normally gets his shoes shined because he's sporting some flashy orange Crocs at the time.
My favorite of all has to be Jonah going through a list of mustachioed men when Kate holds up a brush as a mustache and asks him to guess who she is. Spoiler alert: the answer is Tom Selleck! Certainly no exaggeration there for Jonah to claim his knowledge of mustaches is one of his gifts.
Different takes of the promos will be airing on NBC leading up to Saturday's show but you can watch them all in one short clip here.