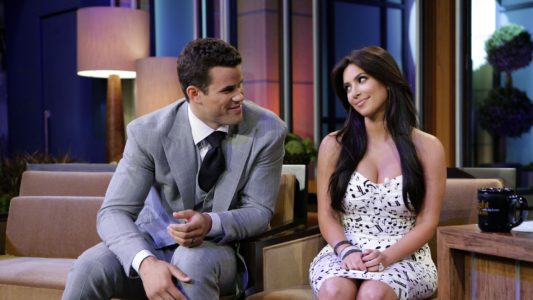 When celebrities get married, it puts them in the spotlight of media attention and it is news that often hits the headlines. Their fans are keen to learn more about their relationship, how they celebrated their big day, and what the couple has planned for the future. For many celebrities, their marriage marks the beginning of a long and happy life together. However, for others, things don't work out so well. There are many examples of celebrities who have got married only to realize very quickly that they have made a big mistake. Their marriage comes to an abrupt end and they hit the headlines again for the second occasion in just a short period of time.
Here are 20 of the shortest celebrity marriages ever.
20. Elizabeth Taylor and Conrad 'Nicky' Hilton – 205 Days
Elizabeth Taylor is almost as well-known for being a serial wife as she is for being an actress. In her professional life, she has starred in films including 'National Velvet', 'Father of the Bride', 'A Place in the Sun', and 'Cat on a Hot Tin Roof'. Her first marriage was to Conrad 'Nicky' Hilton. Taylor was just 18 when they married on May 6, 1980. Although the wedding received a lot of media attention, she soon realized they had little in common and she had made a big mistake. Just eight months later, they were divorced. Despite this bad experience of marriage, Taylor married a further seven times including twice to Richard Burton. Her other husbands were Michael Wilding, Mike Todd, Eddie Fisher, John Warner, and Larry Fortensky. All her marriages ended in divorce with the exception of her marriage to Mike Todd which ended when he died in a tragic plane accident in 1958. From her eight marriages, Elizabeth Taylor had four children.
19. Drew Barrymore and Tom Green – 163 Days
Actress Drew Barrymore has achieved great success in her professional life and has starred in many films including 'E.T.: Extra-Terrestrial', 'Blended', 'Poison Ivy', 'Charlie's Angels', and 'Never Been Kissed'. However, she has not been as lucky in her personal life. One example of this is her marriage to second husband Tom Green which lasted for just 163 days. They married in 2001 but were divorced in 2002.
18. Chad Michael Murray and Sophia Bush – 163 Days
Chad Michael Murray is best-known for portraying Lucas Scott in the drama series 'One Tree Hill' and it was while working on this series that he met his first wife Sophia Bush. She was starring in the role of Brooke Davis who had an on-screen relationship with Lucas Scott. The pair had a whirlwind romance and got engaged in 2004. Their wedding took place on April 16, 2005, in Santa Monica, California. Sadly, the relationship did not last and, just 163 days later they were divorced in September 2005. This was awkward as their characters continued to have a relationship in 'One Tree Hill'. Murray went on to marry Sarah Roemer in 2015 and they have two children together. Although she has had several serious relationships since her marriage, Sophia Bush has not remarried.
17. Renee Zellweger and Kenny Chesney – 128 Days
As a successful actress, Renee Zellweger has enjoyed working alongside some of the hottest men in Hollywood in her films. Some of the movies in which she has starred include 'Chicago', 'Jerry Maguire', 'Miss Potter', and the 'Bridget Jones' series of films. Her relationships in real life do not quite match up to those in her films. Although she has had several high-profile relationships, including an engagement to Jim Carrey, she has been married just once. She has described this marriage in interviews as having been so long ago she can barely remember the experience. She married country music singer Kenny Chesney in 2005. The marriage lasted just four months before it was annulled with Zellweger citing fraud as the reason. Media speculation then followed about Chesney's sexuality.
16. Pamela Anderson and Kid Rock – 122 Days
Pamela Anderson's turbulent relationships are something that has kept her in the headlines for many years. Her first husband was Tommy Lee whom she married in 1995. After several rocky years together, they split in 1998. She then met Kid Rock in 2001 and had a two-year relationship with him before they split. When they rekindled their relationship in 2006 and married soon after, everyone thought it would be a marriage made in heaven. To everyone's surprise, Kid and Anderson were divorced just 122 days later in 2007.
15. Bradley Cooper and Jennifer Esposito – 122 Days
Bradley Cooper was once one of the highest paid actors in Hollywood and he starred in many movies, including 'The Hangover', 'Wedding Crashers', 'The Elephant Man', 'American Hustle', and 'American Sniper'. However, his love life does not reflect the same level of success. His only marriage was to actress and author Jennifer Esposito. In 2006, they met, got engaged, and then married within the space of just a few months. By May 2017, Esposito had filed for divorce. Cooper went on to have a serious relationship with model Irina Shayk with whom he has a daughter.
14. Colin Farrell and Amelia Warner – 121 Days
There has been much speculation in the media about Colin Farrell's brief relationship with Amelia Warner. The pair met in 2000 at the premiere of 'Quills' but did not begin dating until July 2001. There were then rumors that the couple had got married while on holiday and comments by both parties suggested that the rumor was true. Farrell even had Warner's name tattooed around his ring finger. The couple then split in November 2001 and this was again big news in the media. In later interviews, Farrell has denied that the marriage was legal and said they just had pretend wedding on a beach while on holiday for fun. On the other hand, he has also said that they married too fast and too young. If the couple were actually ever married, it was only for 121 days.
13. Lisa-Marie Presley and Nicolas Cage – 107 Days
Nicolas Cage is one of the hottest and most prolific actors in Hollywood. His impressive list of credits includes films such as 'Ghost Rider', 'City of Angels', 'Moonstruck', 'Peggy Sue Got Married', 'Honeymoon in Vegas', and 'Wild at Heart'. His love life is almost as interesting as his acting career. Cage had a long-term relationship from 1988 with Christine Fulton who is the mother of his son, Weston Coppola Cage. He then married first wife Patricia Arquette in 1995 but the couple divorced in 2001. Cage then married Lisa-Marie Presley, the only daughter of Elvis Presley, on August 10, 2002. Although their marriage received a lot of media attention, both parties were very private about their relationship. They divorced just 107 days after their wedding. His third wife is Alice Kim who he married in 2004. They had already had a son together, Kal-El, in 2003. Cage and Kim were divorced in 2016.
12. Nicky Hilton and Todd Andrew Meister – 85 Days
Nicky Hilton is a socialite, model, fashion designer, and businesswoman. She is also famous for being a part of the Hilton family and for her links to the aristocratic Rothschild family. In 2004, she married her first husband, businessman Todd Meister. Things quickly went wrong and the marriage was annulled within 85 days. They later explained that they both travelled a lot and were spending most of their time apart. An additional reason for the annulment was that they had married on a whim in a Las Vegas chapel.
11. Kim Kardashian and Kris Humphries – 72 Days
Kim Kardashian makes every effort to keep herself in the public eye, so it is little wonder her relationships are in the media spotlight quite as much as they are. The television personality is now famously married to Kanye West and the couple have two children together; a daughter, North, and a son, Saint. It has also been reported they are having another daughter using the services of a surrogate. Despite the family life she is now enjoying, this is not Kim Kardashian's first marriage. In fact, this is the third time she has made the commitment. Her first marriage was to music producer Damon Thomas who she married in 2000 when she was just 19. Blaming physical and emotional abuse on his part, Kardashian divorced Thomas in 2003. She then married NBA player Kris Humphries in 2011, although the couple had been dating since 2010. After just 72 days of marriage, she filed for divorce on the grounds of irreconcilable differences. Kardashian married third husband Kanye West on May 24, 2014.
10. Pamela Anderson and Rick Salomon – 60 Days
It seems that Pamela Anderson has some trouble establishing a lasting relationship as this is the second time she appears on this list. Following the breakdown of her 122-day marriage to Kidd Rock, she began a relationship with Rick Salomon. The couple married in 2007. Unfortunately, this marriage was even shorter than the last and their marriage was annulled after just 60 days. However, they later decided to rekindle their relationship and remarried in 2014. It clearly wasn't meant to be as they split for a second time and their divorce was finalized in 2015.
9. Chris Kattan and Sunshine Tutt – 59 Days
Chris Kattan is an actor and comedian who is best known as a member of the cast of 'Saturday Night Live', although he has also had roles in many feature films. He has been married just once and this was a very short-lived experience. He began a relationship with model Sunshine Tutt in 2006 and proposed to her on Christmas Eve of the same year. They didn't marry until June 28, 2008. Despite having been in a relationship for several years, the marriage did not last long at all. In fact, it was just 59 days later that the couple separated.
8. Drew Barrymore and Jeremy Thomas – 39 Days
Unlucky in love, this is the second time that Drew Barrymore has appeared on this list and her marriage to Jeremy Thomas was even shorter than her marriage to Tom Green. She married the bar tender on March 20, 1994, when she was just 19 years of age. However, she soon realized that she had made a mistake and filed for divorce after just two months of marriage
7. Ethel Merman and Ernest Borgnine – 32 Days
Ethel Merman was an actress and singer who was best-known for her leading roles in musical theatre. She was married four times, but it was her marriage to her fourth husband that was the shortest. Merman was married to first husband, William Smith, between 1940 and 1941. She then married Robert Levitt Sr. in 1941 and they divorced in 1952. Next, Merman married Robert Six in 1953 but they divorced seven years later. Her final and shortest marriage was to actor Ernest Borgnine. They married on June 27, 1964, but Borgnine filed for divorce on August 7 of the same year. Borgnine was also no stranger to marriage and divorce as Merman was his third of five wives.
6. Ali Landry and Mario Lopez – 18 Days
Mario Lopez is an actor who is best-known for his role in 'Saved by the Bell'. Ali Landry is an actress, model and beauty pageant contender. She is best-known for appearing in advertisements for Doritos and the Super Bowl. The couple met when Landri was commentating for Miss Teen USA 1998 and Mario Lopez was the presenter. They got engaged in 2003 and married on April 24, 2004. The marriage lasted just 18 days before Landri had their nuptials annulled. She did this after discovering that her new husband had engaged in a threesome while celebrating his bachelor party with friends. Landri has since married director Alejandro Gomez Monteverde and the couple have one daughter and two sons together. Lopez went on to marry Courtney Mazza and they have a son and a daughter together.
5. Cher and Gregg Allman – 9 Days
Singer and actress Cher was very famously married to Sonny Bono. The couple were married in 1969 and had one child, Chaz, together. Their union also formed an important aspect of both their careers as they often performed together and even had their own television series. The final years of their marriage were turbulent and they got divorced in 1975. In the same year, Cher began a relationship with Gregg Allman and they were married on June 30, four days after her divorce was finalized. However, Cher filed for divorce after just nine days blaming Allman's issues with alcohol and drugs. A few months later, the couple reconciled and she became pregnant with their son, Elijah Blue. However, in the end, the relationship just didn't work out.
4. Carmen Electra and Dennis Rodman – 9 Days
Carmen Electra is an actress, model, and television personality who is probably best-known for playing Lani McKenzie in 'Baywatch'. In 1998, she was going through a difficult time as she lost both her mother and her sister within two weeks. During that time, she was dating Dennis Rodman, an NBA star. On impulse, the couple got married in the November of that year in the Little Chapel of Flowers at Las Vegas. After just 9 days of marriage, Rodman filed for an annulment on the grounds that he was of unsound mind at the time of the wedding. Electra also later said that she had married as a direct result of the grief she was experiencing at that time. Although the couple briefly reconciled, the relationship was over in just a few months. In 2003, Carmen Electra married Dave Navarro. Sadly, they were divorced in 2007.
3. Dennis Hopper and Michelle Phillips – 8 Days
Actor Dennis Hopper was married four times in total. His first wife was Brooke Haywood to whom he was married from 1961 to 1969. They had one daughter, Marion. It was his second marriage that caused the most controversy, however, as he was married to Michelle Phillips for just eight days. Phillips was a singer, songwriter, and actress. They married on October 31, 1970, but were divorced by November 8 in the same year. Two years later, he married Daria Halprin and the had daughter Ruthanna before divorcing in 1976. Hopper then married third wife Katherine LaNasa in 1989. The couple's son, Henry Lee, was born in 1990. They divorced tow years later in 1992. His final marriage was to Victoria Duffy and the wedding took place in 1996. Their daughter, Galen Grier, was born in 2003. Sadly, the relationship was very volatile and Hopper began proceedings to divorce Duffy in 2010. Unfortunately, he died before the divorce was finalized.
2. Britney Spears and Jason Alexander – 55 Hours
Britney Spears' very brief first marriage was big news at the time. From the day she wed to the day the marriage came to an abrupt end, the story was followed by both the media and the public. She was at the height of her fame when she made a rash decision that shocked her fans. Spears married Jason Alexander, a childhood friend, in an impulsive wedding at a Little White Wedding Chapel in Las Vegas. The wedding took place in January 2004. The marriage was annulled just 55 hours later after Spears made an appeal to the court that she didn't have the capacity to understand her actions. She went on to marry for a second time on September 18 of the same year with Kevin Federline who was already in a long-term relationship with Shar Jackson when he met Spears. The couple had two sons together before divorcing in 2007.
1. Zsa Zsa Gabor and Count Felipe de Alba – 1 Day
Zsa Zsa Gabor makes it to the top of the list with one of the shortest marriages of all-time. She was married for just one day for a rather unusual reason and this was even her first marriage that had ended. The actress and socialite's first husband was Burhan Asaf Belge to whom she was married between 1937 and 1941. She then married Conrad Hilton, the founder of Hilton Hotels, in 1942. They had one daughter, Francesca, together before they divorced in 1947. Gabor's third husband was George Sanders who she was married to between 1949 and 1954. Husband number four was Herbert Hunter who she married in 1962. The couple were divorced by 1966. He was followed by Joshua S. Cosden, Jr. who she married in 1966. The marriage lasted just a year and ended in another divorce. Her sixth marriage was just as short as her coupling with Jack Ryan only lasted from 1975 to 1976. Gabor's seventh marriage was her second longest. She married Michael O'Hara in 1976 and they divorced in 1983, or so she thought. In the same year that her marriage with O'Hara ended, Zsa Zsa Gabor married Count Felipe de Alb. Unfortunately, the following day, she discovered that her divorce to O'Hara was not yet finalized and her new marriage was annulled. This did not deter her from marrying again and she wed her eighth and last husband, Frederic Prinz von Anhalt in 1986. They remained married until her death in 2016.
Tell us what's wrong with this post? How could we improve it? :)
Let us improve this post!