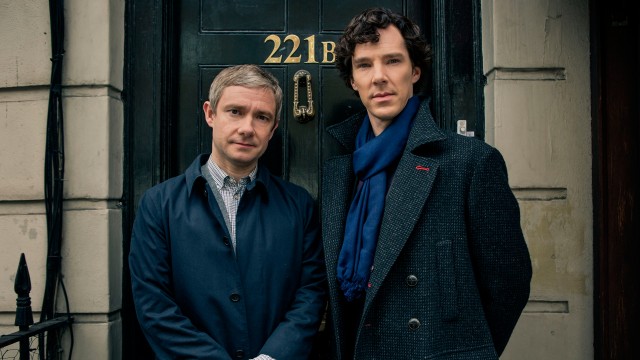 Sherlock Season 4 still doesn't have an official premiere date yet, but this bit of news will still get fans of the series very excited. The cast and crew have begun filming Sherlock Season 4, which means that Benedict Cumberbatch's Sherlock Holmes and Martin Freeman's John Watson are closer than ever to actually returning to your TV screens.
So what can fans expect from Sherlock Season 4? According to Masterpiece, the new season of the show "begins with the mercurial Sherlock Holmes (Benedict Cumberbatch), back once more on British soil as Doctor Watson (Martin Freeman) and his wife Mary (Amanda Abbington) prepare for their biggest challenge yet: becoming parents."
Additionally, series co-creator Steven Moffat promises that the "ghosts of the past" will rise in Season 4, calling this season the "climax" of the Sherlock story.
"Sherlock series four —– here we go again!" Moffat said in a statement. "Whatever else we do, wherever we all go, all roads lead back to Baker Street, and it always feels like coming home. Ghosts of the past are rising in the lives of Sherlock Holmes and John Watson and terror and tragedy are looming. This is the story we've been telling from the beginning and it's about to reach its climax.""
As stated above, Sherlock Season 4 has no official premiere date yet. Check out the filming announcement below:
It begins… Filming for series 4 is underway! #221Back @markgatisshttps://t.co/QeAiD1nza0

– Sherlock (@Sherlock221B) April 6, 2016
[Photo via Masterpiece]