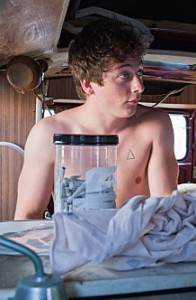 Shameless season 2 cooks up its fourth entry with this week's "A Beautiful Mess," as Frank Gallagher continues worries about Sheila's progress with her agoraphobia, while Fiona fends off Craig Heisner (Taylor Kinney)'s vengeful wife and Debbie plans a sleepover to combat her stress. Unlike last week's "I'll Light A Candle For You Every Day," this week's Shameless dials back some of the more reprehensible behavior to keep its storytelling in appreciable check.
You know you've seen a good episode of a TV show when you've got about twice as many notes as usual, at least from a TV critic's perspective. Last week was a tough one for Shameless, in that I found it hard to look past some of the characters'extremely abhorrent behavior (read: Frank passing on the new heart for Dottie) to appreciate any character action. The characters'morality is spelled out in the show's title itself, but taking dramatic actions to such comical extremes undercuts our emotional connection to the Gallaghers. And if we can't feel what the characters feel, there's no point in watching in the first place.
'A Beautiful Mess'keeps a much better balance of the rich emotions and comic extremes that Shameless employs as a guilty pleasure, even if its not quite all there yet. Obviously it can be frustrating watching characters subscribe to their worst habits over and over again, but there's a nice counterbalance in the manner those actions weigh on the individual Gallaghers. As much as 'A Beautiful Mess'belongs to Lip and Fiona, there's also a strong emphasis on one of the unsung heroes of the cast, Debbie (Emma Kenney), who likely has one of the least appreciated positions in the house. She does just about all the same work as her older sister, but doesn't quite get the same outlets to vent her emotions. That's the thing about Shameless. For as dark as things tend to get for Fiona and the other Gallaghers, there's usually humor to be found in the decadence by which they cope, be they sex, drugs, or fight clubs. Debbie represents a strong, albeit young moral character who can't explore those releases in the same way, and I like how 'A Beautiful Mess'draws attention to the way Shameless women emote.
Of course, Shameless also faces difficulty now and again with the crescendo of sympathy for its characters. We want to like Lip, Fiona and yes, even Frank given their status as protagonists, but much of the trouble is brought on themselves. Karen, for instance treats Lip with utter horror considering his obvious feelings for her, but if he would only express those feelings rather than lash out or try to smear dirt on her new man, he might have a chance. Fiona on the other hand has noticeably spiraled out of control in the wake of Steve's disappearance, and still works very much to provide for her family, but here starts growing awareness of what her behavior has wrought when bricks of outraged housewives fly through the window. As for Frank? Well, in spite of his horrifically depraved attitude, things just tend to fall right out of the sky for him.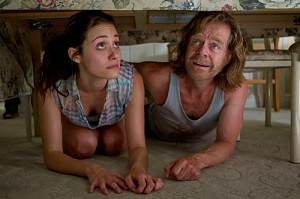 Fiona's a tricky character given all she does for the family, and how silent moments of the walls closing in send her running in tears to the bathroom, desperate to hear the voice of her absentee love, yet the very next scene might see her driving her new boyfriend's BMW in a joyful daze, ignorant of any preceding cares. I like that Shameless'second season has had a slow unraveling of Fiona's mental state, though I hope his absence on the phone means that Steve (Justin Chatwin) will return to Chicago sometime soon to confront the problem. It's interesting to think about how the UK Fiona actually abandoned the family to be with her Steve after the second series, leaving Debbie mostly in charge of the household, but I wouldn't expect that kind of status quo alteration from a US TV series, particularly given the age of Debbie's American counterpart.
Of course the main thread moving forward now that Sheila seems to have been relegated to the house once more and Fiona's adventures in homewrecking are likely over will be Karen's baby, which I imagine she'll have a hell of a time explaining to her soon-to-be husband. 'A Beautiful Mess'does a strong job in highlighting the ways in which the Gallagher children fall into behavorial habits of their father, Fiona most visibly, but it'll be interesting to see going forward what Lip does with Karen's revelation and ultimatum to stay away. At its best, Shameless is silly, saucy and bittersweet and so far this season seems to be (mostly) on track.
And Another Thing…
Sigh. Did we really need all the shots of Jody naked? And squeaky clean though he may be, what's that guy's deal? No job, seeming over-familiarity with Sheila…
I'm also curious to see what's going on with Carl, who seems to have more than an affinity for Little Hank and a curious relationship with women's underwear…
'I never should have f$%ked Dottie to death, I could have made that work.'Agreed, show.
Hopefully the series finds something to do for Amy Smart's Jasmine as well, who only seems to breeze in and out with her various overindulgences.
I really hope that all of Sheila's progress isn't undone by the landing gear drop. It's traumatic of course, but the flashes of real intelligence and maturity from the character will be for naught if her arc goes back to square one.
And I haven't seen it yet, but someone better mention an aviation disaster like that in the next episode!
What did YOU think?
Tell us what's wrong with this post? How could we improve it? :)
Let us improve this post!