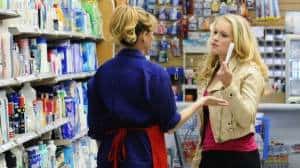 This episode seemed to really dive into the action and drama of the West family's new lifestyle. For the most part, this episode was just as engaging and entertaining as the premiere. Seeing Cheryl and the kids taking on honest jobs in middle class America made for some interesting moments, though not as comedic as one would have thought. Cheryl must fight for her innocence after being accused of stealing. Though predictable, this seems necessary to include as it is indeed the realistic thing that would happen. But since we all knew that Cheryl would come out on top, other characters seem to be more engaging. In fact, Cal's story was easily the most engaging. This kid was truly trying to do the right thing on the job, but he is tempted by lust and what a struggle this deadly sin is to tackle. Hopefully, we haven't seen the last of Cal tackling his temptations because he seems to be the most damaged character and aren't those the most interesting to follow?
As for little sister, Hope, thankfully she has come to an agreement to stop blackmailing the Principal and brother, Logan. If this was not concluded in this episode there would have been a problem, because this girl is too smart to be running away from school. Heather put more effort into her waitress job than Hope did at going back to school. That says a lot about Heather. Heather is not as dumb as she was portrayed to be in the Pilot. Now Logan, he has an important decision to make about keeping his relationship with his former school Principal a secret or not. It is debatable as to what decision he makes is smart or not, especially since the Principal has requested to not only take their relationship public, but get engaged. This was a great surprise because this really shines the light on what stage each of these two are at in the relationship. As far as relationships go, Cheryl and Wolf don't seem to be on the same page with the family so it is only a matter of time until they either get on the same page or drift farther apart. Either direction this goes will be fine at this point. There really hasn't been a main focus on relationships on the show, so it is something to look forward to. It would definitely make the show more captivating. The relationship between the West family and Sergeant Mack has the potential to be the strongest of the series and it seems so fitting that it would be so. Only time will tell how well this is executed down the line. So far, so good.
The only problem with this episode is that in the second half hour of the show, it seemed Cheryl's storyline and the integration of story lines connected to the $1500 was uneven and confusing. Things just seemed to be a bit rushed which is odd since it is clear that the writers are building up various story arcs for the long run. The Pilot episode was great and this episode started off well but seemed to jump the gun in the end. So if the balance between long term and short term story arcs can be executed better, the series will become much stronger.
Scoundrels airs Sundays at 9/8c on ABC.
Tell us what's wrong with this post? How could we improve it? :)
Let us improve this post!