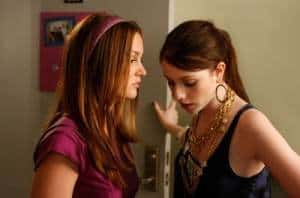 This week's episode starts with all of the Constance and St. Jude's grads preparing to head off to college. Blair and Dorota, picking out the perfect headband; Chuck, trying to convince Blair not to live in the dorms; Serena, half-heartedly packing for Brown; Dan, being recognized by a stranger named Katie in a coffee shop as 'the guy from The New Yorker's 20 Under 20 issue?'Looks like he'll be fitting right in at NYU.
At the dorms, Dan, Blair and Vanessa all cross paths immediately. Since Dan and Vanessa are still fighting from last week's Polo party, they all agree that they 'don't know each other here,'and head on their separate ways.
Serena shows up at Chuck's apartment, requesting to stay with him since she's not going to Brown. Poor, poor Serena; always in turmoil about something–even an ivy league education.
Blair is in her NYU dorm with Dorota, holding a little orientation meeting of her own with the girls in her hall. She says she's there to help them with City life and gives them all gift bags, complete with their own headband and Tiffany's accessories. And just as she's celebrating her single room, in comes her surprise roomie–Georgina. And just when you thought that was bad, Vanessa walks in; she lives on the hall too. Blair and Dorota get to work–they're going to throw a party.
Serena's still pouring her heart out to Chuck, spouting her usual, 'I don't know if I want to do this, I don't know who I am, I don't know what I want,'thing. Yeah, Serena, you and every other 18-year-old in the history of the world. Chuck is probably pretty annoyed with this nonsense too, and he tells Serena make herself sparse tonight, because he has a business meeting. He wants to open a speakeasy, and follow in his father's footsteps. He actually has ambition, and I believe it this time.
In the NYU bookstore, Vanessa and Dan finally make up. Georgina comes over and asks them out to coffee, which Dan promptly turns down. But the ole softy Vanessa chases after her to make nice.
Meanwhile, Nate is holed up with his family's arch-enemy, Bree, where they decide to stay for 24 hours, until they get sick of each other.