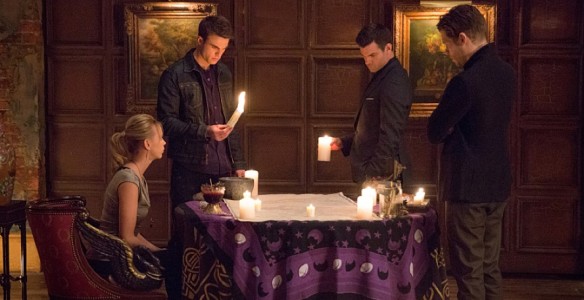 The irony here lies in the episode title, as anyone who knows Klaus Mikaelson will know he has no friends, only enemies. With his sire line broken on the last episode of The Originals, the all-powerful hybrid is knocked off his high horse and feeling vulnerable.
The greatest asset the Mikaelsons have is each other, so when they see Kol has returned to the living, it's a joyous family reunion for the most part. Klaus will probably never see eye to eye with Davina, but I think that feeling's mutual. Now they have to be nice because she's Kol's girlfriend.
Speaking of girlfriends, this was a great episode showing the parallels between all the brothers and their unofficial girlfriends: Klaus and Cami, Elijah and Hayley, Kol and Davina. If Finn starts getting all soft on us now that he's back too, I only hope Freya gets a love interest soon too.
Gaspar Cortez has a history with Klaus, as does probably half the vampire population in the world if we're being honest here. When Freya does the locator spell to track all of Klaus' enemies, there are dots spread out literally across the map. Before one fatal swipe to knock Gaspar's head clean off his body, Klaus learns all his greatest enemies have been keeping in touch over the years thanks to technology. I really laughed at that part because imagining all these different vampires from all different countries communicating via message boards, social media, or group text is a funny thing. Suddenly the dots all start on the move towards New Orleans and Klaus has to go on the run, or as he says, "disappear."
He's not alone though. I was very pleased to see Hayley and Hope waiting in the car for him. Klaus doesn't have a lot going for him, especially after the fallout with Cami. She's a tough cookie to crack, as she just lied to him that she doesn't love him anymore. Claming the part of her that longed for Klaus' redemption was lost when she died, she then started to cry after he walked away. Clearly her feelings are still very real but she raises a good point that she needs to be strong for herself at the end of the day. If Klaus didn't kill Aurora himself, she wonders why. Does he still love her, will he still protect Cami, etc? The answers to those questions are obviously no and yes, but Cami won't want to hear that right now. She'll see in time, I'm sure.
Hayley must have felt like it was time for a change now that she got her revenge on the members of the Strix who were responsible for Jackson's death. Elijah saw what she was up to and couldn't reason with her. Some time away from New Orleans will be best for her too. She came right out and told Elijah she loves him but needs to let him go to honor Jackson's memory. They're vampires, all they have is time. Elijah will be right there waiting for her when she inevitably comes back around and stops feeling guilty. Jackson wouldn't have wanted her to be miserable the rest of her life.
This leaves Kol and Davina, the cutest and the only pairing of couples that is actually together. They never make it out of the church attic to go on their date after Kol has a nice chat with his sister Freya who helps him realize he owes a lot to Davina. I could've lived without seeing Kol wake up in a sweat, craving blood. A vampire with control issues is nothing we haven't seen before. This time could be different if it's a side effect of being brought back to life from ashes but either way it's the least interesting development on the show.
I mentioned earlier that Finn is back! We're only missing Rebekah here and I mean truly missing her. Freya is outnumbered by all their brothers, she could use her sister now more than ever.
The Originals will be back on April 1st! Check out the promo here:
https://www.youtube.com/watch?v=tToNi44VDyI
The Originals Season 3 Episode 15 Review: "An Old Friend Calls"
Summary
Klaus is rattled when the first of many enemies comes to town on The Originals.