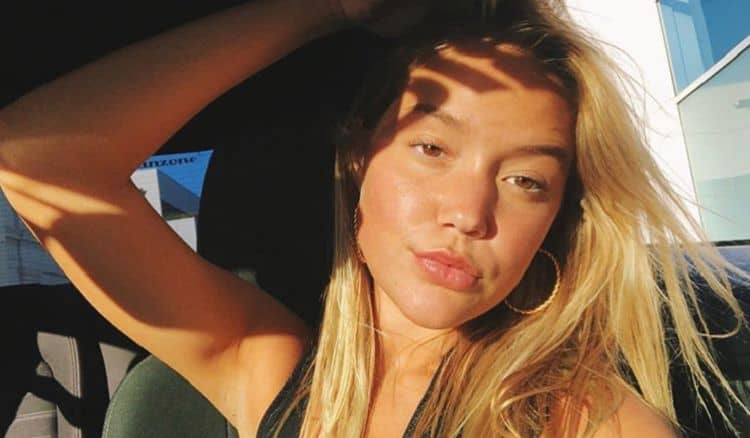 In a lot of ways, 2020 has been a disappointing year, however, Olivia Ponton might say otherwise. This year has been a big one for her. The young model and social media influencer has seen her following increase tremendously and she's become a well-known presence on TikTok. Olivia isn't just any TikToker though, she's a member of the popular group, Hype House, which is a collective of some of the biggest names on the social media platform. With over 3 million followers and nearly 170 million likes, she fits into the mix quite nicely. With 2020 more than halfway over, the future is looking very bright for Olivia. Keep reading for 10 things you didn't know about Olivia Ponton.
1. She's Signed To Wilhelmina Models
Olivia is still in the early stages of her modeling career, but she's already making some serious progress. She is signed to one of the most well-known agencies in the world, Wilhelmina Models. Working with Wilhelmina will definitely help Olivia be taken seriously in the model world.
2. She Enjoys Traveling
Sharing photos from her travels is initially what got Olivia attention on social media. Although there's nothing like actually going somewhere yourself, sometimes it's nice to scroll through social media and see beautiful pictures from other people's trips. Some of the places that Olivia has visited include France and Italy.
3. She Ran Track
Even though being an influencer has changed Olivia's life in a lot of ways, she was still able to have some normalcy here and there. Olivia attended Naples High School where she was a member of the track team. She competed in several events including the 4×100 relay and the 60 meter dash.
4. She's Single
Earlier this year, Olivia and fellow influencer Kio Cyr announced they were in a relationship. Of course, all of their followers were excited to see their love story unfold, but unfortunately it didn't last very long. During the summer, the couple revealed that they had broken up. The couple decided not to share the specific details about the reason for their split, but they made it very clear that they still have love for each other.
5. Alexis Ren Is Her Role Model
Olivia Ponton is forging her own path, but there are still people whose journey she admires. During an interview with The Teen Magazine, she said that Alexis Ren, who is also a model and influencer, is someone she has always looked up to. She added, "I've followed her on social media since forever! She inspires me because she brings awareness to topics that are not spoken about very much."
6. She's All About Spreading Positivity
Even though social media can be a fun and exciting place, it also has a cruel side that many influencers have experienced first hand. No matter how many followers a person has, there will always be countless people hating in the comments section. Despite the negativity she has had to deal with, Olivia has always focused on staying positive.
7. She Wants To Move To New York
Olivia was born and raised in Florida and she absolutely loves her home stage. But for some of the things she wants to accomplish in her modeling career, New York would give her more opportunities. In the future, she hopes to relocate to New York City to continue expanding her career.
8. She Would Love To Study Architecture
Modeling and social media aren't the only things Olivia is focusing on. She also has plans for her future that include getting an education. While talking to The Teen Magazine, Olivia said, "I'd love to get an Associate in Arts degree and a bachelor's degree. I aspire to major in architecture and hold an interior design degree. That was something I had planned ever since middle school."
9. She Recently Started a YouTube Channel
TikTok and Instagram are where Olivia has the most followers, but she is trying to cast a wide net. In June 2020, she made a YouTube channel. Although she has only uploaded one video so far, she already has over 36,000 subscribers. Her video has also earned more than 252,000 views.
10. She Encourages People To Know Their Worth
Most people assume that public figures are very confident people. But the truth is that people in the spotlight often deal with lots of doubt. This is something Olivia has struggled with since becoming a model and influencer, and she hopes to help other people avoid feeling the same way. She encourages people to know their worth and understand that they have lots of things to offer the world.