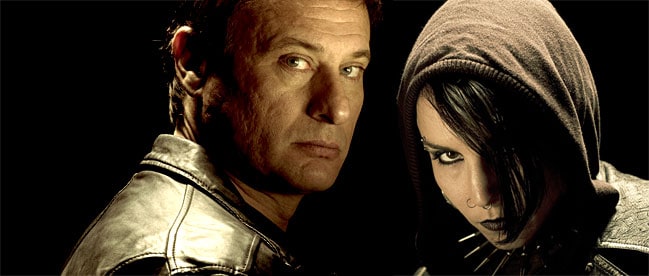 With the latest in the late Swedish author Stieg Larsson Millennium series now officially loosed upon the moviegoing public, there are now a total of 5 movies for audiences to choose from: the original Swedish trilogy, the Hollywood non-starter from Se7en (1995) director David Fincher and now horror emigre Fede Alvarez's Bond-adjacent thriller. And while I unreservedly love the books from which these films have been adapted, and (mostly) love the adaptations themselves, it's interesting how none of the films so much as begins to approach being a perfect adaptation of their source material.
That's not to say that these movies are bad at all, just that their literary forebears are shockingly dense tomes of richly layered characters, narratives and themes. As books, they are given far more freedom than the films they inspired to explore each of these aspects in great depth — fleshing out the dark underbelly of Sweden's seemingly cheerful society as well as those unfortunate enough to populate it — as opposed to the 120-odd minutes that their cinematic counterparts allow for. Because of this, each film iteration latched onto different, complimentary aspects of the novels: varyingly, sexual violence, noir-esque mystery and family-fueled intrigue.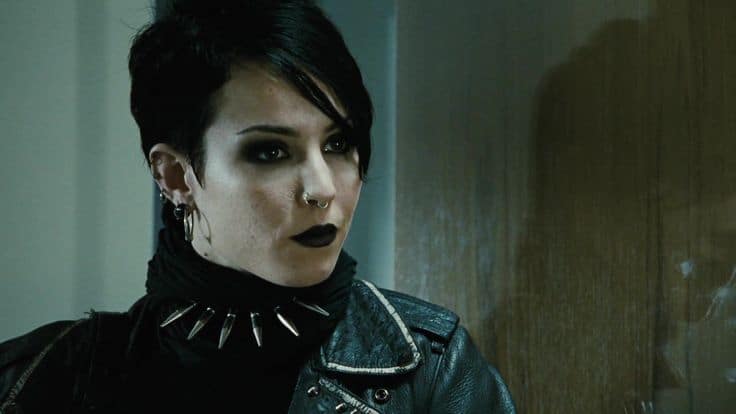 And though each has been, at best, an incomplete rendering of Stieg Larsson's dark vision of modern-day Scandinavia, they have to date ranked among the very best movies from the years of their release. Each has showcased one of the best actresses of her generation in the iconic role of Lisbeth Salander. And each, less than a decade after their release, has served as a chilling reminder of the very real sexual violence that went on to inform the #MeToo movement of the last two years.
The Girl with the Dragon Tattoo — in this case, the 2009 version from Sweden — follows the entangled lives of punk rock hacker Lisbeth Salander (Noomi Rapace) and investigative journalist Mikael "Kalle" Blomkvist (Michael Nyqvist). Following a crushing legal battle, in which he is convicted of libel, Mikael is hired by an aging industrialist to solve the cold case murder of his niece, Harriet Vanger, whose killer has been sending him his niece's trademark birthday present (a framed, pressed flower) every year on his birthday for the past forty years. Mikael's new employer suspects his immediate family — a wretched nest of Nazis and greedy capitalists — which immediately draws the ire (and sometimes open hostility) of everybody around him.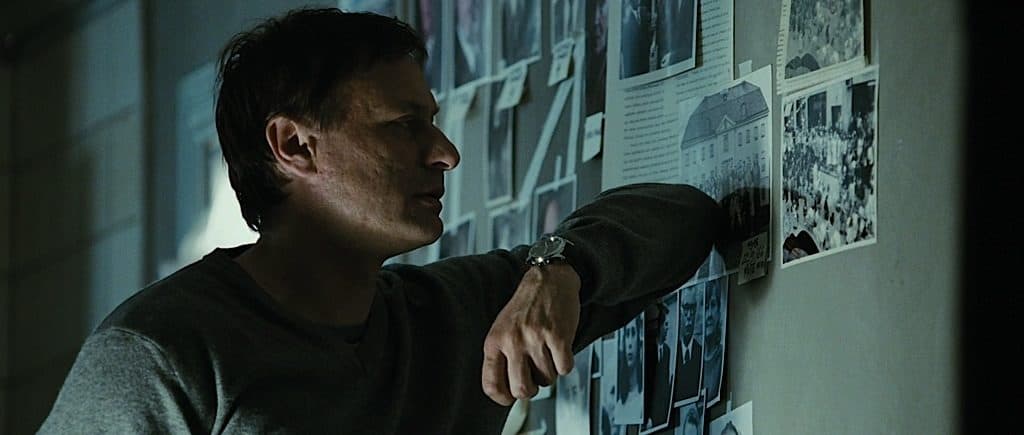 Lisbeth, however, is a ward of the state: convicted as a child of crimes yet unmentioned and resigned to the country's strict, authoritarian oversight. When her old guardian suffers a stroke, her new one proves to be (in her own words) "a sadistic pig and a rapist," whose crushing presence in every aspect of her life needs to be dealt with… with extreme prejudice.
Unsurprisingly for a film produced outside of the Hollywood system at large and in Larsson's native Sweden in particular, 2009's The Girl with the Dragon Tattoo is most powerfully aligned with the film's core theme: the sexual violence done to women by the men. Given that the novel and film's title literally translates into English as Men Who Hate Women, it is unsurprising that this version is ultimately the most successful as what it sets out to accomplish.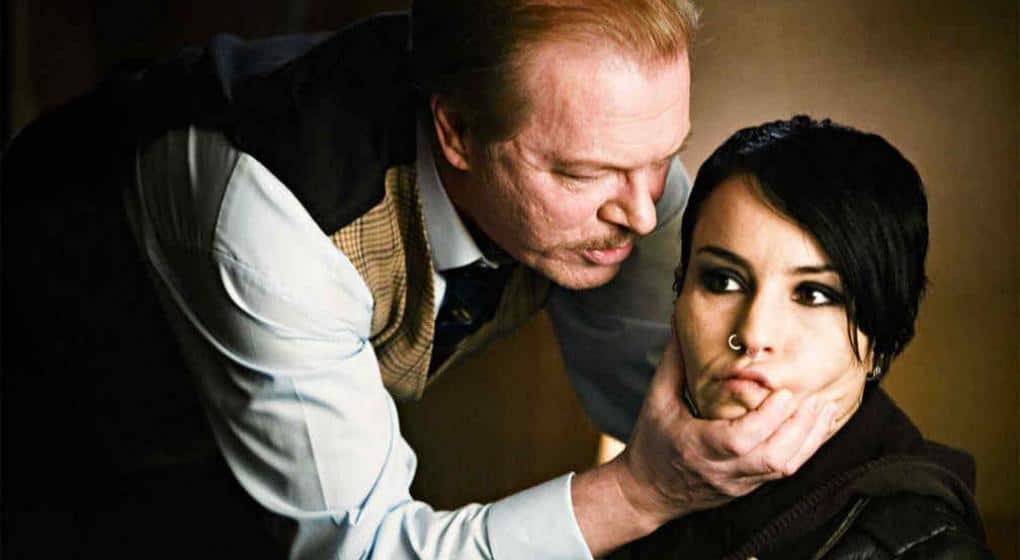 Of the doubtless many that are more familiar with the Fincher adaptation from two years later, jumping into this one is an understandably jarring experience. The sexual wrongs that are aggressively stricken from its American counterpart are here brought front and center. Rather than some mugging-gone-wrong, Lisbeth's previous laptop computer — the source of her livelihood as an admitted hacker — is destroyed when a pack of rowdy men assault her in a railway station. When she is repeatedly raped by her newly appointed guardian when she tries to gain access to her own money in order to buy a replacement (money that he now controls), rather than cutting away at the last possible moment and leaving us to mostly imagine what he does to her, we are given the film's narrative centerpiece: an terrifying, unflinching scene of sexual assault, the latest of many violating assaults that this women has had to endure over her life.
In every instance, the film preferences the extreme violence that Lisbeth (and other women) are forced to endure at the expense of the Blomkvist-headed mystery about Harriet Vanger. And while these two narrative strands eventually collide into the film's overarching story, it holds true that the women's stories are raised over the more procedural efforts of the film's men. Even in the film's climax, when Lisbeth is forced to rescue Mikael from a prolific killer of women, the film never wavers from the murdered women that led the pair to this predicament nor the title character's trauma that resurfaces as a result of it.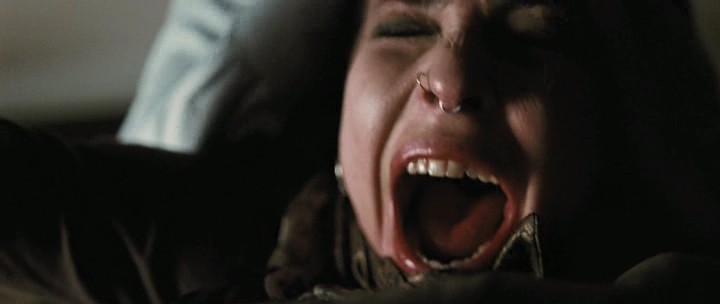 By Hollywood standards, the film is a rather straight-forward affair: lacking any of the artistic nuance and cinematic restructuring on display in its eventual remake. It presents the story faithfully from the novel (making cuts, where it's needed, from Blomkvist's investigation), and does so with minimal flourishes. What it does have, however, is the exceptional Noomi Rapace giving one of the best performances by an actress of the last two decades. She imbues the complex and silently roiling Salander with a hardened edge and depth of emotion that is truly worthy of character. She is, in many ways, just as mysterious as the woman she seeks to portray, compounding her every enigmatic expression with the infinite possibilities of a calculating woman who truly doesn't know what her next move is.
Although this is unquestionably the best film to come from Larsson's Millennium series, its exclusive emphasis on one-half of its equally compelling dynamic duo ultimately makes it feel incomplete. Despite its expansive, two-and-one-half hour runtime, it seems to require even more from our time and attention if it is to truly plumb the depths of Larsson's necessarily dense text. Director Niels Oplev turns in a commendable, if sadly unvarnished, film that could have benefitted from a surer hand behind the camera (such as, say, David Fincher).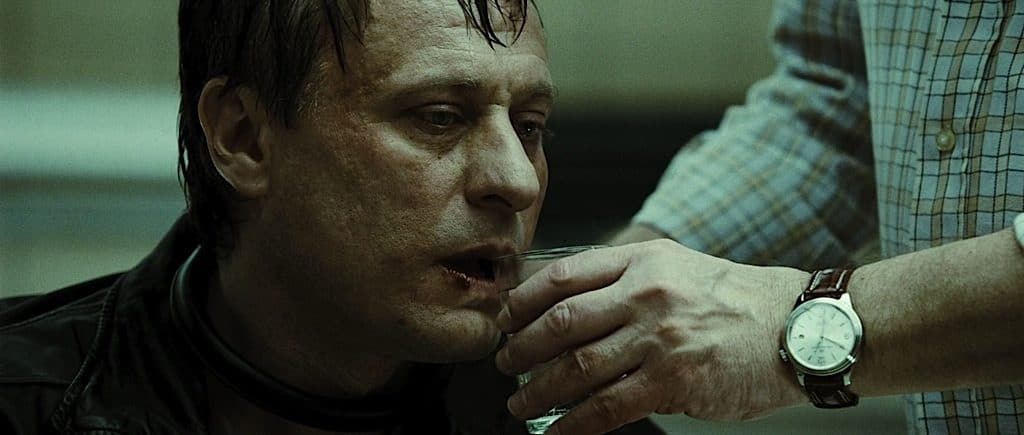 With the increasing relevance of #MeToo and the sharp (to say nothing of welcome) rise of female-driven films worldwide, I have no doubt that we will somebody be treated to a robust adaptation of The Girl with the Dragon Tattoo: one that combines the competing needs of its dark themes and with its dark, twisting narrative. And when they do, I can only hope that whatever studio is in charge of it will employ, a talented team of females behind the camera, thus ensuring as honest and unflinching a portrayal of the central acts of violence as possible. But until that happens, I'll happily watch this film again and again and again.
Rating: 4/5