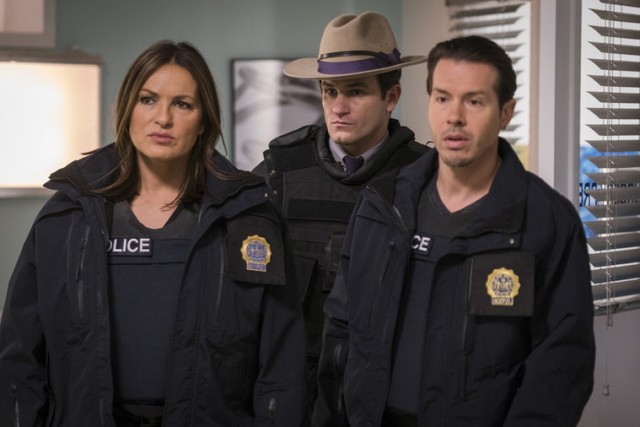 Sometimes to catch the most elusive of killers, one team is not enough. Tonight on NBC, the Law & Order: Special Victims Unit and Chicago PD Intelligence reunite in a nationwide manhunt to catch serial killer Gregory Yates. If you'll recall, Yates was the charismatic serial rapist and killer who murdered Nadia, CPD Intelligence's secretary and Detective Lindsay's good friend. Yates was caught in New York by the SVU team and sentenced to prison. He resurfaced when he had information on another serial killer he would only give to SVU's Detective Rollins. Now the two teams must come together to put Yates back in his cage once and for all. Click on the clips below to see what's ahead.
https://www.youtube.com/watch?v=HXlNSd-mc2Q
https://www.youtube.com/watch?v=pjVdE1zs2fo
https://www.youtube.com/watch?v=PgQWl-rwz8c
Chicago P.D. detectives Lindsay and Dawson join the SVU in the hunt for two escaped murderers (returning guest stars Dallas Roberts and Jefferson Mays) they helped to convict.
Tune in to NBC tonight for the most intense 2-hour crossover yet.