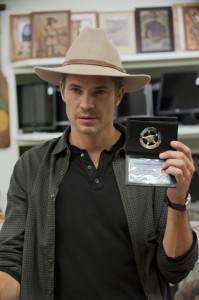 Justified continues its third season with this week's third episode 'Harlan Roulette,'as Raylan Givens (Timothy Olyphant) faces an oxycontin supplier with ties to the Dixie Mafia and Boyd looks to reclaim his legacy.
If you didn't get a chance to check it out for yourself, read on for our Justified recap of "Harlan Roulette'!
Mr. Limehouse (Mykelti Williamson) fiddles with his barbecue making smalltalk with Ava Crowder, who has come to persuade him to take a meeting with Boyd. Both parties meet on a deserted bridge in the dead of night, where Boyd assures Mr. Limehouse that he has no intention of reprising his racist ways, and only seeks the fortune of Mags Bennett. Limehouse believes that some agreements transcend the grave, even if the duo bumped off Dickie Bennett and split the money, and believed this meeting was about other business. When Boyd inquires as to what other business there could be, Limehouse mentions all of Mags'recovered weed, which Boyd then punches Devil for not burning as per his orders.
The next day Raylan finds himself called away from coffee and house discussions with Winona to survey a roadblock set up to catch Wade Messer (James LeGros). Messer and his companion J.T. manage to realize the purpose of the roadblock they find themselves caught in, but crash in their attempt to turn around and flee the scene. Wade escapes, but J.T. finds himself at the end of Raylan's gun.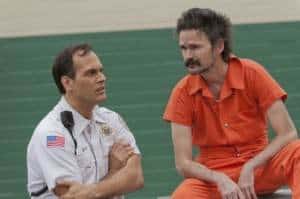 Meanwhile in prison, Dickie Bennett (Jeremy Davies) and Dewey Crowe (Damon Herriman) roughhouse when the prison guard who allowed Boyd to confront Dickie, Murphy, asks for word with Dickie. Having overheard of Mags'fortune, Murphy wants in for himself, though Dickie teases that even if said fortune exists, no one could access it while he remains in jail.
At a nearby pawn shop, Wade Messer arrives to explain what happened to his employer and Oxycontin supplier Glenn Fogel (The Walking Dead's Pruitt Taylor Vince), who sends his other lackey to post bail for J.T. Once Raylan uncovers the incident's ties to the Dixie mafia, J.T. returns to the pawn shop where Fogel sadistically forces him to play 'Harlan Roulette'twice for penance and his take of oxy, though both shots turn out empty. J.T. then turns the gun on Fogel out of anger, but the gun was never loaded. Fogel then takes the gun, loads a single bullet, and pulls the trigger on J.T. until the bullet finally goes through his head.
The next day, some of Mr. Limehouse's men arrive to pick up the weed, insisting on paying a sum of $5000 for it, which Boyd bestows on Devil. He then gathers his crew to explain that where his father failed in running crime in Harlan, they will succeed by avoiding outsiders and making good decisions, starting with a plan to reclaim something that once belonged to the Crowder family.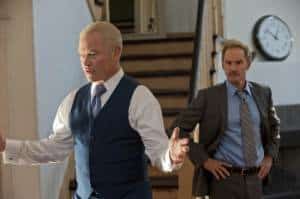 Elsewhere, the mysterious 'Carpetbagger'(Neal McDonough) meets with Wynn Duffy, explaining the Detroit mafia's plans to fill in for Florida's drying oxycontin pipeline. They plan to establish a base of falsified doctors prescribing oxy, and selling half of them at a marked-up rate. The man than takes a call from his son, as Wynn notices the owner of the house tied up in the next room. Across town, Raylan pays a visit to Fogel's pawn shop, who denies any association with Wade Messer or J.T., and denies Raylan access to his back room without a warrant. Temporarily defeated, Raylan leaves the shop noting that Fogel's behavior and his shop make an excellent cover for someone running a stolen goods scam.
Fogel immediately calls Duffy to inform him of the situation, and the Carpetbagger suggests having Fogel simply kill Raylan. Even in the event of his likely failure, they believe Fogel to be more trouble than he was worth. When Wade and Wally arrive, Fogel passes the job to Wade for having lied about his fugitive status, instructing Wade to call Raylan over to his home and shoot him on arrival.
In Johnny Crowder's old bar, Boyd, Arlo and Devil enter to rough up the joint, noting the owner bought it during Johnny's recovery period from his shotgun wound, and they intended to rectify that. Given the options of leaving quietly or getting shot, the bartender chooses to stay, as two patrons rise up and take aim at Boyd's crew. Unfortunately for him, the other two patrons work for Boyd, and draw their guns as well. Johnny rolls in, as the owner decides to relinquish the bar, and quietly leave.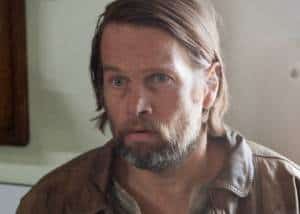 Wade pulls up to his house to find Raylan already waiting there to take him in. Raylan lays out a story from his childhood as to why he doesn't enter people's homes uninvited, which gives Wade an opportunity to go inside to 'change his shirt'(look for his gun). Wade finds himself unable to find it, because Raylan already searched the place, figured out the situation and took it, in contrast with his story. He then forces Wade to call Fogel and pretend as if the job is done, but that he needs Fogel to pick him up with medical insurance.
When Fogel arrives with Wally, Raylan shortly thereafter emerges and reveals that he knows the whole situation, and could easily take out either of the two men before they raise their guns. With no other options, Fogel offers to give up members of the Dixie mafia , but Wally complicates the matter by trying to secure a deal of his own. The situation dissolves out of control, and both Wally and Fogel end up fatally shooting one another.
While Devil and Boyd share a drink to confirm their allegiances, Boyd pays a visit to Wynn Duffy's trailer. Despite the Taxi Driver-inspired derringer we know him to carry, the Carpetbagger happily stands down while Raylan throws punches at Wynn, claiming he knows none of what's happened here is a coincidence. He leaves a bullet for Dixie noting that 'the next one's coming faster,'and Carpetbagger gleefully poses for a photo when Raylan takes a picture of the mysterious man before exiting the scene.
Did you get your fill of gun-slinging action? Tell us what you thought about the episode! Join us next week for an all-new episode recap of Justified on FX!