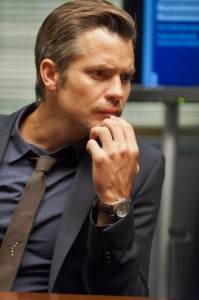 Justified premieres its third season with last week's first episode 'The Gunfighter,'as Raylan Givens (Timothy Olyphant) recovers from his injuries and faces off with a deadly new gunslinger (Desmond Harrington) while the new powers of Harlan County shift into place.
If you didn't get a chance to check it out for yourself, read on for our Justified recap of "The Gunfighter'!
Winona (Natalie Zea) drives along the road before a police vehicle flags her down. When she stops, the officer informs her of Raylan's shooting, from which she rushes to the hospital to find Art, who insists Raylan is okay but directs her down the hall anyway. Three weeks later Raylan is alive and well and working on his aim at the gun range, but both his accuracy and draw have been greatly hampered by his injuries. Later, Art reminds him of his luck in surviving, and that Boyd Crowder (Walton Goggins) has arrived to see him.
Raylan and Boyd share some friendly banter and catch-up that Ava's healing nicely, before Raylan questions him on the disappearance of Mags Bennett's weed stores and assets. Boyd insists he has no knowledge of such matters, but asks for Raylan to fulfill his 'promise'in delivering Dickie Bennett back to him. Raylan refuses, and they come to blows, from which Boyd is dragged away into custody.
Across town in Mr. Arnett's office, a mysterious man (Neal McDonough) makes smalltalk with Mr. Arnett before demanding back the money paid by the Detroit mafia for Arnett's real estate. Unshaken by the looming presence of Fletcher 'The Ice Pick'Nicks (Dexter's Desmond Harrington) on the other side of the room, the man demands Arnett's $250,000 by the following day. Upon his leaving, Arnett asks Nicks if he's still looking for work.
'Hot Rod'Dunham inspects the stolen cache of Mags Bennett's weed for purchase under the eyes of Devil and Arlo Givens (Raymond J. Barry), when Ava arrives on the scene. Dunham appreciates the offer, but informs the group that due to their improper storage of the weed, he refuses to purchase any of it. Devil insists he follow through on their arrangement, but Dunham leaves before any violence arises. Later that night at Raylan's hotel room, he and Winona get 'back in action'before wondering if their new baby means they should start looking for a house.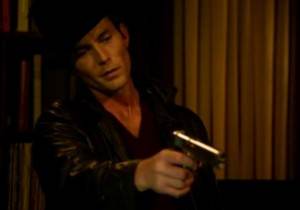 At the home of a man named Delmer Coates, a visibly nervous pizza boy arrives with a pie that Delmer didn't'order, when Fletcher Nicks steps out brandishing a gun. He forces Delmer to empty his safe of precious wristwatches, musing about the fact that the man didn't recognize him from installing his (now disabled) security system earlier. Nicks offers to play a game where they both reach for a gun between them as the pizza boy counts down from ten, but when he reaches one, Nicks stabs Delmer's hand with an ice pick, pulls the gun to himself and shoots his opponent. Before leaving, he takes the pizza and kills the delivery boy as well.
Tim (Jacob Pitts) places the case on Raylan the next day, given the disabled security system came from Raylan's nemesis Wynn Duffy (Jere Burns), but Raylan doesn't wish to visit Duffy given how he said their next meeting would go down. Tim drags him along anyway, and despite some awkward recanting of his threats, Raylan learns nothing from Duffy, who insists he had nothing to do with it. Raylan then leaves to speak with Mr. Arnett, just as Duffy calls Arnett to relay the situation, while his assistant Yvette listens in. Meanwhile in prison, Ava visits with Boyd, who explains in code that they should destroy the stash of Mags Bennett's weed if no one wishes to buy.
In Mr. Arnett's building, Raylan shares an elevator with Fletcher Nicks, at the precise moment Arnett calls Nicks to reschedule their meeting. Nicks departs musing that he'll see Raylan soon, while Raylan upstairs finds Arnett already gone. Yvette however asks him for a drink, and gives Raylan the information he needs about Nicks'and Arnett's next meeting. Once Raylan leaves however, Yvette gets into the car of the mysterious man from earlier, and relays that she gave Raylan the information as they planned.
Back at the station, Raylan puts the pieces together that he saw Nicks earlier in the elevator, as the team plans to intercept the meeting later that night and Art refuses to let Raylan come along given his condition. Over at Arlo's, Ava cooks a meal before relaying Boyd's orders to destroy the weed. Devil and Arlo protest burning such a valuable prize, but she knocks Devil out with a frying pan to keep them both in line with Boyd's wishes.
The team sets up to intercept Nicks and Arnett, but find only a homeless man paid to make a drop to one of Arnett's bodyguards, in a plot the squad manages to foil. Nearby however, Nicks observes their failure, and drives off in a stolen taxi. Art relays the situation to Raylan and Winona as they drive joking about baby names, when the pair finds Nicks waiting in Raylan's hotel room upon their arrival!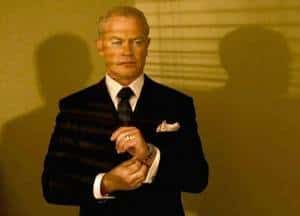 Nicks and Raylan share a bit of smalltalk about each other's histories, before Nicks starts his usual game, placing the gun on the table between he and Raylan while Winona counts. When Winona reaches one, Raylan pulls the tablecloth toward himself rather than reach for the gun, and finds himself with enough time to shoot Nicks in the chest. Back in Mr. Arnett's office, he meets with Wynn Duffy and the mysterious man. The man explains how he sent Yvette to clue the police in on their drop, before sliding a hidden derringer out of his sleeve and coldly shooting Arnett. He takes out Yvette as well, leaving a stunned Wynn Duffy to ponder his words, 'you know me now?'
In prison, Dickie Bennett (Jeremy Davies) idly chats with Dewey Crowe, before Boyd Crowder gets marched to his cell and the trio exchange glances. Once in his cell, Boyd smiles at his plan's success.
Did you get your fill of gun-slinging action from the premiere? Check out our review, then tell us what you thought about the episode! Join us next week for an all-new episode recap of Justified on FX!