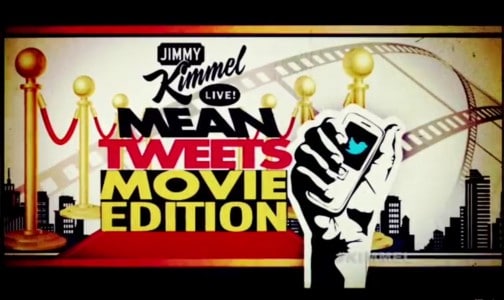 By now you've surely seen one of the many versions of the Mean Tweet videos featured on Jimmy Kimmel Live. Basically he gets celebrities with a sense of self-depricating humor to read through some really downright mean tweets about themselves written by often unsuspecting Twitter users. Timely editions like a music one was released the week of the Grammys and now since the Academy Awards are this weekend, we're treated to a movie edition.
Highlights include Zach Galifianakis being compared to Dakota Fanning, Oscar Isaac being called a Brooklyn hipster, and Taraji P. Henson accused of being ghetto. Some tweets aren't entirely mean, more silly like Eddie Redmayne's about his nose. They all take it in good stride.
Sean Penn, Kevin Costner, Susan Sarandon, Christoph Waltz, Emily Blunt, George Clooney, Patricia Arquette, Jessica Chastain and Richard Dreyfuss round out the rest of the appearances. Especially watch the clip for yourself to see Dreyfuss' screw up reading the tweet about himself which makes it even funnier!
Remember, kids, be careful who you tweet about unless you wouldn't mind seeing your own name on another edition of Mean Tweets!