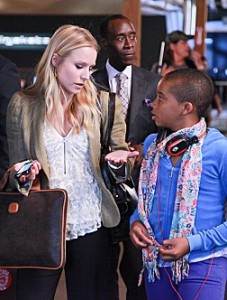 House of Lies debuts its fourth episode tonight with "Mini-Mogul," as Marty Kaan (Don Cheadle) works to help a techno-savvy CEO keep control of his company, while Jeannie keeps a secret from the group. "Mini-Mogul" offers a promising step for the series, though not without its faults.
There seems to have been something of a mix-up (or perhaps not, given the spoiler) in the House of Lies episodes that went out for screening, in that 'Mini-Mogul'wasn't among them. I'd been running a theory that like Star Trek movies, alternating episodes of House of Lies seemed to range from good to bad in quality, and my thinking was that 'Utah'was the next episode in line for airing. 'Utah'could be the show's best half-hour to date, but with 'Mini-Mogul'in its place I might not get to keep my theory. I probably should have known that errors like this might happen, as one of the last House of Lies screeners referred to a past event not covered in any of the other episodes, but I digress.
'Mini-Mogul'represents arguably the series truly strongest half-hour yet, though not for its lack of trying to embarrass itself. You see, it's the character moments that make House of Lies watchable, not the flashy attempts to grab viewer attention with time freezes and unnecessary exposition. 'Mini-Mogul'places mirrors in front of its flawed characters, some more literal than others. And while her story in no way connects with the thrust of the narrative, it's Kristen Bell's Jeannie who's given the strongest reality check. For all her back-and-forth banter and friendly toe-play last week, we learn from the opening minutes that not only does Jeannie have a boyfriend she keeps from her co-workers, but said boyfriend has recently put a ring on it. But why should a little thing like matrimony keep a girl from getting some strange from a tortured musician in another city?
There's a blanket attempt by the writing to classify Jeannie as a girl with 'Daddy Issues,'but at least the show is attempting to define its characters better than their riffing or razzle-dazzle corporate speak would allow. Jeannie arguably represents our best link to the series, when we consider the narrative omnipotence of Marty Kaan, so it'll be interesting to see where the show takes her character from here on out. I've seen at least two more episodes beyond 'Mini-Mogul,'but I'll have to re-watch them with this 'twist'in mind to observe Jeannie's behavior in a new context.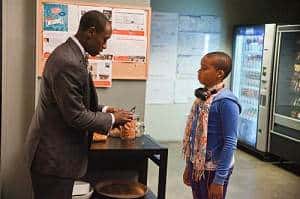 Marty gets plenty of spotlight for himself as well, as the group works with a former hacker turned corporate security designer, who's actions in selling out both his former lifestyle and current wealth turn attention toward Marty's own morality. It's mainly a distraction to get his young son Roscoe to see how his father sells out for a living and abandons his promises for work, but it makes for a nice character beat when Kaan drunkenly turns the blame on his ex-wife. There's a lot of self-loathing floating around House of Lies, but when the results are this well-played its easy to forgive some of the episode's cheesier gimmicks.
Doug (Josh Lawson) gets a lot of good material to play as well, both in Clyde's dare to act more like George Clooney, and comforting Roscoe with tales of his own bully survival. House of Lies plays a tricky game with Doug sometimes, alternating between using him as the group punching bag and a valuable member of the team, so I liked giving him a quiet moment to play the hero when Marty wasn't around.
I wouldn't suspect House of Lies to drop its more gimmicky aspects anytime soon, but so far 'Mini-Mogul'has been the best episode yet, provided you're not interested in the technical aspects of who Galweather-Stearn works with.
And Another Thing…
I like the recurring gag of the characters tallying points of their sexcapades, considering the elaborate rules they keep concocting.
Mmhmm, Kristen Bell's bra and panties dance. Yup.
Sure is nice to see Nick Stahl on TV again. Sigh, I miss Carnivale.
What did YOU think?