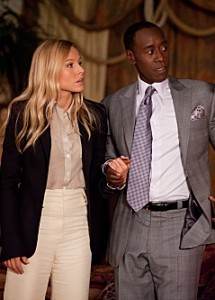 House of Lies debuts its third episode tonight with "Microphallus," as Marty Kaan (Don Cheadle) works to keep a bottling plant from going under while keeping thoughts of his dead mother at bay. "Microphallus" once again represents something of a step up from its pilot, but still has a few troubled aspects in need of address in order to make a coherent series.
And…we're back.
I almost enjoyed last week's 'Amsterdam' as a follow-up to the abysmal pilot for House of Lies, as 'Amsterdam'managed to tone down its more obnoxious devices and focus more on the chemistry between its cast. There's still plenty of work to be done in balancing said chemistry with a compelling story on a week-to-week basis, but new series always need a little bit of time to grow into their own format.
'Microphallus'doesn't entirely dip from that progress, but definitely feels like a step in the wrong direction, broken up by a few of House of Lies'more intriguing elements. Honestly, you could re-write 'Microphallus'without ever stopping time to show Don Cheadle's Marty Kaan make play-by-plays on meeting the clients of the week (hey look, Charles Widmore!), or engaging in a cartoonish encounter trading sex partners with a client and his wife. None of these scenes really contribute anything to 'Microphallus'overall point (minus the title), particularly when Marty reveals yet another deus ex machine to keep their business from going south anyway.
What does work about House of Lies are brief moments of deeper exploration of Marty Kaan himself, as we've seen Don Cheadle's performance slip from small cracks to a clear episode by the end of 'Microphallus,'taking place on or around the anniversary of his mother's suicide. In fact, if it weren't for his gender-explorative son (seemingly representing House of Lies'obsessive attempt to breed edginess) literally dancing around the scenes, there might be room for compelling drama with Marty and his father coming to grips with their matriarch's suicide.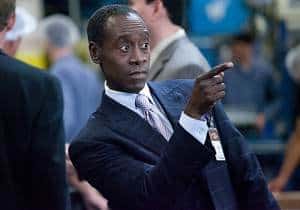 So too was it smart to bring back Greg Germann back as Greg Norbert, Marty's spurned nemesis from MetroCapital to introduce a more serialized threat in their merger, and the loss of Marty's job. It'll also be interesting to further explore the relationship with Marty and his boss Skip (Richard Schiff), who clearly share a more personal conflict than their employer-employee would imply. Their conversation from the end of 'Microphallus'about the nature of how Galweather-Stearn operates and the interpersonal relationships of business convey far more of House of Lies'thesis than any time-stop or meaningless exposition could.
'Microphallus'other issue lies in the misappropriation of of the show's greatest strength; its cast's chemistry. 'Amsterdam'made for a wonderful energy in scenes of Clyde, Doug, Jeannie and Marty all working together and riffing on each others jokes, where 'Microphallus'mostly serves to make Doug the butt of the joke thanks to a night he may or may not have shared with a transsexual. The presence of Cat Deeley last week seemed equally tangential to the plot as this thread, but at least it mined some fun out of the idea that these four can help as much as chide one another. Curiously, the script never once connects Clyde (and even Marty)'s ribbing on Doug's transsexual encounter with any sensitivity for Marty's own son's gender exploration, either.
All in all 'Microphallus'still makes for a more compelling half hour than its pilot did, but doesn't know quite how to reign in its more smugly uninteresting aspects. I'm starting to wonder if House of Lies will alternate between likeable and unlikable from week to week, but if they can get a handle on how to better integrate their weekly stories with their characters, there might be hope for House of Lies yet.
And Another Thing…
It's interesting to draw parallels between Marty's family issues, and the way Greg Norbert refers to himself as a family-type after how Marty broke up his marriage. Did he really, though? Norbert's wife was already pretty eager to cheat, and not with Marty
Lord help me, I just do not get the foot fetish. Even with Kristen Bell.
I'll be interested to see if there's any follow-up and / or consequences to Marty's little episode at the end.
What did YOU think?