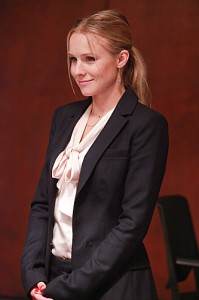 House of Lies debuted its second episode last night with "Amsterdam," as Marty Kaan (Don Cheadle) works to keep together divorcing heads of a basketball franchise team. After the poor reception of its pilot, House of Lies faces a very uphill battle with its second episode, but does it manage to charm its way past criticism this time around?
I was pretty infuriated with the pilot episode of House of Lies, whose flash and attempt to choke the audience with its edginess snuffed out any reasonable hope of engaging characters or engrossing story going forward. It's one thing to break a story's narrative by pausing to explain what you can't find ways to show, it's another to do it with such arrogance and presumption.
Now I've never watched Entourage with any real attention, but I'm well versed in its reputation for douchebaggery, and 'Gods of Dangerous Financial Instruments'felt exactly like what I imagined Entourage to be, but more poorly constructed and lacking any viewer incentive.
I'm happy to report that there may yet be hope for House of Lies.
'Amsterdam'is by no means the salvation House of Lies needs so desperately after just one episode, but makes far better use of the tools at its disposal. What worked from the pilot was the natural chemistry between its leads, particularly between Don Cheadle and Kristen Bell, and 'Amsterdam'follows through by highlighting the crisp and engaging dynamic between all four team members of Galweather-Stearn, and keeping its more cartoonish edge in check*. You'll never find the series as likeable as when Ben Schwartz acts out his hypothetical courtship of Cat Deeley with such aplomb while his co-workers so readily participate in the joke, but once it's over you realize just how drastically the entire scene veered away from any sense of purpose.
(*) Of course, the inexhaustibly eye-rolling time freezes still occur, but in a far more reserved capacity that in some cases actually added something to the scene. In particular I found it of interest to note how 'The Rainmaker'and his ability to move through Marty (Don Cheadle)'s time freezes subtly conveyed a sense of the man's power, or the way Marty ever-so-briefly flickers eye contact with the camera during his guardedly remorseful conversation with Jeannie (Kristen Bell).
Say what you will about the character, but Don Cheadle sure knows how to convey a lot using very little.
The problem with 'Amsterdam'lies in that House of Lies hinges far too much on its cast's chemistry, to the point of nearly drowning out its A-story with flashy doublespeak and a soundtrack that undercuts the drama of its scenes. I've been thinking a great deal lately of how strongly soundtracks impact their work, and House of Lies seems hell-bent on proving that it can make any scene interesting with nothing more than quick edits, flashy direction, and an upbeat undercurrent. I assure you, it cannot. This week, the cast shared all of two scenes with their "important" clients, divorcing co-owners of a franchise basketball team, before quietly ushering out the conflict with a eureka moment, and an offscreen info-dump.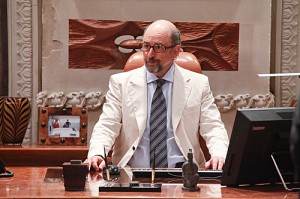 Therein presents another tricky challenge of House of Lies, in that given the premise of the series, its leads face new corporations, new challenges, and new locations near of every week. That might do well to keep things moving on a week-to-week basis, but it's hell without serialization. Sooner or later, those writers are going to find themselves desperately writing scenes around the same airport lounge, or airplane sets given how difficult all the location changes would make production. At least now the addition of an office and their boss Skip (Richard Schiff) will provide some grounding to the drama, or at least cut costs.
In fact, aside from the Jean Ralphio-esque play seduction of Cat Deeley, the best parts of the episode go to Bell's Jeannie, who if I'm not mistaken shares the only Cheadle-free (Cheadless?) scene to date, with no non-diegetic music or pauses cutting through the storyline either. Bell also does good work in Jeannie's subdued scene with Marty over his involvement with her job offer falling through, which you'll also notice lacks any heightened reality or distracting score.
More honest emotion, and less obnoxious pizazz could actually make House of Lies into something watchable, but like waiting for Kristen Bell to take her top off, I wouldn't hold my breath.
Yes, saying that out loud was probably greater douchebaggery than the show itself. We're all thinking it.
And Another Thing…
The bar may admittedly have been lowered at this point, but I thought House of Lies'cartoonishness actually worked in its open scene, which used very quick and visceral Dexter-like cuts to convey how Marty manipulates and preys on his clients.
Oh, and he basically raped his ex-wife, in a scene that was…somehow…necessary? So, there's that.
I honestly didn't know who Cat Deeley was, either, for likely the same reasons I thought Kris Jenner played football. For probably the same reason I wrote Kris Jenner just now, not realizing I meant Kris Humphries .
We're still sort of dancing around the conflicts with Marty's gender-experimenting son, and…good grief, am I afraid of touching that issue with a 50-foot pole.
What did YOU think?