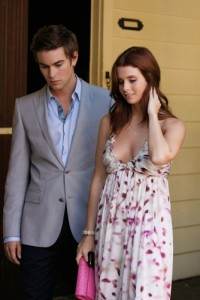 Last spotted: B and C finally got together, S was headed for Santorini to search for her dad, V and N were planning to trek across Europe together, and G was going to be B's roomie. OK, I'll cut it out with the one-letter names now.
This week's season premiere kicked off at the end of summer, where we see Chuck, hitting on… a blonde? Did he and Blair break up already?
Next up, Eric and Jenny prepping to leave the lush life in the Hamptons. They vaguely discuss something about drunken favor from Serena, sent from a Turkish pay-as-you-go phone. Somehow, Dan and Rufus were led to believe she was taking a vow of silence at the ash room. Gullible much? Somewhere in there, they slip in that Lily has been gone all summer, taking care of her mother, who's very sick. Decent excuse for Kelly Rutherford's maternity leave.
We cut to Nate, stepping out of a helicopter, and making out with… a redhead? Did nobody stay together this summer? The two lovebirds quickly realize they're both from elite families, who also happen to be lifelong arch-enemies. Looks like this Blair/Vanessa-rebound is going to fizzle out fast.
Back to Chuck with the blonde, in the hall, seductively talking and almost-kissing. 'Better to wait,'Chuck says, just as Blair storms down the hall, '…until now.'Blair tells off the model, and instantly melts into Chuck when the model's out of sight. She was in on it. Typical sick Blair-Chuck dysfunctional relationship.
Back at the van der Woodson's UES hotel, Dan finds the tabloid-evidence of Serena's real summer vacation, but promises to keep it a secret, just as Serena pulls up in a limo, surrounded by paparazzi. Meanwhile, Dan is on the phone with Vanessa, who wants him to meet her new friend, 'Scott,'AKA Lily and Rufus's son, who is supposed to be dead.
Tell us what's wrong with this post? How could we improve it? :)
Let us improve this post!