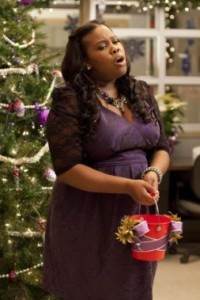 Glee celebrates its holiday mid-season finale with 'Extraordinary Merry Christmas" which sees the New Directions electing to put on a cable-access holiday Christmas special, referencing the Star Wars Holiday Special and Judy Garland, rather than join Sue at a homeless shelter.
Don't have the time to spare? Then here's what you missed on Glee's 'Extraordinary Merry Christmas!'
The New Directions decorate their rehearsal space's Christmas tree, Glee-fully bopping along to the tune of Mariah Carey's 'All I Want For Christmas is You,'as Rachel asserts they'll all have the best Christmas ever. Out in the hall, she vainly hands Finn her outline of Christmas prsents, mostly consisting of items to beautify her in time for NYADA auditions, while Finn believes in the more traditional gift of being with one another.
In Sue's office, the Cheerios'coach invites Artie, Kurt, Blain and the rest of the glee club to perform at the Lima Homeless Shelter, a tradition she's taken up this year to taker her mind off the death of her sister, and the New Directions agree. At the next rehearsal, Rory shares his homesickness with the rest of the group by performing a rendition of Elvis Presley's 'Blue Christmas,'despite their wishes for a more cheerful holiday. As if on cue, Mr. Schuester then arrives to inform his group that they've been given the opportunity to perform a cable TV Christmas special, offering arti the chance to direct.
Still despondent over missing his family, Sam offers to be Rory's 'Christmas Sponsor,'given his own distance from his family. Meanwhile, the local cable station head meets with Artie to discuss his plans for the Christmas special, namely that Star Wars (including Chewbacca) must have a role in it, and the special must be black and white to pay homage to Judy Garland's famous special. The man agrees, provided Artie can make the special for under $800.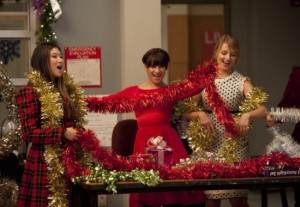 Auditioning a song for Artie's special, Rachel performs a rendition of Joni Mitchell's 'River,'though Artie dismisses the song as too depressing and shares his vision of Kurt and Blaine hosting a decidedly upbeat Christmas special, even going as far as to reboot Frosty the Snowman with a happier ending. Sam protests the lack of anything morose as untrue to the spirit of the holiday, and elects to do volunteer work rather than participate, and Rory declines to accompany his sponsor.
Finn comforts Rachel for Artie's response to her song, and in return she asks for her Christmas earrings early to wear them for the special. Rather than a material gift, Finn reveals that he elected to sponsor an African pig in her name, one to be fattened up and given to a family. She sardonically responds that she appreciates the gesture, but that she gave him the list to avoid embarrassing himself as such.
Rachel and Blaine then perform one of the glee club's original numbers crafted just for the holidays, 'Extraordinary Merry Christmas,'which Artie approves for the Christmas special. Sue chimes in her approval, believing the group to be rehearsing for the homeless shelter performance, when Artie then informs her they won't be attending in lieu of their TV performance. In spite of her own behavior over the years, Sue lays her guilt trip upon the group and leaves dejected.
After a Star Wars style opening, the New Directions Christmas special begins, in full black and white, with Kurt and Blaine peforming Sinatra's 'Let it Snow,'and the duo plus Rachel and Mercedes singing 'My Favorite Things'from The Sound of Music. Puck and Finn then arrive dressed as Han Solo and Luke Skywalker to peform 'Santa Clause is Coming to Town,'followed by Mike, Brittany and sexy Santa Cheerios performing The Waitresses"Christmas Wrapping.'The group then welcomes Rory dressed as Itchy the Elf, but instead of reading Frosty the Snowman as scheduled, Rory elects to read the story of the Nativity to the group.
While Sam and Quinn serve food at the homeless shelter, Sue lamenting that they might not have enough food, Will, Emma and the Glee Club arrive after all with additional food and cheer to spread, after Rory helped them see the light. They perform Band Aid's 'Do They Know It's Christmas,'as all the children watch in joy.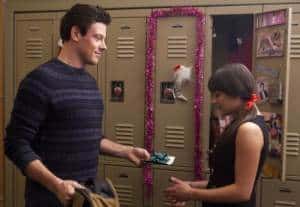 Later in the McKinley high halls, Rachel tells Finn that she accepted his pig gift by naming it Barbara, and the two reconcile. Finn then reveals additional gifts of having named a star after himself (given Rachel herself is a bright star here on Earth), as well as the earrings, which he sold his letterman jacket to afford. Moved by the gesture, she insists she start giving back. Finn and Rachel sell their respective Christmas presents and donate the money to charity, Joining Sam and Rory out on the street to ring bells.
So did you like Glee's "Extraordinary Merry Christmas"? Did it remind you of holiday specials past, or feel like coal in your stocking? What did you think about the episode's music? Join us next year for all-new episodes of Glee on FOX!