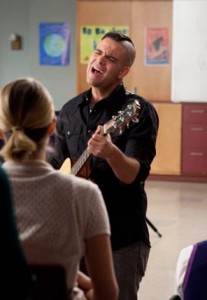 Glee continues on toward its mid-season finale with 'I Kissed a Girl which sees Finn working to smooth things over and make Santana more comfortable in admitting her sexuality, while Coach Beiste squares off with Sue Sylvester for the affections of Cooter Menken, and Kurt faces a desperate choice as the race for student council president's vote looms.
Don't have the time to spare? Then here's what you missed on Glee's 'I Kissed a Girl!'
Santana stands before Principal Figgins in his office, along with Finn, Will and Shelby Corcoran (Idina Menzel) to answer for the slap she delivered Finn at the end of 'Mash Off'Figgins wishes to suspend Santana for her violent act for two weeks, rendering her unable to compete in the upcoming sectionals, when suddenly Finn pipes up to deny a real slap even took place, letting her off the hook.
Outside, Finn explains that not only does he wish Sectonals to be a fair fight between the New Directions and the Troubletones, he also has a weekly lesson in mind that would help the 'awesome'Santana stop hiding her sexuality and lashing out at others, maybe even uniting the groups in the process. Meanwhile, Rachel continues worrying about Kurt's bid for class president even after her own resignation, though Kurt troublingly assures her he plans to rig the election by stuffing the ballot boxes
With the New Directions and Troubletones gathered, Finn begins lesson on 'Lady Music Week,'wherein the group performs music by women and for women in order to show how they accept Santana for who she is. First up, Blaine and Kurt peform a duet of P!nk's 'F$%king Perfect,'though Santana remains unmoved by their efforts.
Meanwhile, Sue finds her political campaign to be in crisis over the upcoming ad that both outs Santana as a lesbian, and calls into question Sue's own sexuality. Desperate to show voters her heterosexuality, Sue rifles through her black book before settling on a name. Better luck next time, David Boreanaz.
Coincidentally, Emma and Will listen to a turducken-eating Coach Beiste fawn about her time spent working out with Cooter Menken, and Puck continues the Lady Music Week lesson by busting out his rendition of Melissa Etheridge's 'I'm the Only One,'but Quinn, Rachel and even Mr. Schue all take notice of the fact that he seems to be singing to Shelby Corcoran. Afterward Quinn questions him on it in the hallway, and makes a bid for Puck to come over while her parents are away, though the singer rejects her for her erratic ways and high-maintenance nature.
At another set of lockers nearby, Santana chastises Finn for essentially forcing her to out herself, when he reminds her that the campaign ad eventually will, and he fears for her safety given a recent gay teen-related suicide. To that end, Finn stands before the group and sings a slow, acoustic rendition of Cyndi Lauper's 'Girls Just Want to Have Fun,'which the other boys slowly join in on, moving Santana to thank Finn in tears.
Over at everybody's favorite restaurant Breadsticks, Coach Beiste happens upon Sue Sylvester and Cooter Menken on a very public date to help Sue's image. In a moment alone, Menken confesses that while he does indeed have feelings for Beiste, he finds himself confused by their unromantic encounters lifting weights, and that they haven't done anything overtly romantic as of yet. Later, at the student elections, all signs point to Brittany winning the election, though most of the New Directions vote for Kurt, who himself decides not to go through with his plan to stuff the ballot box. Sue arrives on the scene, Cooter in tow, to rub their relationship in Beiste's face, while Will and Emma assert she needs to make her feelings known. IN a rare moment for the series, Coach Beiste actually pipes up to sing her own number, 'Jolene'by Dolly Parton.
Santana walks through the halls getting odd looks from the men, when suddenly the school rugby captain stops her, having seen the outing ad, and looking to turn her straight, when all of the Glee girls come to her defense, and break into a rendition of Katy Perry's 'I Kissed a Girl. Afterward, Santana informs the group that she's come out to her accepting parents, but still must to her grandmother. But soft, Figgins wants to see Kurt in his office! It turns out that Kurt won the election by 190 votes, but clearly more votes than students exist. Kurt swears despite entertaining the thought, he didn't cheat, and Rachel later admits to Finn that she was the one to stuff the ballots. Finn insists she come clean.
When poor baby Beth takes a tumble, Shelby summons Puck away from math class to the hospital, where she takes comfort in his strong insistence to the doctor that he knows how to care for his daughter, and requests a plastic surgeon to examine her stitches. The event ends in Shelby's bed, but afterward a few second thoughts lead Puck to flip out and call Shelby a coward for being reluctant to embrace what they've found together.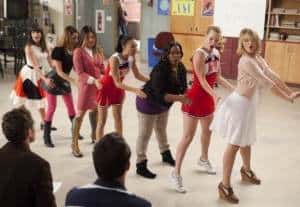 Later that night, Santana finally comes clean to her grandmother about her sexuality, but faces a strong reaction when her Abuelita insists she leave the house and never see her again. The woman believes that worse than the sin would be the scandal, and Santana acted selfishly in making her grandmother uncomfortable.
Puck returns to hooking up with Quinn, but vetoes her suggestion of making another baby to replace the one in Shelby's care. Puck realizes that Quinn needs help and attention, having been in a bad place for the last three years after her first pregnancy. He assures her that she will leave town and make her dreams come true one day, needing no baby or man to make her special. Reassured, Quinn insists they at least cuddle, when Puck decides to confess his affair with Shelby.
As Sue reads the paper detailing Burt Hummel's victory in their election, Cooter asks Sue what it means for the two of them, something Beiste would like to know as well. She confesses her love to Cooter and apologizes for not telling him earlier, but insists she won't go down without a fight after Sue and Cooter decide to remain committed to one another.
Back in the glee club, Will and Shelby confess their pride in the students, and Kurt even congratulates Brittany on her presidential victory. Santana thanks the group by performing K.D. Lang's 'Constant Craving,'which begets a montage that sees Shelby eying Puck in the halls, Beiste working out, Burt celebrating his victory, Rachel crying, and Kurt working on his NYADA application. At the end of the song, Rachel arrives to announce her confession of ballot-stuffing to the group, and that Principal FIggins has suspended her for 2 weeks, banning her from competing in Sectionals.
So did you like Glee's "I Kissed a Girl"? Did it feel so wrong, or so right? What did you think about the episode? Join us next week for an all-new episode of Glee on FOX!