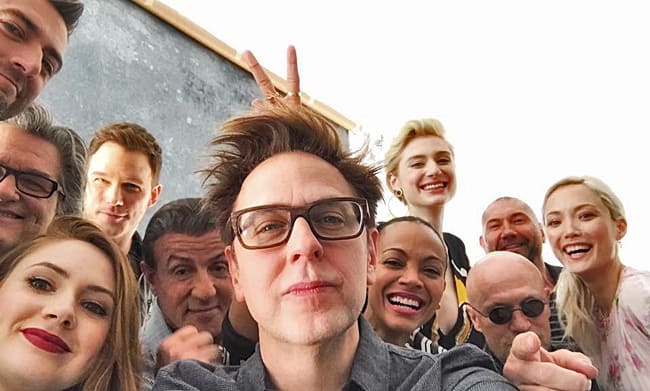 The biggest story in the entertainment world right now is Disney firing James Gunn as director of the upcoming Guardians of the Galaxy Vol. 3. In retaliation for his critical stance against Donald Trump, a disingenuous, crocodile tear campaign — headed by a cadre of actual Nazis, rapists and garden variety internet trolls — dredged up decade-old tweets in which the Marvel writer-director and former shock comic made off-color (and legitimately disgusting) jokes. Their shock-and-awe tactics resulted in a major scandal for Gunn, whose (now former) employer quickly and emphatically cut all ties with the filmmaker.
That's the bare bones of the whole affair, but of course there's more. Although his jokes were in genuinely bad taste, they were a full decade old. Disney hired him after the fact, knowing full well who Gunn was and what strain of humor he was bringing to their family-friendly brand. Said tweets had already resurfaced online, to which Gunn gave a full and heartfelt apology for his past behavior. And, what's more, is that Gunn's personal growth as an individual has been directly mirrored in the films he has since produced, namely Guardians of the Galaxy (2014) and Guardians of the Galaxy Vol. 2 (2017).
It is precisely for these reasons that Gunn's situation is not at all like that of similarly ousted comedian Rosanne Barr, who has continued to give insincere, backhanded, "I'm so sorry you thought I was racist" for her decades-long history vitriolic hatemongering that she most recently attributed to ingesting Ambien. He has had his mea culpa, he has demonstrably grown within the public eye and he is no longer the immature "anything for a laugh" guy he was at the start of the millennium. And it is for these reasons that a massive grassroots campaign, up to and including his Guardians of the Galaxy cohorts, has sprung up in his defense.
Immediately throwing himself onto the front lines of the controversy, Drax the Destroyer actor Dave Bautista was the first to come out supporting his friend and colleague. His fellow cast members gradually followed suit, culminating in the franchise's principle cast penning a letter in support of the man Gunn has since become, signed by Chris Pratt (aka Starlord), Zoe Saldana (Gamora), Dave Bautista (Drax), Bradley Cooper (Rocket), Vin Diesel (Groot), Karen Gillan (Nebula), Michael Rooker (Yondu), Pom Klementieff (Mantis) and Sean Gunn (Kraglin).
In the days since that letter's publication, bonafide Disney legend Kurt Russell (Ego) threw his hat in the ring on Gunn's behalf. Kurt Russell, who gained his initial notoriety by acting in a string of Disney films in his youth, was reportedly a favorite of the aging Walt Disney, who liked to pick his brain to get an idea of what the next generation was thinking. He was so esteemed by Disney that the man's last written words were allegedly his name. Not only does this fact give added poignance to Russell's own defense of Gunn, but to the more than 370,000 people who have lent their support to a Change.org petition to rehire him for Vol. 3.
Taken together, it puts a lampshade on the hole that Disney has dug itself in with its over-hasty termination of Gunn's employment with them. While a disingenuous and relatively small group of literal internet Nazis feigned outrage to ruin a good man's career, a tidal wave of popular support has risen to oppose it. And, what's even more dangerous for Disney, is that every one of the franchise's major players has stepped up to bat for the ousted director against their employer. It seems increasingly likely that should Gunn not be reinstated, the Guardians cast might jump ship en masse, undoing the carefully laid franchise that Disney has planned to milk well into the Marvel Cinematic Universe's bright-looking future.
We need not speculate about this possibility any more, as it turns out. Again taking the fight to rehire James Gunn to the public, Bautista took to Twitter saying:
I will do what Im legally obligated to do but @Guardians without @JamesGunn is not what I signed up for. GOTG w/o @JamesGunn just isn't GOTG. Its also pretty nauseating to work for someone who'd empower a smear campaign by fascists #cybernazis . That's just how I feel
But that's not actually all. Before being terminated by Disney, Gunn submitted his script for Vol. 3 to Disney, and a lot of the discussion lately surrounding his termination has become directed toward whether Disney would commit to a scorched earth policy and throw out Gunn's script in favor of one that they wouldn't need to credit Gunn with. But Bautista is having none of that, stating that:
Where I'm at right now is that if [Disney doesn't] use that script, then I'm going to ask them to release me from my contract, cut me out or recast me. I'd be doing James a disservice if I didn't.
Marvel actors are typically signed to six movie deals — three for solo movies and three for Avengers team-ups — which are usually then extended when they end. With Bautista increasingly proving to be a predictor for the rest of the cast's reactions to Disney's recent actions, it's not unreasonable to assume that his fellow Guardians of the Galaxy would similarly part ways with the Marvel Cinematic Universe after Vol. 3 or whatever Avengers movie caps off Phase 4. And if Disney goes so far as to commission an entirely new script for that film… well, they might find themselves without any actors left to film.
Disney, of course, should just bite the bullet and rehire James Gunn. It's the genuinely right thing to do. It's what the public (in addition to its own actors) wants. It's what will undoubtedly serve them and their highly profitable brand best in the immediate and foreseeable future. But if they needed another reason, they should consider how many people are going to want to see a Guardians of the Galaxy movie without, well, the Guardians of the Galaxy.