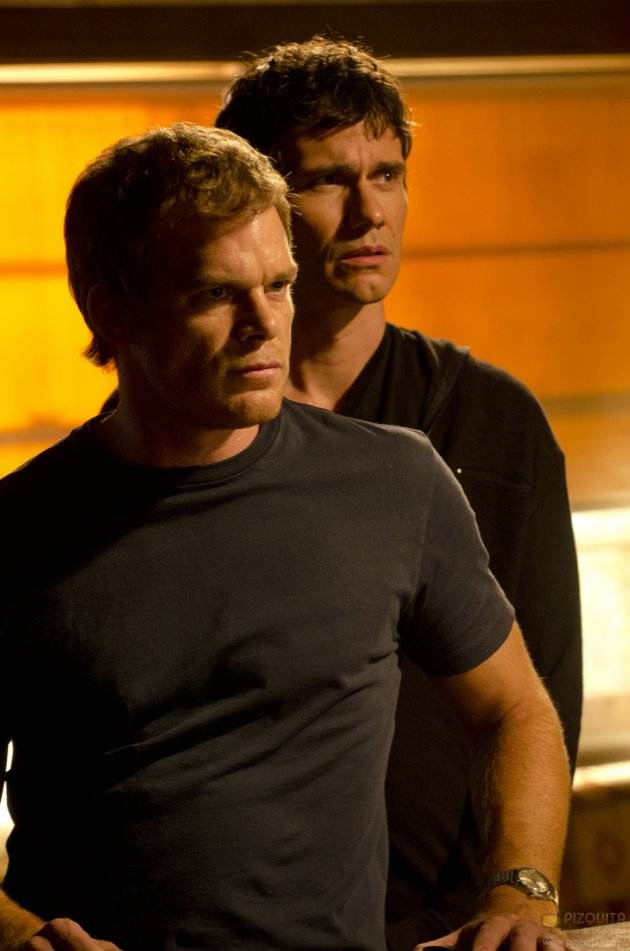 Dexter season 6 returns to carve up its seventh entry with this week's turning point 'Nebraska,'as our favorite serial killer and his ghostly brother Brian take a road trip to Nebraska to investigate the apparent return of season 4's Trinity Killer. After last week's big twist, "Nebraska" proves an incredibly diversionary episode that stops season 6's momentum cold.
Understandably, a great deal of commotion surrounded last week's 'Just Let Go'and the dramatic return of Brian Moser (Christian Camargo), the Ice Truck Killer after Brother Sam's death, and from a critical standpoint reactions ran the gamut. I myself approached with a cautious optimism, intrigued by what the return of such a revered villain could bring, even as a hallucinatory presence in Dexter's mind, but sadly my optism proved unfounded. 'Nebraska'isn't the worst episode of Dexter, but it may be the show's least necessary detour.
The question I find echoing most around Brian's return is ultimately, 'why now?'What about Brother Sam's death and Dexter's raging retaliation on Nick would take him specifically to Brian, and what does Brian add to the bigger picture of season 6? 'Nebraska'allows Brian to act as something of a devil on Dexter's shoulder, encouraging him to shirk responsibilities and Harry's code for killing, but by the end hasn't taught Dexter anything he didn't already know. And if Dexter overcomes Brian's influence to kill Jonah Mitchell (Brando Eaton), only end up right back where he started, what was the point of bringing in Brian in the first place, other than nostalgia?
Sadly, therein lies the other unnecessary detour of 'Nebraska,'the return of the Mitchell family as Jonah apparently picks up his father's mantle as the Trinity Killer. It's not that there's anything wrong with revisiting old ground or tying up loose ends left by season 4's Trinity story, but the same question plagues Jonah as it did Brian Moser: why now? 'Nebraska'feels like an episode that belonged somewhere in the beginning of season 5, when the impact of Trinity felt fresher. Beyond a moment or two of consideration on Dexter's bloodlust being hereditary, or a lesson learned on forgiving one's self, season 6 gains nothing from a trip to 'Nebraska.'
There was a moment during Dexter's tense standoff with the motel owner negotiating for his knives back, wherein I realized that never before had Dexter so arbitrarily set up pointless obstacles for its hero to overcome. Sure, it's cute to see Dexter and Brian inadvertently recreating the famous 'American Gothic'painting, but over and over it felt like 'Nebraska'spun its wheels before making the (brief) points it set out to make. I felt like Milhouse, remarking to myself 'okay, they have the knives, but when are they going to get to the fireworks factory?'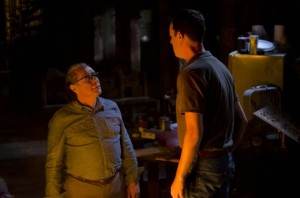 Back in the land of stories we actually care about, we're still no closer to learning about the elusive Doomsday Killers Travis Marshall (Colin Hanks) and Professor Gellar (Edward James Olmos), though Travis remains adamant he no longer wishes to take part in the massacres. By this point, we're so spent on figuring out whether or not Professor Gellar is actually real, their interplay loses all its meaning. Whether or not Travis continues aiding the professor, Gellar will obviously continue the work and make cryptically menacing threats to Travis, so where's the conflict?
Elsewhere Deb's still putting together the pieces of her life as the sharks circle her career, but I appreciated that we're dealing with a smart enough character to not fall back in with Quinn during moments of weakness. Dexter's working very hard to build Deb's resolve this season, so hopefully there's an equally strong way to test it come season's end. Dare we say, Deb finds out?
In the end it's all about the little detours we take, be they Dexter and Brian road tripping to Nebraska to deal with Jonah, Travis staying away from Professor Gellar's Deb briefly sliding back into her relationship with Quinn, and some of the best stories come out of life's little detours. This…is not one of those times. Don't get me wrong, I like aspects of 'Nebraska'and there's plenty of fun to be had in the idea of Dexter becoming a cross-country killer with a ghostly brother for a conscience. With the looming threat of the Doomsday Killers and Brother Sam finally put to rest, now simply wasn't the time.
And Another Thing…
Confusing Professor Gellar evidence of the week: the escaped victim never claims to have actually heard Professor Gellar speak, and while Gellar talks to Travis about atrocities he'd read in the newspaper, the first image of Travis in 'Nebraska'shows him holding a paper, albeit the crossword section.
I would think it rather difficult to bludgeon someone with a hockey stick, no?
The scenes of Dexter and Brian road-tripping all seem rather out of place with Dexter's usual music, but who doesn't love them some Iggy Pop?
How sloppy was Dexter this week? The convenience store likely has Dexter on video stealing the cashier's gun, and he even showed his face and waved to Jonah's neighbor while wearing his latex gloves!
What did YOU think?
Tell us what's wrong with this post? How could we improve it? :)
Let us improve this post!