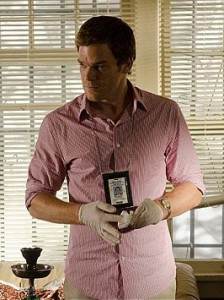 Dexter season 6 returns to slice up its sixth entry with this week's midway point 'Just Let Go,'as our favorite serial killer struggles with his inner darkness in the wake of Brother Sam's shooting, and Deb tries to keep her head above water with new responsibilities. The big sure-to-be-talked-about twist ending of 'Just Let Go'certainly shocks its audience, but only time and care will determine how badly the episode rocks the boat of an otherwise strong season.
You know, as a critic I have the occasional access to early screeners, in this case having seen 'Just Let Go'a number of weeks ago, but because of leaked reports on the episode I went in knowing that the final moments delivered a shocking twist that would polarize viewers, and Dexter fans alike. Because of that I was able to brace for impact, and remained somewhat unfazed by Dexter's shocking re-introduction of Brian Moser, the Ice Truck Killer (Christian Camargo), largely because the show had been attempting all season to remind us of who the Ice Truck Killer was and what he represented for the series.
It took a minute of thought to reason out that Brian Moser wasn't actually returned from the dead, rather just a stunt casting manifestation of Dexter's renewed darkness, but Brian's reappearance certainly sends Dexter season 6 in an intriguing new direction, one that will be on fans'lips for days to come. It undoubtedly piques interest to see how this development plays out, given how much Dexter's sixth season already has on its plate between Deb, the Doomsday Killers and Brother Sam, but we're left wondering what precipitated such a jarring turn.
Season 6 had a clear focus even with its minor diversions, and the appearance of Brian Moser calls to mind some of Dexter's ruminations from the outset of 'Just Let Go,'that 'twists and turns challenge our sense of direction'when given free will. It almost sounds as if Dexter's writers had their own feelings to express on the nature of free will, creation and the paths they've chosen, but the fact remains that 'Just Let Go'has introduced an incredibly significant new thread with its work cut out in justifying its place in the direction of season 6.
Another divisive point 'Just Let Go'creates is the death of Brother Sam, arguably Dexter's best and most intriguing character since season 4's Trinity Killer Arthur Mitchell. While season 6 never found any real means of connecting Brother Sam with the larger stories, I loved the questions their interactions raised philosophically and for the character himself, namely that Dexter could come to a self-awareness of how Harrison among other things had created a light within himself that could eclipse the Dark Passenger. Harry hits it on the nose by identifying Brother Sam as a 'fellow traveller'straddling the line between light and darkness, and losing the character so quickly and senselessly destroys what could have been a multiple season recurring role. Death is always heartbreaking, but both Mos and Brother Sam earned a better role than what ended here.
Twists aside, 'Just Let Go'still doesn't'give us much development from our Doomsday Killers Travis and Professor Gellar, only the predictable schism of Travis deciding to let his innocent 'Whore of Babylon'victim go rather than keep her in a branded agony until death. The problem here is the same problem that's been nagging all season, namely that the drama feels hollow while we keep having to question whether or not Gellar actually exists. Yes, there's a telling moment in which Gellar instructs Travis to pay for the whore's dress rather than interact with the vendor himself, but one the episode just as easily refutes. Were Gellar a figment of Travis'imagination, would that mean that Travis had to imagine Gellar leaving the church for 'further preparation,'before he could have a psychological window with which to set the girl free? The theory of Gellar being an imagined persona creates far too many logistical problems to not distract us from their effectiveness as Dexter's main villains.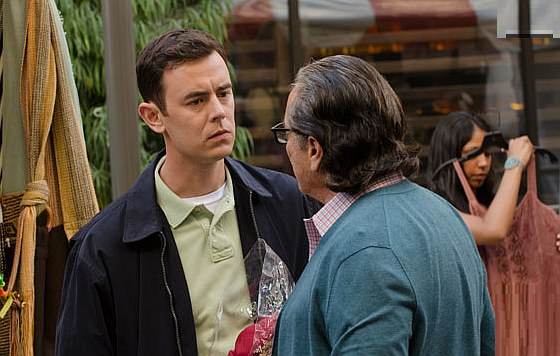 Continually, for several episodes now Dexter has given increased spotlight to Debra, and her struggles to cope with the changes inherent with her new position, and while I like seeing a new side to Deb I'm still left wondering what it's building toward. Showtime boss David Nevins stated long ago that season 6 would put the relationship between Dexter and Deb under the microscope, yet it increasingly seems the writers strive to keep Michael C. Hall and Jennifer Carpenter apart without losing screen time for either. Has season 6 got bigger plans in store for Deb, or fallen victim to the off-screen divorce of its lead actors?
Whatever the case with Deb's arrested development may be, at least 'Just Let Go'devotes more narrative to her than Quinn's increasingly pathetic spiral, or other characters with nothing to invest in. I've never felt as untethered to a series as during Deb's housewarming party, wherein I realized Dexter was attempting to invest our emotions in the innocent flirtations of Luke and Jaime, two characters whom we'd never even seen before a few episodes ago. In bringing up these points of undeserved attention I've almost diverted from the point as much as the series itself, but they paint a picture of a series that isn't quite sure what to do with itself anymore, which we've all begun to notice.
And in the end, that's what 'Just Let Go'leaves us with. The death of Brother Sam, Nick's confession, and Dexter's brutal reaction to drown him almost exactly as he'd been baptized all provide entertaining food for thought, but it's the episode's final twists that really concern us with what we've just swallowed. We and Brother Sam both know that Dexter truly does have light in him, and another rage-filled emotional outburst won't change that.
Color me intrigued to see how the return of the Ice Truck Killer plays out in the next few episodes, but fan apprehension is to be expected. After all, it's the characters we expect to carry a sense of dread, not the audience.
And Another Thing…
As Dexter stalked Leo Hernandez'party, was anyone else reminded of Little Chino? Unintentional, or another of season 6's continued efforts to evoke previous season nostalgia?
Her first bikini-clad appearance suggested the possibility of something between her and Dexter, but without it I'm still having trouble understanding why the show devotes such attention to Angel's sister Jamie.
True Blood's Maria Klaveno returns as Professor Gellar's former TA, but boy if the detectives don't just keep uncovering reasons to lock her up for obstruction!
'I could give a f$%k who you f$%k. Just don't f$%k with my investigation, you f$%k!'Personal best, Deb!
THANK YOU Batista, for punching Quinn. Why would anyone have let him stay at the party in the first place, showing up like that?
Call me crazy, but we don't explicitly know that Brother Sam is actually dead. The only information 'Just Let Go'presents us with is that Sam was likely to die soon, and Dexter watching the doctor give an unheard distressing update from across the room.
What did you think?