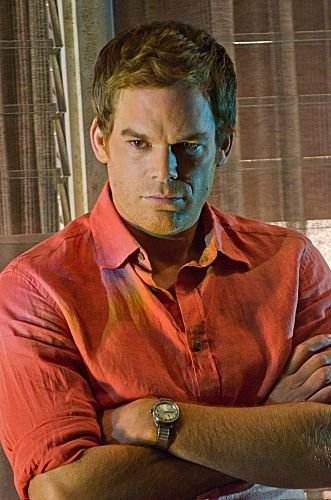 Dexter season 6 returns to choke out its fifth entry with this week's 'The Angel of Death,'as our favorite serial killer moves closer to discovering the identity(ies) of the gruesome 'Doomsday Killer,'and Deb struggles to keep her life in order. With Dexter season 6's main villains out in the open, the story mostly moves along, even with a few sidetracks here and there.
I may have been a little hard on last week's Dexter 'A Horse of a Different Color,'mostly in that it devoted too much attention to storylines and characters with no real bearing or payoff to the main threads. With twelve episodes and a certain amount of space to fill, not everything can drive the plot but 'The Angel of Death'at least utilizes its smaller focus to weave together larger pictures in a more effective manner.
'The Angel of Death'flirts with (though not really committing) the concept of doing an episode from Deb's perspective, which has expectedly mixed results. On the one hand, I like the Deb that struggles to find her identity as the new Lieutenant by running the situation room or dealing with the fallout of her relationship with Quinn, or her living situation. There's a scrappy underdog current to Deb that always keeps our sympathies with her, but it becomes less effective the whinier it gets. Watching Deb fix her living situation, bond with Chicago Mike or argue with Jamie just doesn't add anything to season 6's main drive, unfortunately.
The same could be said of Brother Sam, who has become an equally fascinating character in his own right. Dexter will take the flimsiest of pretexts to put Brother Sam and our protagonist together in a place they can meaningfully interact, but there's precious little connecting these moments to the narrative anymore. The discourse created by Dexter and Sam's discussions of light and darkness makes for some of the more fascinating debates Dexter has ever had to offer, but it's tragically marred by how tangential we know Sam to be. Guest stars, talented and intriguing though they may be, just don't last on this show. At least Lumen got to get her hands dirty now and again.
Travis and Professor Gellar we at least know to be temporary fixtures in the Dexter universe, but what's overshadowing their character development is the fascinating rage spreading across fans and the internet at large from the fairly telegraphed question of Gellar's presence. Even IGN can't resist opening up the floor to question whether or not Gellar exists solely in Travis'mind, and it becomes a tremendous distraction from actually investing in the characters, specifically the growing divergence Travis seems to be experiencing. It's only five episodes in, but definitively answering the question of whether or not Gellar's alive would do wonders for moving the story along.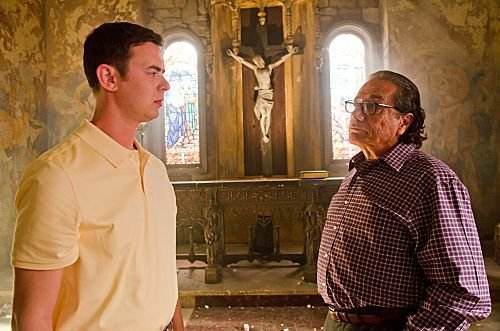 "What?! Of course I'm real. I'm totally real. Maybe. I mean, sort of. I'll get back to you."

Smaller stories do poke their way into 'The Angel of Death,'but in a much more intriguing way. For instance, no one wants to see the adventures of Batista and Quinn, resident sleazeball, but it's all worth it to establish that his former teaching aid Clarissa Morris (True Blood's Maria Klaveno) holds key evidence to identifying Gellar, and that Quinn may have compromised the investigation. Similarly, even with Ryan (Brea Grant) gone Dexter finds reason to continue the thread of the Ice Truck Killer hand with Masuka and his new intern, and I'm intrigued to see where that arc lands.
It's a sad pattern to think that Dexter episodes do their best work in their last ten minutes, but boy does 'The Angel of Death'return to form fast with Dexter's incredibly badass capture of Travis, and the heartbreaking (if expected) shooting of Brother Sam. To see Michael C. Hall exude such menace bathed in red light makes an incredible parallel to the bumbling Dexter seen early on in the episode, and reminds us why we keep with the character in the first place. I just hope that Dexter actually has a bigger fish to catch as the season approaches its midway, and not one that exists solely within the mind of Colin Hanks.
And Another Thing…
Confusing Professor Gellar evidence of the week: Travis has visions of Gellar's head bleeding and mentions 'all I can hear is my own voice,'but still needs to imagine calling him to cancel their plans later on?
Dexter's even telling Brother Sam of his 'born in blood'backstory, and we can't find better ways to tie him into ongoing stories? A criminal waste of Mos, def.
So Gellar has a 'thing for brunettes.'Am I the only one who then saw his relationship with Travis in a disturbing new light?
They went out of their way to point out that Chicago Mikes is married, so once again, PLEASE no falling for Deb.
What did you think?