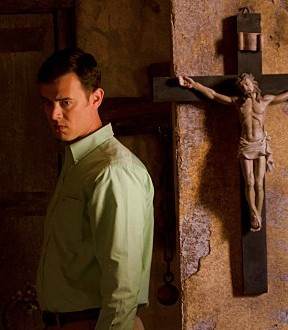 Dexter season 6 returns to slice up a third outing with this week's 'Smokey and the Bandit,'as our favorite serial killer hunts down one of his childhood inspirations and Deb settles into the role of the Miami Metro Lieutenant. Those looking for progress in the major storylines this season won't find much to go on, but even stand-alone Dexter has something to offer, if only an amusing distraction.
I mentioned in my review of the premiere that first and foremost about Dexter's sixth season was a renewed sense of energy and fun, something 'Smokey and the Bandit'certainly runs with as we watch Dexter coddling retiree Walter Kenney to prove his identity as legendary serial killer the 'Tooth Fairy.'There's plenty of humor to be mined from Dexter partnered with a grumpy old pervert, but I kept coming back to the notion that the Tooth Fairy diverted us from the stories we actually want to see. In their brief interludes Mos Def (or Mos)'continually charming Brother Sam and creepy religious duo Colin Hanks and Edward James Olmos remind us that we're just not that interested in watching Dexter ponder his life as old man. It makes for a fun diversion, but a diversion nonetheless.
Similarly, season 6 has an increased focus on Dexter's supporting cast, as Deb struggles to find her own identity as Miami Metro's new lieutenant, with Batista and LaGuerta pulling her strings, or Masuka drudging up reminders of Dexter's first season (The Ice Truck Killer) to impress his intern Ryan (Brea Grant). I remembered questioning what role LaGuerta could have in the series with Deb replacing her as lieutenant, and I hope the writers find more for her to do than micromanage Deb, or bicker with her co-workers, especially now that she doesn't have Batista to ground her. As for Masuka, I enjoyed seeing his character rewarded with some success with Ryan, but I wish her sinister motives hadn't been telegraphed so early on. Highlighting her bizarre behavior last week unfortunately tempered the reveal of Ryan stealing Ice Truck Killer evidence, for whatever purpose.
Though if there's one story from 'Smokey and the Bandit'I share the least interest in, it's Quinn. I've previously expressed my reticence toward liking Deb, but without her Quinn has nothing interesting about him to hold the audience. He's grieving, lashing out by sleeping with random women and pushing Batista to reclaim the lieutenant job, but what else ties him to any of the characters besides his job? I doubt if Dexter will pick up the thread of Quinn's suspicions of Dexter, or the allegations of Liddy's murder from season 5 we never saw resolved. Bottom line, no one cares enough about Quinn to be affected by him spiraling out of control.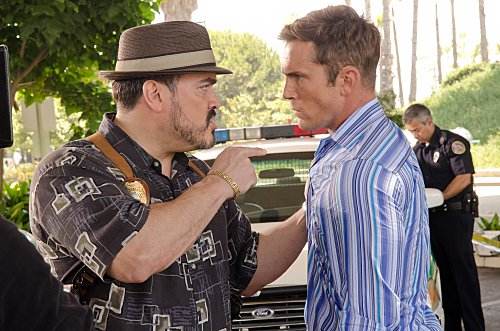 "No, MY story is less interesting!" -Showtime
And while Dexter's murder of the week doesn't connect much with his supporting characters, 'Smokey and the Bandit'does raise some interesting questions. Walter Kenny forces Dexter to confront his own future, legacy, and physical limitations, though the ground feels familiar having mostly been covered by Arthur Mitchell's Trinity Killer in season 4. There, the series asked the same basic questions about how Dexter plans to continue his double life into old age, the only real difference being how much faster Dexter managed to identify a killer who eluded police for decades. Despite the Tooth Fairy story unfolding in a fairly self-contained manner, it certainly ends on an unexpected note.
'Smokey and the Bandit'could very well have ended on Dexter adding Walter's blood slide to his collection, but intriguingly shakes things up, literally and figuratively by dropping the slides chaotically to the floor, and cutting to the disturbing end tag of Travis and Professor Gellar's handiwork: stringing their victim's body parts together with mannequins and riding them into town as a display of the four horsemen of the apocalypse. Considering how many public and gruesome serial killings take place in Dexter's Miami, it's a wonder people move to Florida at all.
All in all, 'Smokey and the Bandit'makes for an entertaining hour of Dexter, but doesn't light any real fires until the closing moments. Now, maybe we'll finally see what Colin Hanks and Edward James Olmos are up to, and how Brother Sam fits in.
And Another Thing…
I wish I hadn't read in other reviews the theory that Professor Gellar exists only in Travis'mind, as now I distract myself looking for any and all signs of a corporeal presence, a la Giles in Buffy the Vampire Slayer's seventh season.
'I Goggled your name!'
'Smokey and the Bandit'also gives us our first introduction to Detective Mike Cutler (Lights Out's Billy Brown). Anyone else getting a Doakes 2.0 vibe? Not only that, but other reviewers are already putting money down on his character hooking up with Deb. Groan.
I'm not sure if this has come up in past seasons, but Dexter really needs to shy away from the bad CGI, seen the first week with the snakes and this week with the Tooth Fairy's trophy teeth floating down through the water.
What did you think?
Tell us what's wrong with this post? How could we improve it? :)
Let us improve this post!