If Dexter's premiere last week reminded us all of the fun side of serial killing, Dexter's sixth season sophomore effort 'Once Upon a Time'should serve as a display for how expertly the series can ponder big issues through small windows.
Naturally, the running theme this week arrives in the form of fairy tales, as Dexter slowly begins steering young Harrison's burgeoning attention span away from his father's murderous exploits, and more toward fiction. All our characters take on a certain literary bent, with Dexter pondering his ability to become a real boy, newcomer Mos Def's 'Brother Sam'steering the wolves away from his flock of believers, and Deb herself winds up deposing Detective Batista from the throne of Lieutenant.
And yet, for all the plot threads dovetailing under the common theme by episode's end, I found Dexter's own words toward the beginning of 'Once Upon a Time'echoing through my head.
'I'm not sure how this next chapter goes.'
Rare for a series running as long as Dexter (and especially poignant given Michael C. Hall's ongoing negotiatons for future seasons of Dexter) is the idea of change to the status quo, something 'Once Upon a Time'suggests well. As predicted, her heroic shootout puts Deb in Matthews'sights for the position of Lieutenant, and by episode's end the younger Morgan is heading up the department that may one day hunt her brother. I've never taken well to the character of Debra Morgan, but for the first time in six seasons shaking up her role on the show feels like a step in the right direction. Sailor's mouth aside, there's a great deal of intelligence and honesty in the writing as Deb broaches the subject of her promotion with Angel or gives legitimate pause to Quinn's marriage proposal. Change is good, and whether or not we ever see its title character behind bars, Dexter's 'Once Upon A Time'graciously flirts with the idea of moving forward amicably.
Of course, Batman would be nothing without the Joker, and so too must Dexter have its villains and major guest roles under the microscope. Mos Def's 'Brother Sam'arrives as reformed murderer, pastor, and potential link in the serpent case orchestrated by our other villains Edward James Olmos and Colin Hanks, and in his arrival poses something of a problem. Dexter often introduces its villains at a slow pace, but within one episode Brother Sam already feels far more interesting than Travis or Professor Gellar, and their cryptic religious rhetoric. Even adding a bit of development to Travis'home life with his sister (Molly Parker) or suggesting Professor Gellar believes himself to be a messianic figure saving souls before an imminent apocalypse doesn't eclipse the fact that already we're investing more in Mos Def's enigmatic, but intriguing reformed mechanic. For now, we'll place our faith in Dexter to lead the way, and It'll be interesting to see how the Brother Sam thread eventually weaves into the larger villains"end of the world'tapestry.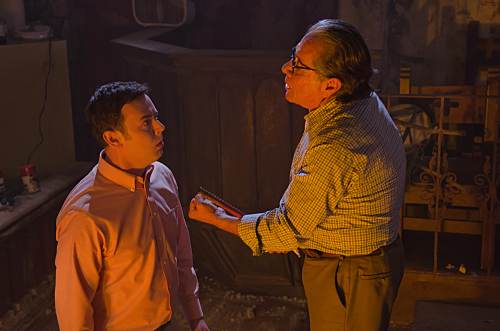 -Showtime
'Once Upon A Time'invests much of its time in setting up future developments, so much so that we barely have time for Dexter to indulge his murderous habits on a gangbanger who threatened he and Brother Sam in his garage earlier, but still continues the fresh feeling of rejuvenation coursing through the show. I've never been Dexter's biggest fan, but Brother Sam may make a believer of us all yet.
And Another Thing…
Matthews efforts to irritate LaGuerta by installing Deb as Lieutenant over Batista certainly feel natural for the characters, but would news outlets and police officers really swallow that a young agent deserves such a promotion for handling a random shootout well? And with her old job and office gone, what role can LaGuerta even have going further?
We all owe a great deal of credit for Michael C. Hall and Jennifer Carpenter still working so well together post-divorce, as the showrunners weren't kidding about 'putting the characters'relationship under a microscope'this season.
I'm enjoying the back and forth between Masuka and new intern Ryan (Heroes'Brea Grant), but I'm sensing something devious behind the character given her willingness to objectify herself in front of him. Of course, subtle isn't always Dexter's specialty.
What did you think?