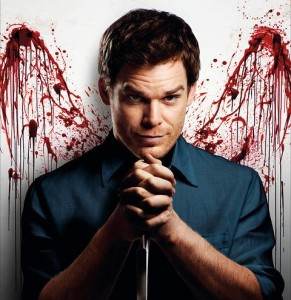 Sharpen your knives, ready your slides and wrap your living rooms in plastic wrap, Dexter is back! Everyone's favorite serial killer returns for his sixth outing, newly recharged and finally freed of all that pesky, 'my wife was murdered'nonsense. Not a moment too soon!
Dexter's sixth season faces something of an uphill battle for longtime fans of the series, which struggled to find its footing in the wake of Rita's murder and the poorly received Lumen (Julia Stiles) last year. Thankfully, sixth season premiere 'Those Kinds of Things'sets a clear and re-energized tone for the season to follow from its very beginning. Viewers who caught the early tease of the episode's opening scenes with a stabbed Dexter in distress might be disappointed to learn our killer has played his paramedic prey for chumps, but the sequence still serves up a clever way to re-introduce ourselves to Dexter's nighttime activities. The season's first kills also strengthen our perception of Dexter's new resolve, as Michael C. Hall exudes a manic confidence missing the past few seasons, and creatively breaks from Dexter's own traditions with a double defibrillation.
Allowing the series to finally breathe, free of burden for Rita's murder opens up a world of narrative possibilities, chief among them a sense of fun, and exploration. In fact, fun is the one thing the premiere packs a'plenty! 'Those Kinds of Things'gets a great deal of mileage out of 'Clueless Dexter'fumbling with the concepts of football and his newfound popularity, as the spatter analyst navigates his 20-year high school reunion in search of the former quarterback who may have murdered his prom queen wife. High school isn't the only higher learning on Dexter's mind, however, as choosing a pre-school for Harrison opens up the season's main focus: religion. And with religion, there will be blood.
And that's what we've all been dying to find out, right? How the new big bads (played by Battlestar Galactica's Edward James Olmos and Hollywood royalty Colin Hanks) make their bloody presence known to Miami Metro? Well…they don't. Just yet, anyway. Apart from their ritualistic snake-infested handiwork washing up on shore for the police to examine, the two characters don't reveal much about themselves. In their first appearance, they literally wade into the scene from nowhere, spouting religious passages and vaguely ominous plans like a grizzly Spanish Emperor Palpatine, and nerdy white Darth Maul. We firmly place our faith in Olmos to craft a sinister serial killer to rival season four's Trinity Killer, though Hanks seems a bit stiff in his brief scenes. Time will tell, and at the very least Dexter's exploration of faith dovetails nicely with his inevitable foes.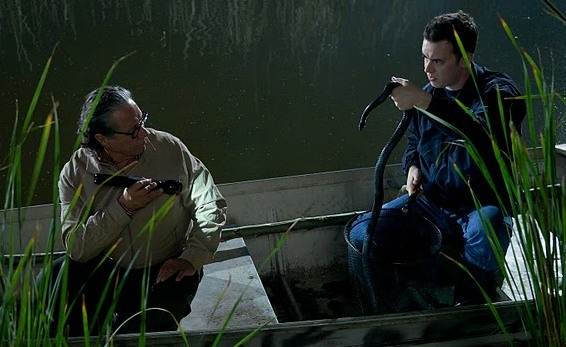 "Sure, it's big. But Battlestar 'Vipers' weren't actual snakes, you know."
Elsewhere, Dexter's supporting cast also benefits from washing away lingering plot threads of seasons past. Just as randomly as Batista's marriage to LaGuerta came about, so too has their divorce in the off season, leaving LaGuerta to resume clawing her way to the top and Angel to focus on his relationship with his sister Jamie (newcomer Aimee Garcia). More drama will surely arise from promising Batista the position of Lieutenant (as a heroic cell-phone documented shootout likely puts Deb in the running), but for now Dexter works better with its supporting staff being treated as real characters with their own stories. Even Masuka has his own gaggle of interns to corrupt (including Heroes'Brea Grant), and Quinn's nervously combative behavior turns out to be a sweet proposal effort for Deb. Yay for no more 'Deb finds a new boyfriend'stories!
All in all, 'Those Kinds of Things'is a breath of fresh air for the aging series, and does well to remind us of the fun side of serial killing while setting up important plot points for the season to come. Dexter doesn't always fire on all cylinders, but its first outing is a bloody good show.
And Another Thing…
I have to applaud the sound direction of Daniel Licht, whose score very nicely establishes the mood of each scene, where normally I wouldn't notice anything.
'I have no idea what '˜Hammer-time'is, or how it differs from regular time.'
The snakes are more CG than we're used to seeing on Dexter, but the religious elements and Greek symbols certainly make for compelling new killers.
So…did they really just eviscerate that fruit vendor by the side of a busy road in broad daylight?
'Stop talking, Dexter.'
Dump your bodies, and we'll see you again next week!
Tell us what's wrong with this post? How could we improve it? :)
Let us improve this post!