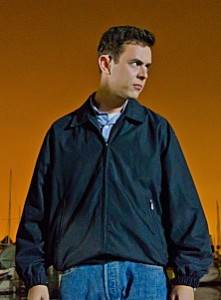 Dexter season 6 returns to raise its eleventh entry with this week's devastating 'Talk to the Hand,'as our favorite serial killer races against time to find Travis Marshall before the Doomsday Killer can stage his next deadly tableau, and Deb comes to an frightening realization about her relationship with her brother in therapy. "Talk to the Hand" may have some wriggling in discomfort, but ultimately does a good job setting up the climax of Dexter's sixth season.
Okay, so let's get the elephant in the room out of the way.Dexter and Debra made out, or at least in her dreams they made out, because Deb's therapist planted the idea in her mind that she might be in love with her brother. Yes, this is really happening, and happening just as we'd finally stopped shuddering from the image of Boardwalk Empire's Jimmy Darmody f$%king his own mother last week.
Once you get past the obvious squick (and curiosity what would push the Dexter writers to create such a bizarre story for Michael C. Hall and Jennifer Carpenter to play, given their fairly recent divorce), we have to look at the deeper implications. I don't for a second believe that the Dexter writers would honestly expect us to buy into a story about Debra legitimately falling in love with her brother (even after they expected us to be surprised Gellar wasn't real), but rather that their extremely close (now borderline incestuous) relationship allows Debra to come around to a new way of thinking on morality.
Dexter fans have chomped at the bit for Debra to finally learn the secret of her brother's murderous night job, and putting a microscope to Dexter and Deb's relationship this season has lain some important groundwork for the big reveal. Several episodes now we've been teased with the idea of what a sister (like Lisa Marshall) might do knowing a sibling commits murder, and twice in 'Talk To The Hand'we see Dexter attempting to coax Debra into a new state of mind. In the first instance even prior to therapy, Dexter implores Debra not to dwell on Matthews'call-girl case, noting that 'there are worse secrets you can have,'something she takes to heart by ultimately agreeing to let her boss and mentor off the hook.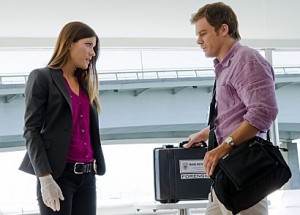 In the second instance during Deb's disturbing dream, Dexter reminds his sister that 'everything isn't always so black and white.'Could the message really be that once we've put aside the ridiculous notion* of the two becoming an item, Dexter and Debra's relationship might have evolved to the point that she could accept, even (platonically) love her brother as a killer? That perhaps their bond has grown past brother and sister, to the point of understanding, and embracing the insanity?
(*) And before everyone flies off the handle about Dexter introducing such a strange plot development so close to the end of the season, remember what a tricky business TV writing can be. When you introduce a thread too late, people will complain it wasn't built up enough, and when you introduce a thread too early people will dismiss it as a one-season gimmick. Everybody breathe, until next week.
The burden of 'Talk To The Hand'mostly lies in carrying us to the epic finale, and a final showdown with Dexter and Travis, making things in the meantime seem somewhat like an exercise in futility. We know the writers will save the best for last, and certainly won't wrap up the main storyline for another week. It's of interest though, that 'Talk to the Hand'actually goes as far as to stage Travis'seventh tableau, meaning next week's 'This is the Way the World Ends'will focus entirely on Travis'presumed defeat, and realization that his efforts to create the apocalypse have failed.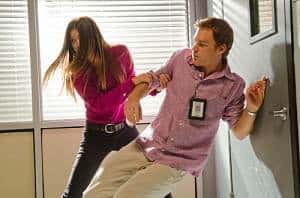 Certainly, 'Talk to the Hand'does an excellent job of ramping up the tension by creating such personal threats to our main characters and even going as far as invoking Homeland Security, though I wish Wormwood itself had proved a little more deadly than simply taking Beth (Jordana Spiro) with it. Granted this isn't 24, and I'm not certain how Beth and Travis'slow-spreading gas mechanism could have caused more damage, but given the ominous tone struck for Miami Metro in 'Ricochet Rabbit,'I had hoped the tableau might have at least destroyed property*, or taken a few redshirts with it. With the true nature of Travis and Gellar finally out in the open, there's a palpable sense of excitement and dread for season 6's climax, sorely lacking before.
(*) Dexter pointed out last week that Travis wasn't exactly performing literal interpretations of the seven tableaus, but the 'meteor'mentioned in Wormwood, and the gas'preparation on the boat had me believing their plan was to crash the 'Ricochet Rabbit'into Miami Metro from its dockside entrance, which might have been a little over budget for the show.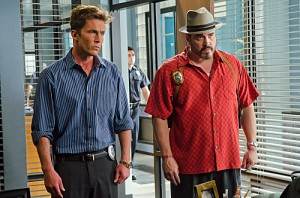 Even the side stories don't seem as woefully tangential this week, as we've finally put a cap to the call-girl case and Deputy Matthews sinister game, LaGuerta having outed him herself in a power-play. From the very beginning of season 6 I'd wondered how LaGuerta would fit into the department after her promotion from Lieutenant, and with Matthews gone she's right back in the seat of power, from a narrative standpoint. Similarly, I'm glad we've finally wrapped up Quinn's spiral into drunken incompetence, even if the characters seem to have gotten off a bit lightly. We'd miss him terribly, but losing Batista to Quinn's behavior and the Doomsday Killer might have given the season a little extra punch, and if we ended up losing Quinn instead…I think we'd all get on with our lives.
Unless they're looking to speedily wrap up the thread next week, we've also still got Louis and his Ice Truck Killer fetish to address, here seen drawing palm lines on the hand and carefully mailing it to Dexter. Based on his video game design, and talk with Dexter about wanting to get off the sidelines in life, perhaps we're looking at a potential student for Dexter to train in his dark arts? I'm still fuzzy on what Ryan (Brea Grant) had to do with things in the first place, as the first to express interest in the hand, but hopefully the writers take their time in constructing their plans for Louis, an admittedly intriguing character now.
It's safe to say that Dexter should have quite a bit to answer for next week, why the Doomsday killer would have absconded with his boat, or have painted a portrait of Dexter as the devil (assuming someone finds it), so here's hoping our creepy shock at Deb's sudden affection for her brother has not been in vain.
Bring on the end of the world!
And Another Thing…
As I mentioned last week, Travis (and Colin Hanks as well) has become far more interesting without Gellar, and I felt genuine deranged menace in his coaxing of Beth into essentially becoming a suicide bomber.
I try not to nitpick about Dexter's more questionable plausibility issues, but I have to think Beth should have had a more difficult time entering Miami Metro, and waiting around with a suspicious backpack for Deb.
I've never rolled my eyes more than at Michael C. Hall's reading of 'it's time for my Dark Passenger to take the wheel.'And sure he's always worked around Miami Metro, but shouldn't Dexter be more cautious competing with Homeland Security? I'm pretty sure their business cards read 'We Tend Not To F$%k Around.'
Incidentally, it feels like a narrative bump in the road to delay the investigation through Homeland Security, only to have them disappear by the end of the episode, but we'd probably ask even MORE questions if a supposed gas attack didn't trigger a higher level of government.
Where did the blood for Dexter's tableau come from? And Masuka can analyze fingerprints on the scene, but not tell that that hand's been dead for years?
Granted there weren't many options to get the Slice of Life on Travis'radar, but what is it with this universe and video messages, blog comments, and texts? It's called typing, people!
Granted we're not privy to its exact location, but was a ring of fire on the water really Travis'final tableau? Would that fire even last long enough for people, or Miami Metro to even find out about? And wasn't it supposed to be in another few days?
What did YOU think?
Tell us what's wrong with this post? How could we improve it? :)
Let us improve this post!