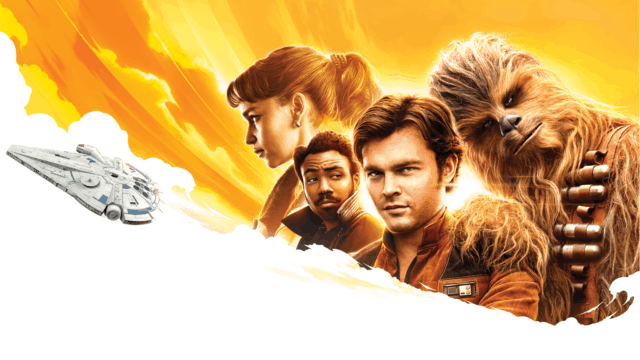 Anybody who has been paying attention to the back-end of the film industry over the last year could tell you that the latest Star Wars spinoff to be released by Disney, Solo: A Star Wars Story, has been in serious trouble. Its hotshot directing duo, Phil Lord and Christopher Miller (the same helmsmen behind Cloudy with a Chance of Meatballs, The Lego Movie and 21 Jump Street), departed under dodgy circumstances due to irreconcilable creative differences that they had been having with the executives overseeing the project at Disney. A new director, this time celebrated filmmaker Ron Howard (of Apollo 13, A Beautiful Mind and Cinderella Man fame) came in and, by some of the more extreme accounts, reshot upwards of 70% of the movie: upending everything from basic plot points to Lord and Miller's under-riding tone.
Just about any film fan who has been around the block more than once knows that this is a recipe for absolute, unmitigated disaster, regardless of the skill of the incoming filmmaker or the misguided intentions of the outgoing ones. The most immediate point of comparison was last year's disastrous Justice League, whose first cut was so poorly received by the studio heads over at Warner Bros (who succinctly called it "unwatchable"), that it spurned on several rounds of protracted reshoots. Eventually, Avengers director Joss Whedon replaced original director Zack Snyder and reshot a reported 50% of the movie on an estimated 10% of the original budget, rushing it through post-production in the eleventh hour to kind-of, sort-of, almost-but-not-quite finish off its special effects and other behind-the-scenes artistry. The results, of course, were predictably awful, resulting in one of the worst movies of that year and one of the most mind-bogglingly inept blockbusters in years.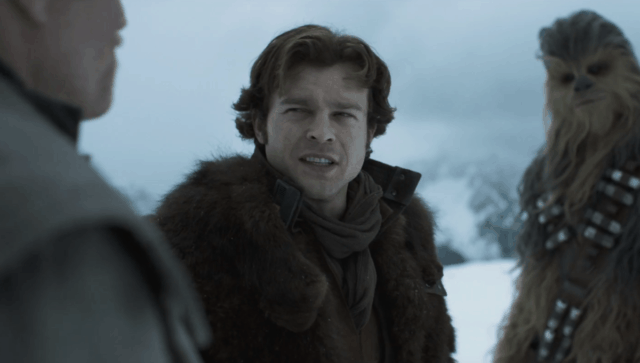 For whatever reason, though, and by whatever black arts Disney executives have at their disposal, this is not the fate of the latest Star Wars Story. Despite its extensive production woes, radical, last-minute course-corrections and ground-up overhauls of the entire project, Solo isn't simply a good Star Wars movie, but a great one. In fact, when compared with the franchise's rapidly expanding entries, it is actually one of the better ones (and not just because the unfortunate prequel trilogy exists, either): nestled comfortably between Rogue One and A New Hope.
It's hard to imagine what kind of an undertaking taking over a production this size mid-way through and having to scrap most of what had already been already completed, but to his everlasting credit (and as monolithic testament to his incredible skills as a filmmaker honed over a lifetime of working in the industry), Ron Howard somehow managed to pull this particular trick off: not just salvaging Solo, but outright saving it from the growing rubbish heap of would-be blockbusters clogging up the summer box office. The action is riveting, the dialog pithy and the entire production — from its Bonnie and Clyde opening to its Fist Full of Dollars denouement — is every inch the kind of summer action-adventure flick that goes down smooth with a fountain drink and a tub of popcorn.
The film's greatest asset (other than the resplendent Ron Howard, that is) is in its roguish leading man: Alden Ehrenreich. Rather than settling for his best Harrison Ford impression — something that unquestionably would have failed, given that actor's singular swagger — Ehrenreich makes the part wholly his own, reinterpreting the classic character for a younger audience and a wilder setting. Whereas Ford channeled something akin to John Wayne in his easy strut and confident (if buffoonish) charm, his successor feels more in line with Warren Beatty's Clyde Barrow: mean, hungry and possessed of a wiry energy that speaks to the distant starting point that inexorably ends with Ford's worlds-wearied smuggler.
And though it might be somewhat sacrilegious to say of one of the unimpeachable pillars of the science fiction genre, but Solo makes the more familiar version of the character far more interesting with his modern recontextualization in this prequel film. It's not that they gave him a childhood love interest or fleshed out his pre-captaining years or showed us how/where/why he first met Chewy and the other characters that would later become permanent captives in his magnanimous orbit. It's not that we see how he was first sent down his heart-hardened path or won the Falcon or anything like that.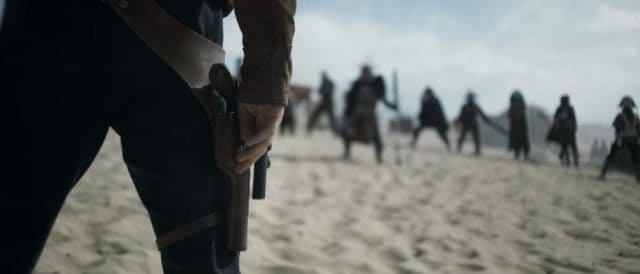 Rather, Solo the movie fleshes out Solo the man by granting us a rare peak at the man behind the curtain. In an intimate moment shared between him and his childhood sweetheart, she reveals that she is the only person in the entire galaxy who knows what he truly is: not a rakish ne'er-do-well, but a good man — somebody who, when push comes to shove, will do the right thing, even if he has to do five or six wrong things before he ultimately gets there. This is revealed in his final act of selflessness in the film, which some have been quick to erroneously write off as Disney "watering down the character." It shows us a man who, rather than having a change of heart when he returned to the Battle of Yavin to help Luke blow up the Death Star, momentarily dropped his put-upon bravado and let himself give in to his own better nature. It's post hoc characterization, granted, but so well done as to make me completely re-assess the decades-old character and, in my opinion, a far more interesting light to cast him in.
A secondary standout in the film comes in the form of Lando's robotic navigator and latest in a long-line of sassy droid companions: L3-37. Easily having the biggest personality of any of the chrome-domes previously running around in the Star Wars universe, she is a fascinating and immediately engaging character who sheds some revealing light on the awkward gray-space of personhood occupied by droids: that is, as sapient beings who oscillate wildly between citizens and slaves seemingly to serve the dictates of the story in any given scene. Her on-screen antics were a riot to watch play out and she has some seriously fun chemistry with Lando during the film.
Like Rogue One, this is not a game-changing entry into the grander Star Wars Saga. Whereas its side-story predecessor mostly existed as a proof of concept for these off-year entries into the growing franchise, Solo exists mostly to set up a secondary universe of carnival attractions: everything from Solo sequels to Lando, Jabba and various Rebel Alliance spinoffs. It broadens what has already been established within the setting while being careful to not close off any interesting (to say nothing of profitable) avenues. It is, in a word, fun: a brilliant reminder of why the larger franchise always struck a chord with audiences, even if it strays away from the Force-filled trappings of the Skywalkers' stories that have dominated the box office for generations. And while it might have little lasting impact on the larger series as a whole, rest assured that Disney never-the-less knocked another troublesome curve ball out of the park by leaning heavily on the franchise's strengths and jurisprudently exercising some much-needed control over the film's creative team.
Rating: 4/5
Buy on BluRay: Yes