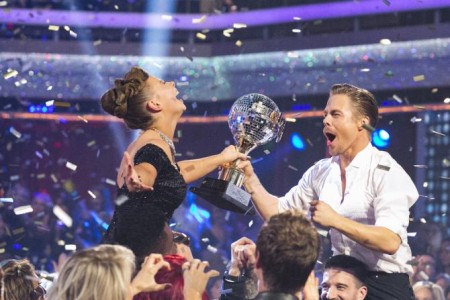 It's hard to believe this will be the 22nd season of Dancing with the Stars, and one of only a few without Derek Hough since he joined the show in its fifth season. He has taken another year off previously but ended up coming back the next season. He announced on hsi Instagram that he will be starring in The Weinstein Company's Broadway musical production of Singin in the Rain in 2017 so I think we can expect him to be sitting out at least a couple seasons of DWTS.
To counter that blow of losing a fan-favorite (and trophy-winning) dancer, we at least have an update on one of the stars joining the lineup this year: Jodie Sweetin! Val and Maks Chmerkovskiy guest starred on Fuller House as just a couple of good looking guys at a club where Stephanie, DJ, and Kimmy were hanging out. Steph took to the floor with Val and showed off some impressive moves of her own. Sweetin herself told Good Morning America that her time with Val on Fuller House finally convinced her to do the show after turning down offers before. She will be paired with Keo Mostepe.
This is only the first member of the new cast announced, so who else are you hoping to see dance this season?