By the turn of the century, there was seemingly no place left on Earth for the Friday the 13th franchise to turn to. We'd been to camp. We'd been to New York. We'd had four Crystal Lake killers before the series bit the bullet and brought Jason back as a zombie. We'd seen him square off against everybody from horny teenagers to knock-off Carries. We'd seen Jason go from being a kid to a man to a zombie and to a body-swapping parasite. So, naturally, the one place left for him to go was into space.
Jason just won't die. No matter what they do to him — shooting, stabbing, poisoning, beheading, blowing up — he just keeps on coming back for more. Sometime after being sent to Hell (for what, the movie assured us, was the final time), he came back and ultimately wound up in the Crystal Lake Research Facility. When he eventually escapes captivity there, a young scientist sacrifices herself in a last-ditch effort to keep him contained: she traps him in a cryogenic cage. In his final moments of consciousness, however, he pierces the containment unit, fatally skewering the doctor and freezing both of them where they stood.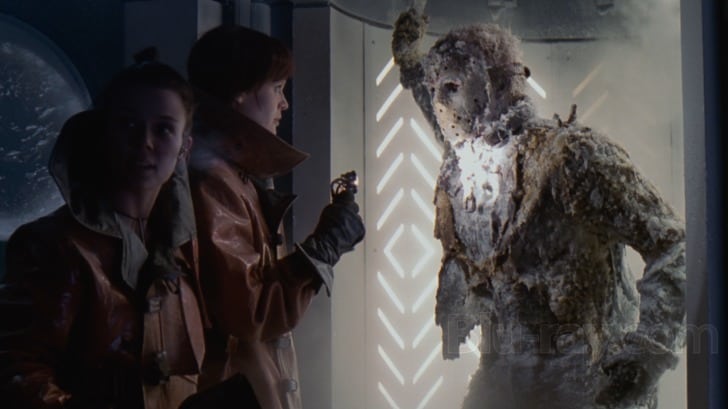 Centuries later, an archeological expedition uncovers the frozen facility, recovering both Jason and his final victim, who they take to their space ship to bring back to the newly colonized Earth 2. Despite their assurances that Jason was beyond revival, he thaws out in the middle of space and wreaks havoc on the ship's crew. And as they near their final destination — a new world of victims for Jason to hack and slash his way through — the surviving crew will do whatever it takes to stop Jason from reaching his new home.
Let's get the obvious stuff out of the way first. Jason X (2001) is not a good movie. It's a stupid, done-to-death premise that even its comparatively large budget (somewhere in the neighborhood of $14 million) couldn't adequately pull off. The requisite CG was ugly and obtrusive even by early 2000s standards. The characters are paper-thin, its deaths sanitized and its overall set and costume design garish. It lacks the charm of the good movies in this franchise and the over-the-top gore effects and staging of even the bad ones. The movie is bad.
And yet, it understands right off the bat that it's a low-point of the franchise. No "in space" slasher installment can be anything else (regardless if they're leprechauns, cenobites or pint-sized critters). Jason X leans into the inherent absurdity of its premise hard and from the get-go, getting in front of the obvious pushback from fans and critics alike and inviting us to laugh with it as opposed to at it. And in doing so, comes closer than any other Friday the 13th movie to replicating Jason Lives' (1985) hilarity from years before.
Because of this, we get some franchise-best moments sprinkled throughout what is conceptually the worst movie of the entire series. We get standout moments including Jason tearing his way through a holodeck simulation that pokes fun at his propensity to target young, nubile, horny, drug-addled teenagers. We get an over-the-top recreation of franchise-favorite kills like beating campers to death in their own sleeping bag. We get nanobots rushing to Jason's aid when he's finally dispatched, creating the hulking, even more unstoppable Uber Jason for the film's final act. And we end on Jason burning up in the atmosphere over Earth 2, only his mask seeming to survive the ordeal, only to imply that he will once again come back from this to wreak havoc on the people of this new planet.
Uber Jason is fun. So is the script's frequent use of meta humor. And even though the film, with a budget that clocks in somewhere around $14 million, hardly has the funds to pull off the ambitious effects that its story requires, the extra money still shows through elsewhere in the overall superior production values compared to previous franchise entries. Although something of a pyrrhic victory in the end, it was nice to see one of these movies have some cash to throw around.
But, in the end, this really is a bad movie, scraping by with bottom-of-the-barrel talent and existing solely as a place-holder before the studio could finally get Freddy vs Jason (2003) off the ground two years later. It's fun and absurd and even a little smarter than it needed to be, but that doesn't begin to make up for the rest of this movie. It'll please long-standing fans of the franchise, but that's about it (and even that's something of a toss up).
Rating: 1/5