Comic Book Men, a reality series from acclaimed director Kevin Smith debuts its series premiere on AMC tonight following The Walking Dead, focusing on the day-to-day running of his New Jersey comic book shop Jay and Silent Bob's Secret Stash. An unusual effort for AMC, Comic Book Men might require a bit of tweaking if it wishes to succeed going forward.
As usual, we need to get one thing straight first. I don't watch reality TV. That isn't a critique against reality TV mind you, and even I've been known to take in the occasional Jersey Shore, or something random that particularly peaks my interest, but on the whole I find myself incapable of acclimating to the conditions reality TV expects. Like watching sports, there's never any moment of reality TV in which I understand what's being asked of me. Are any parts of it real, or are we ourselves expected where to decide where the suspension of disbelief lies?
I may not be an avid comic book reader either, but I consider myself within the pantheon of nerdery, to the point where I might be the only person at bar trivia who recognizes the name 'Ultron,'but would never in a million years make the kind of purchases or sales outlined within Jay and Silent Bob's Secret Stash, the focus and setting of Comic Book Men. However, I do consider myself a fan of the works of Kevin Smith, and trust in his direction enough to at least give Comic Book Men an honest approach, reality TV though it may be.
It's also interesting to consider AMC's decision to pick up Comic Book Men in the first place, obviously in need of something to fill the post-Walking Dead slot after the Hell on Wheels finale, and clearly trying to attract more of the Walking Dead's comic fanbase to AMC programming. AMC is also a network still unsure of what to do with its new-found accolades, as such experimenting with new formats like reality TV, so the performance of Comic Book Men may determine some of their programming strategies in the future.
Now as I said, I'm not terribly familiar with most reality TV, therefore I couldn't tell you exactly what shows Comic Book Men picks and chooses from, as it drifts through a number of formats for the first episode. The series focuses on four men hanging around Kevin Smith's New Jersey comic shop Jay and Silent Bob's Secret Stash, manager Walter, oft-teased employee Ming, Mike, and the exceptionally bearded and acerbic non-employee Brian. They anchor the goings-on somewhat with a roundtable podcast hosted by Kevin Smith, in a sort of Tarantino-esque recap of the individual anecdotes of life working in this shop.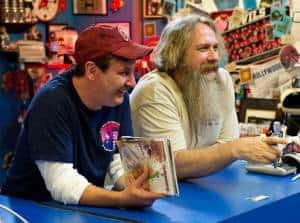 And that's more or less where things become a little aimless with Comic Book Men, as it drifts between a number of different angles with which to present this world, darting between Clerks-esque dissection of pop culture and comics, and Pawn Stars-style appraisals of their quirky customers'memorabilia. There are also a number of events that take place outside the store, as Ming and Brian compete to sell off the Stash's excess merchandise at a local flea market, but once again we've yet to see a clear picture of why we're investing in these men. I'm not one to judge or throw labels at these guys, but forgive me if I can't gather a reason to watch middle-aged men enthusiastically ruminate on mediums and eras long since obsolete.
There's such a fascinating world taking place within the comic book zeitgeist currently, from DC's big overhauls to all the Marvel films stealing spotlight, that it might be nice to draw a bit of attention to more current scenes rather than pore over artwork and tropes of a bygone era. At the very least, a more youthful presence around the shop would do wonders for attracting the type of audience they're hoping for.
On the whole, Comic Book Men is worth a look, and certainly worth a few laughs in the unique characters and witty banter, but the pilot itself skews too broad for too small of an audience to attract any real attention. If anything, I'd be more interested to know what true comic fans, young and old, thought of the premiere.
And Another Thing…
To its credit, I did appreciate the show's efforts to display characters, and facts the Comic Book Men reference for the purpose of helping along audiences who might not be familiar.
Characters like the various caricatured collectors looking to hawk their wars are exactly why I don't watch reality TV, given that they feel positioned to be memorable, rather inorganically.
What did YOU think?