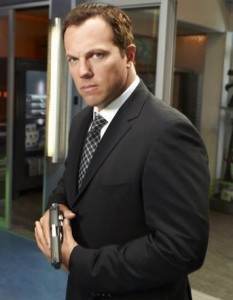 Chuck season 5 trots out its prize-winning ninth entry with this week's "Chuck Vs. The Kept Man" as Casey faces challenges to his own masculinity as Gertrude Verbanski (Carrie-Anne Moss) and her aggressive affections return with a new mission for Carmichael Industries. Last week's "Chuck Vs. The Baby" did a good job of wrapping up most things Chuck, but "Kept Man" still manages to add some tender resolutions to our favorite characters.
I'm proud to say that I enjoyed tonight's 'Chuck Vs. The Kept Man,'more than I enjoyed any other episode of Chuck this season, and not simply because 'Kept Man'represents the first new Chuck in weeks that NBC didn't unabashedly burn off during the holiday season. Perhaps the imminent ending of the series makes everything feel that much more gripping, or the writers themselves have finally dropped the pretense of stretching conflicts further than they'll go.
'Kept Man'embodies everything I fell in love with about the series in the first place; its quirky charm, offbeat action mix, and willingness to avoid stagnation. Sure we'll always have certain heightened realities that temper the effectiveness of the scenes they occupy, like Chuck and Sarah's pre-rescue baby arguments or Jeff and Lester's pursuit of Devon, but by now most Chuck viewers know what they've signed up for. Just because Jeff presents a massive conspiracy bulletin board a la the back of Chuck's TRON poster or (as others point out) Homeland's Carrie Matheson, it doesn't mean anyone will end up in any real danger by the hour's end. I'll still roll my eyes now and again, but that indelible sweetness will wash over you no matter what.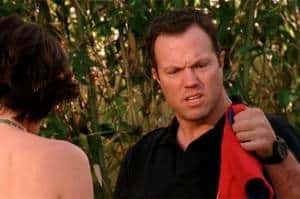 Part of what allows 'Kept Man'to succeed where others like 'Chuck Vs. The Curse'failed is that 'Kept Man'allows its characters the courtesy of appreciating the dangers around them. In comparison I look at the torture scenes between Devon, Chuck and Robyn Cunnings (Rebecca Romijn), and tonight's arbitrary first-scene villain. A few weeks ago Chuck asked us to buy into the tension of potential torture it never delivered, with our characters seemingly sharing the dread, but in this case Chuck throws Spider-Man-esque quips at his would-be torturer, fully in on the audience's knowledge that he regularly survives such cliché predicaments. When Chuck has fun with its premise, so do we, and that's what made the series so unique in the first place. Chuck walks a fine line between escalating its seriousness, and keeping the wry perspective its audience relates to, something 'Kept Man'treads better than usual.
As the danger level ramps up with three episodes to go, so too does Chuck's seeming resolution of its leads, last week with Sarah's confrontation of her missing childhood, and here with Casey's always hyper-active masculinity. As one of the better supporting characters in Chuck's history, the returning Gertrude Verbanski (Carrie-Anne Moss) brings out a side to Casey we don't often get to see; where the brutish ex-NSA man suddenly doesn't have the biggest stick in the room. Casey's character has long mined its humor in playing Chuck's more mellow nerdery against Adam Baldwin's natural intimidation, but Gertrude brings out different colors to the hardened agent.
Much like Sarah has now learned to put the spy life behind her in favor of a husband and family, so too does Casey more or less find his peace with strong female presences in his life, both daughter Alex and now Gertrude, when he's not being shot at somewhere in an icy landscape. One wonders at this point how much is left for Chuck to put a cap on, with major villains like Shaw seemingly already taken care of, but one never knows how it's all going to end.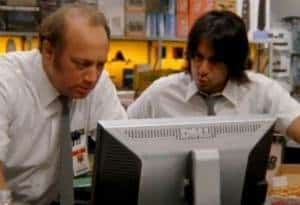 To that end, there feels like less to discuss with this week's episode, all neatly tied up and no major complaints, but special attention should be drawn to our bi-weekly Buy More plot, if only for having the stones to finally clue Jeff and Lester in on the truth of their CIA friends. I remember talking with Vic Sahay once where he expressed his hope that the character never learns the truth behind the Buy More, if only to keep his comedic ignorance, but we can't blame Chuck from pulling out all the stops with only three episodes remaining. In truth , the better Buy More B-stories usually tie into Chuck's adventure in some capacity, but Jeff's incredibly systematic uncovering of the truth paired with Morgan's clever use of Devon as a distraction in Jeff and Lester's disturbingly costume-filled pursuit prove too entertaining to bemoan the interchangeability of plot threads. Presumably neither would brush off what they remember before being tranquilized, but it'll be interesting to see how the next episode picks up this relatively drastic thread.
And I can kick and scream all I like, the Chuck creators are going to throw in a Sarah pregnancy storyline somewhere within the last three episodes, so at the very least we'll have the stock pregnancy-scare of 'Chuck Vs. The Kept Man'to set up the idea more organically. That is of course, unless Chris Fedak and Josh Schwartz have any real curveballs they want to throw our way before the end. I have my own theories.
At this point, Chuck doesn't have many burdens, and the final episodes are free to play with the free-spirited action adventure we've loved since 2007. And if they want to throw in Yvonne Strahovski's endless bikini wardrobe at least once more…groovy.
And Another Thing…
Sure, I keep it on my mind more than I'd like to admit, but I have to think those radiation containers seen in Chuck's opening scene rescue referenced similar looking plutonium cannisters from the first Back to the Future.
Carrie-Anne Moss really does create amazing chemistry with Adam Baldwin, or any man in her other work. Something about that incredibly soft bedroom voice…
I'd love to know if any eagle-eyed freeze framers caught any fun details on Jeff's conspiracy board.
A great episode for Yvonne Strahovski with her meta-rant about the constant skimpy costumes, and the reaction to walking in on Casey and Verbanski.
I appreciate the attention to quieter moments like the exchange between Casey and Sarah before parting ways for the Verbanski rescue mission, which carried a very real tension in spite of the cop-out plot device of the Aegis gun protecting them from gunfire. Additionally, we still haven't had much mention of the Intersect, strange considering how important it was to the show's premise.
Now, call me crazy, but I'm wondering if the show might have the guts to actually kill off Sarah as a climax, given some of the tragedy mile-markers they've already thrown in. If you've read Y: The Last Man and followed Chuck's connection to the comic, you'll understand why that's relevant.
I'm still glad they got caught, but it would seem like in the time Morgan must have taken to elaborately paint, age and detail a concrete wall pattern onto their fake set, they could have…actually.built…a wall whose wet paint wouldn't clue in Jeff and Lester.
What did YOU think?
Tell us what's wrong with this post? How could we improve it? :)
Let us improve this post!