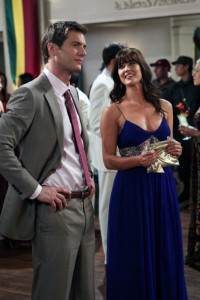 Chuck season 5 summons out its sixth entry with this week's "Chuck Vs. The Curse" as Chuck, Sarah and Casey look to rescue Devon and Ellie from rogue CIA agents after a date gone wrong, and prevent the outbreak of deadly computer virus "The Omen" at the hands of Robin Cunnings (guest star Rebecca Romijn)
Ultimately, "Chuck Vs. The Curse" offers up something of a mixed bag, enchanting us with its potential scope but stumbling a bit in its execution.
With a show as versatile as Chuck you're bound to run into headaches trying to classify episodes, which in and of itself speaks to why the series at large experienced such trouble in finding an audience. Chuck works at its best when keeping the comedy and heavier spy material in check, last week's 'Chuck Vs. The Hack-Off'keeping a smart mixture of palpable dread and light-hearted absurdity in the episodes'main mission that made for one of the better episodes of the season.
Unfortunately, 'Hack-Off"s rather explosive ending meant that things couldn't'immediately go back to status quo, and it's the more 'dangerous'episodes of Chuck where the material begins to suffer from a lack of plausibility and consequence. Blowing up Decker provided a rather hardcore turn last week, but even in these final episodes the stakes rarely feel raised. Simply put, it's Chuck. Of course Awesome and Ellie are going to survive their predicament entangled in the CIA, and of course all charges against Team Bartowski for their various murders will fall by the wayside.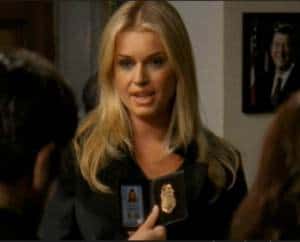 It's not that I'm asking for Josh Schwartz and Chris Fedak to do something as drastic as cost Chuck his sister and a series-long character for the sake of his own sins, but I'd be wary of Chuck's turn to darker territory when it can't follow through on the dangers inherent in its premise. For goodness'sake, rogue CIA operatives who don't even value the lives of their fellow agents shouldn't hesitate to torture, and or kill their captives, something this week's villain Robin Cunnings (guest star Rebecca Romijn) drags out beyond any palpable sense of menace. Sure, Cunnings herself provides cannon fodder in that we can gruesomely imply her torture at the hands of Casey and General Beckman, but to see nothing and later reveal she gave up all her secrets off-screen feels like a cop-out we shouldn't have to forgive at this point.
During Robin's (near) interrogation of Chuck, she naturally refused to deliver any necessary exposition about the purported conspiracy taking aim at the Bartowski family, but she did utter one line that resonated with me, that of Chuck having angered a number of powerful people. Clearly we've seen Chuck thwart dozens of powerful figures over five seasons, to the point where Robin's statement has only face value, but it reminded me of another series I'd recently taken in, that of the short-lived but critically-adored Terriers*.
There the basic premise rings the same, that you have small figures scurrying about and making trouble for the big dogs, the idea that even the most ill-equipped of teams can rattle the cages, and fight the evil empire. It's a universal theme to be certain, but Terriers embodied the spirit especially well by creating real consequences for these scrappy underdogs meddling in powerful forces. Fitting perhaps that both Chuck's final season and Terriers' only season each consist of thirteen episodes, but I gravitate to Terriers if only for their willingness to deliver casualties and omnipresent threats, rather than hand-wave away danger with off-screen information. Chuck still has more than half a season to go, but now isn't the time to pull punches, and 'Chuck Vs. The Curse'suffers a bit for it.
(*) About the time you start referring to Terriers in a Chuck review, utilizing an italicized asterisk break, and given last week's Community cameos, you know you've been reading too much Alan Sepinwall.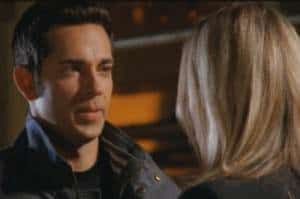 On the positive side, I like that 'Chuck Vs. The Curse'kept continuity with 'Hack-Off'by keeping afloat the threat of 'The Omen'computer virus and the 'conspiracy'itself. It all seems a bit jumbled when CIA authorities tend to cross-cut one another without explanation (Beckman apparently forced to appear as though she's apprehending the team, but morse-code tapping them to run), but I sincerely hope we've not seen the last of this thread. Chuck spent far too much time in its earlier seasons fighting faceless threats of *insert evil organization here,* so the sooner we can put a human face on the 'personal'danger driving our heroes this season, the better.
If Chuck were to have an emotional conflict of the week, 'The Curse'at least offers a believably resonant moral dilemma in the parallels drawn between Chuck and his parents. The so called 'Bartowski Curse'really has done a number on his family in the way Stephen and Mary Bartowski spent near of their whole lives on the run, so for Chuck to face the same conflict in abandoning Ellie rings very true to the spirit of the character. Admittedly yes, we've seen Chuck wax noble and waltz into national danger alone for the sake of his loved ones before, but seen through the lens of his family history the gesture feels far more personal. This seems to represent a trend Chuck's final season has going for it, where even re-used emotional conflicts feel fresh and powerful given no one really has to cover up their double-lives anymore.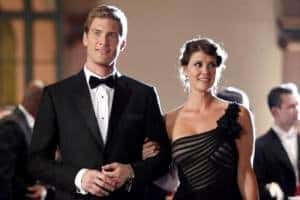 Speaking of double lives, 'Chuck Vs. The Curse's comic angle finally allows some spotlight for Devon and Ellie in their inadvertently winding up in the wrong hands, but this proves something of a double edged sword. In a way Devon and Ellie have always felt underutilized, the way the beautiful Sarah Lancaster always finds herself dressed down in scrubs and reduced to harping on her brother or how even when the chiseled Ryan McPartlin gets to play Devon on a mission with Chuck, the handsome doctor usually fins himself unfit for higher-stakes action.
So on the one hand I like finding things for Ellie and Devon to do, but then I glance at my notes and observe the phrase 'these people are DOCTORS'over and over. Seriously. Two brilliant physicians, and they couldn't figure out that the CIA was rustling them into a car until twenty minutes later, or the basic chemistry of not shoving a metal hairpin into a fuse box? Why would Ellie worry about her husband seeing her exposed lack of panties, especially when their lives were on the line? And didn't the direction make a point of showing us those limo doors were locked in the first place?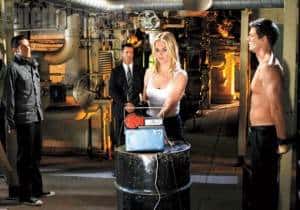 These provide exactly the kind of Chuck I find infuriating, when the writing dumbs down intelligent characters for the sake of lighter comedy, yet never creates any real consequences for their mistakes. I thought we might be in for a Firefly-style dual torture session between Devon, Chuck and Robin, but what does it say about the edginess of a series if it won't even afford its primary characters one measly electric shock?
It almost feels as tacked on to this review as it did to the episode to mention Morgan's subplot of retrieving Chuck's 'P.A.N.T.S.'(Priceless Artifacts Never To Share), but I suppose something needs to get the ball rolling on the inevitable Morgan / Alex reunion. And what better way than to lock them in an apartment overnight? Granted, I certainly don't mind getting Mekenna Melvin in on the action (especially with a shotgun), and a recent conversation with her indicated she'd indeed be getting her hands dirty a bit this season, but the subplot itself doesn't amount to more than some requisite sweetness.
What does seem like a surprisingly larger, and more epic twist for Chuck was to actually release the 'Omen'virus out into the world, but far be it for Chuck to really explore the incredible scope of the world coming under a computer virus, the malevolent entity seems to be biding its time for now. I'm excited for where that thread might go however, as a problem much more organic to Chuck's natural skill set, and surely not set loose into its world-devastating peril for the sole purpose of releasing one prisoner from that ominously malfunctioning door at episode's end…
And Another Thing…
Apologies for the generic images folks, apparently NBC wasn't feeling too Christmas-y with this week's promotional photos…
Unfortunately, Gertrude Verbanski (Carrie-Anne Moss) indeed seems to have been written out for the time being, but with the charges dropped like a load of bricks, might we see her again before the season's out?
I've noticed that several other TV critics have bemoaned or at least called attention to the blatant product placement of Chuck and his sister using "Open Table." I'm giving that a pass, because I've never heard of it!
Good direction in the roadhouse scene between Casey and Beckman. I know ominous music and 'shakey-cam'are cheap tricks to ratchet up drama, but in Chuck's case it works.
Seriously, not one other person lives in Chuck's apartment complex, that they even step outside once a cadre of police and CIA have shown up?
Rebecca Romijn really doesn't get to make much of an impression as Robin Cunnings, but at least they included the requisite sexy by putting her in a tank-top and utilizing gratuitous boob-shots.
Most TV critics agree that NBC really dropped the ball by revealing ****'s eventual return in last week's 'next time'promo, so I doubt there's any mystery to the prisoner in cell 164.7. That being said, even if NBC hadn't revealed the villain's return last week, the suspense still would have been rather short-lived for anyone who caught this week's 'next time'promo.
What did YOU think?