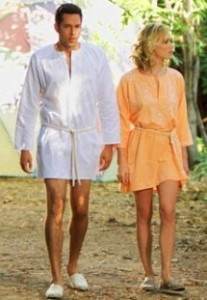 Chuck season 5 hacks out its fifth entry with this week's "Chuck Vs. The Hack-Off" as Chuck and Sarah go undercover (by literally uncovering) to retrieve the key to a deadly computer virus from a private commune as Casey and Lester fend for themselves from inside prison walls.
Continuing its roll and likely one of the stronger, funnier outings of Chuck season 5, "Chuck Vs. The Hack-Off" scrapes by with only a few minor quibbles.
After a certain period of loyalty to a TV show, particularly one that's been through as much heartbreak and confusion as the five seasons of Chuck, we all come to terms with certain facts. Chuck actually left us in quite a narrative pickle by the end of 'Chuck Vs. The Business Trip,'with both Casey and Lester behind bars, though we know that the truncated last season wouldn't waste more than an episode dwelling on the plot thread, with both out and largely back to status quo by the end of 'Chuck Vs. The Hack-Off.'
We also have to accept that particularly given the rush to resolve Casey and Lester's dilemma, and the episode's plot at large, not everything will make perfect sense. For instance, wouldn't a known government agent like John Casey go to some militarized prison devoid of visitors, instead of winding up in the same cell block as Lester? By the same token, would Lester really end up in a federal prison so quickly, and how could he be bailed out by Jeff dropping the charges after the trial and sentencing already occurred? Could a bizarre religious sect really hide a terrorist military presence in California?
We forgive Chuck for these gaps in logic, partly out of pity, partly for not taking TV comedy too seriously, and partly the futility of raising these questions so late in the game. Chuck is Chuck, and will entertain as best it can, which 'Chuck Vs. The Hack-Off'mostly does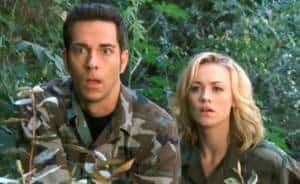 I like the return to form Chuck undergoes here (even if we never really saw this past Swordfish-inspiring "Piranha" identity) by relying on his tech-savvy hacking skills and cleverness to save the day, rather than some random flash of the Intersect. Incredibly, 'Hack-Off'made nary a mention of the plot device that set the entire series in motion, instead focusing on the lessons and skills the team has acquired through natural training. We can't know if Josh Schwartz and Chris Fedak have any plan to re-introduce the Intersect in any way, but for now* there's something to be said for the strength Team Bartowski acquires from ingenuity and teamwork over science, which speaks to the value of the series'evolution as a whole.
(*) I say for now, in that previews for the next round of Chuck episodes (which I won't spoil here) seemed to reveal an enemy that might prove difficult to defeat without at least SOMEONE Intersect-ing up.
The meat of 'Chuck Vs. The Hack-Off'lies in the shadowy Decker (RIchard Burgi) tasking Chuck and Sarah to track down the key to unlocking a deadly computer virus in exchange for Casey's freedom, for which they must find the virus'creator in a private commune. Chuck star Zachary Levi directed the episode, which carries with it plenty of the upbeat action and musically vibrant comedic flair that makes Chuck so watchable in the first place, even if not everything about the episode works.
I'm a bit puzzled by the narrative choice to make the commune a partial nudist resort, if only for the gag of seeing Zachary Levi and Yvonne Strahovski frantically strip down to their pixelated birthday suits upon realizing the commune's true nature. Considering the joke only lasts a minute or so until everyone re-dons their robes and carries on as normal, the flurry of pixels seems a rather unnatural distraction.
It likely would have taken some rather complex camera work to hide everyone's good stuff without the aid of non-diegetic censorship, but that only begs the question of why to even bother in the first place. Perhaps a quick tease to sell in promos and fleetingly bump up viewership.
That nitpick aside, a few awkward story beats hamper the flow as well, most notably when Chuck and Sarah first infiltrate the camp (unbeknownst to them immediately discovered), share several conversations with the camp's leader and even a drum circle before all of a sudden, the alarm rings, and then the woman decides to oust Chuck and Sarah to the camp. What was she waiting for? Similarly, it feels as if not every thread fit into the script elegantly, the way Gertrude and Sarah skulk around the hackers'base, only for Gertrude to awkwardly blurt out that she indeed has real feelings for Casey. Minor points I suppose, but a writer notices.
To that end, 'Hack-Off'does manage to evoke some classic Chuck with Casey being behind bars, and Gertrude (Carrie-Anne Moss) as his replacement on the team. Without the shared chemistry earned over the last few seasons, Gertrude feels very much like Casey of the earlier seasons, a cold professional grumbling at Chuck's charming ineptitude and Sarah's tolerance for it. It's been a while since we've had an active member of the team that questioned everyone's methods, but so far Carrie-Anne Moss has felt right at home fitting in with the Chuck universe.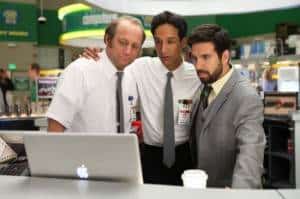 The B-story of 'Chuck Vs. The Hack-Off'feels somewhat heavy-handed, particularly in the way Morgan so begrudgingly retreated upstairs to deal with Jeff and Lester, an almost meta-comment on how frivolous the Buy More stories have become. Still, even with Lester's incarceration tying in to Casey's struggle in prison, it's hard to invest much in the tale knowing how invincible Casey is to the plot, and the PG-level threat NBC enforces on the prison culture.
It's not Oz, after all. Still, it was entertaining to see Lester actually the one to thrive in prison, and at least we got a Community cameo (or two!) out of it.
We still don't have much to go on with the ongoing CIA shadow conspiracy to eliminate (or frame) Team Bartowski, and with Gertrude's brutal dispatch of Decker and his men , it will yet be an episode or two before anything new comes to light.
The moral of the story lies in Radzinsky, er…Colin Davis (Eric Lange)'s words during his incarceration, about getting sucked back into a life one never should have had in the first place. Chuck's desire to find a life outside the spy game has always provided the crux of his struggle, and 'Hack-Off'presents a brief moment of doubt between Chuck and Sarah as he extrapolates how his re-kindled love of the tech game could re-shape Carmichael Industries'purpose, leaving Sarah to wonder what, if any place she might have in that world. The recurring question once again finds itself swept under the rug as Chuck and Sarah vow to step up their spy game in the wake of Decker's foiled plot, but will surely resurface for the final episodes, if not sooner.
Chuck me, that was long.
And Another Thing…
Owing to Zachary Levi's direction, I love the dart gag with Chuck and Sarah after leaving the prison, suddenly appearing on one another's necks before the other can successfully point them out.
It's likely that based on his appearance, Casey's prison tormentor (played by Derek Mears, technically another Community cameo, Kickpuncher!) was implied to be of a white supremacist group, but for deniability's sake at least one of his flock in the cafeteria scene didn't fit that bill, let's say.
Was anyone else having LOST flashbacks with guards, and Eric Lange (LOST's Ted Radzinski) running through the woods?
I paused, and spent a solid minute laughing at Community's Yvette Nicole Brown cameoing after Danny Pudi, a well-kept secret gag.
Chuck realizes that his renewed hacking skills might be well channeled into his own tech company, but for Sarah's sake, shouldn't he consider that CIA analyst offer General Beckman's been making for ages?
An extraordinarily dark moment for Chuck, with Gertrude blowing up Decker without any afterthought, and I had to laugh at the transition from Decker's brutal murder to Chuck's usual indie-acoustic soundtrack.
What did YOU think?