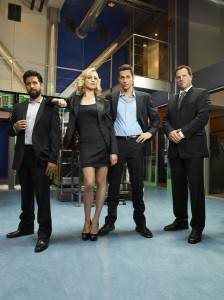 Chuck season 5 and the series itself comes to a close with its ultimate thirteenth entry in tonight's "Chuck Vs. The Goodbye," as Team Bartowski races to retrieve the final Intersect from Nicholas Quinn (Angus Macfadyen), and restore Sarah's lost memories of the last five years. "Chuck Vs. The Goodbye" closes the series on a high note, balancing both the sweet with the bittersweet in the manner the show has come to employ so very well over the last few years.
Wow. Thus endeth Chuck. I don't often have a lot to say when it comes to TV finales, and it's been a good long while since a series I actually cared about managed to wrap things up on its own terms, but this one got to me. I actually saw both "Chuck Vs. Sarah" and "Chuck Vs. The Goodbye'a few nights ago when NBC decided to release the screeners, and since watching I've likely listened to The Head and the Heart's 'Rivers and Roads'about forty times, if only to relive such wonderful sentiment that caps off five years of sweet memories.
I first started watching Chuck about midway through its second season, powering through old episodes as often as I could, though I don't quite remember what turned me on to the series in the first place. Mostly what I remember was the warmth, lying there on my door room bed dreaming of that wonderful world where nerdery and dead-end jobs could end up the adventure of a lifetime, provided you never lose the heart that made you yearn for them in the first place. Even after Chuck's second season finished, and NBC listened enough to Subway sandwich purchases to grant the series a budget-reduced season 3, it never lost that sense of childish wonderment and enthusiastic glee. We love Chuck, because we are Chuck. Chuck Bartowski consistently surprised everyone around him with his intelligence, his heart, and his willingness to risk anything for those he loved, and so too did Chuck as a series keep on braving insurmountable odds to come back year after year.
To be honest, I'm not even sure how I'd go about putting into words a goodbye to Chuck, let alone an in-depth response to 'Chuck Vs. The Goodbye,'but I'll do my best.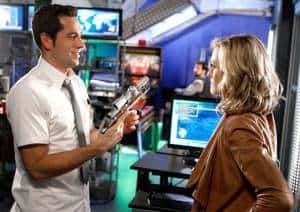 In a way, "Chuck Vs. The Goodbye" is all about bringing everyone back to the beginning. I wish I'd had a chance to go back and watch the series again from its very first episode in time for tonight's finale, but writing about TV can be a harsh mistress. Instead, 'The Goodbye'does most of the work for us, with Sarah's memory erasure bringing her in line her badass 2007 self, Chuck an unremarkable layabout with a girl on his mind and no supercomputer powers to speak of, and Casey a career military man trying to eschew any emotional ties. In that way we get to re-live Chuck all over again, discovering how Chuck's heart and Sarah's skill make them the perfect team, and Casey's emotional entanglements actually made him a better agent in the end. By going back to Chuck's roots, we learn along with the character that after five years, life isn't so much about how things have changed, but why they've changed, and how to take those lessons into the future.
Still, Chuck wouldn't be Chuck without it's nostalgia. And that's why all of 'Chuck Vs. The Goodbye's'many, many callbacks feel like enthusiastic celebrations rather than rehashes. Whether it's one last epic Jeffster performance, an unceremonious reappearance from an old Fulcrum agent (Mark Pellegrino) or Chuck and Sarah re-living the most memorable of their early missions (Wienerlicious outfit alert!) in succession, everything about Chuck's finale feels as thrilling as it does familiar. In truth, I practically jumped out of my chair cheering once I realized that a Jeffster performance was on the way to keep Nicholas Quinn's bomb from killing our heroes. And if you're not at least on the edge of tears when Chuck and Sarah once again meet on the beach to discuss their future, flashing through five years laughter and love, then your Intersect must be broken.
Really, most of the little things don't even matter. Chuck does re-Intersect-ize himself (and presumably keeps it) by the end of the hour, but the Intersect only serves a base role in unraveling the final threat. In the end, it's Sarah's fleeting memory of Chuck's past ingenuity that saves the day with a welcome, if surprising callback to the 'Irena Demova Virus.'Nor does the villainy of Angus Macfadyen's four-episode turn as Nicholas Quinn really amount to anything, considering Sarah just kind of, well…shoots him. Chuck's climax lies in bringing together its players to do what they do best by working together; Chuck as the brains, Sarah and Casey the muscle, Morgan the plucky support, and Jeffster the soundtrack.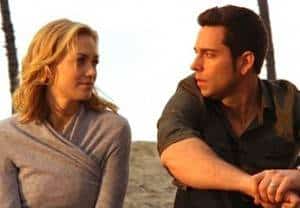 The climax actually reminded me a bit of similarly heartful series Futurama's "ending" 'The Devil's Hands are Idle Playthings,'not merely for the operatic climax, but rather that it and Chuck were both wonderful series that never quite found their niche. They shared a relatively generous run, all things considered, and ended on a beautifully sweet note with just a hint of ambiguity. Unless Chris Fedak and Josh Schwartz want to out-right tell us, we'll always cherish that fairy-tale ending of the magical kiss that may, or may not have rescued true love from the depth of Sarah's memory. Either way, they'll figure it out. We all will.
And no matter what, we've gotten a decent amount of closure to all our beloved characters; Morgan and Alex will move forward with their relationship, Casey will find Gertrude again, Ellie, Devon and Clara will move on to Chicago with Mama Bartowski (Linda Hamilton) in tow, and even Jeff and Lester ride off into the sunset toward the inevitable German superstardom of Jeffster. Hell, even Subway sandwiches have a happily ever after!
So, to Chuck I say goodnight, sweet prince, and flights of angels sing thee to thy rest. Who knows when we'll see another series as nerd-celebratory, or full of heart as the Buy More boy who met a girl and became a secret agent? However Chuck goes down in history, I can't wait for the day when I can share it's effortless charm and soul with a leggy blonde of my very own.
And Another Thing…
After five long years, all the Buy More extras finally get lines! Really, really creepy lines!
If Chuck WEREN'T ending, I imagine Sarah hiring out Team Bartowski for missions might've been a new dynamic to explore in another season.
Sheesh, are Desert Eagles really that big?
There really wasn't any need for Linda Hamilton to reprise her role as Mary Bartowski, but hey, a friendly famous face is a friendly famous face.
"I'm a Casey. I don't run, I stalk my prey." Well, technically you're a Coburn.
Did anyone catch any fun easter eggs I failed to mention?
Sigh. Goodbye, Chuck. Aces.
What did YOU think? Give us your best Chuck memories in the comments below!
Tell us what's wrong with this post? How could we improve it? :)
Let us improve this post!